Gwadar Expo 2019 to be held on March 28-29- The Key to Global Opportunities
by UPN
March 19, 2019
0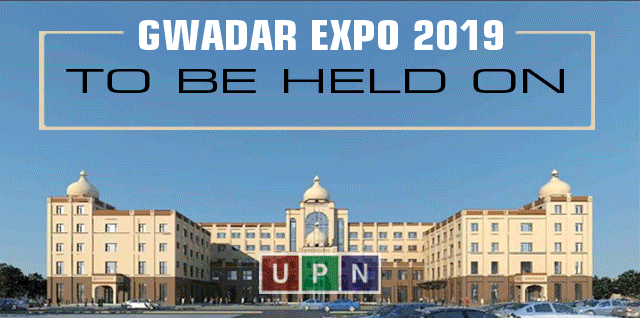 GWADAR: After the great success of 1st International Exhibition "Gwadar Expo 2018", China Overseas Ports Holding Company and Gwadar Port Authority are launching another Mega Event which will mark the History in Baluchistan, i.e. Gwadar Expo 2019.
This mega event is going to be held on March 28th -29th in Gwadar . Pakistan Government Officials, foreign personalities, members of the diplomatic community & businessmen from all around the globe would attend the two-day event.
Prime Minister Imran Khan will inaugurate the two-day event and will also launch the Gwadar Master Plan. The inauguration of Gwadar International Airport is also expected.
Key To Global Opportunities
Gwadar Expo 2019 will deliver you the vital platform to meet and communicate with foreign buyers and investors and international traders from the different countries of the world. It is going to be one of the biggest international exhibitions of Pakistan dedicated to different business grounds, opening new ways for the number of industrial sectors.
Over 200 companies from China, Pakistan, Iran, Afghanistan, Saudi Arabia, Oman and other countries in various sectors including trading, automotive, services, shipping, food processing, fruits and vegetable processing  light-end assembly and recycling, logistics and warehousing, light manufacturing and assembly,  shipping lines, fish and seafood processing, value-added industries, transportation, import and export, minerals processing, printing and packaging, transshipment and transit, medical consumables, garments and textile, marble, financial institutions, heavy metal scrap recycling, oil and gas processing, light vehicles manufacturing, iron and steel processing will participate in Gwadar Expo 2019.
Launch of Gwadar Master Plan & Inauguration of Gwadar International Airport
During this mega event, PM Imran Khan will officially launch the Gwadar Master Plan. The government has already made and approved the draft of Gwadar Master Plan that envisaged an area of 310.62 square kilometers of land to utilize it for the city development including residential areas. Recently, the government has revealed the plan to turn Gwadar into a modern smart port city and aimed to develop the project by keeping all the high standards being followed across the globe.
Adding more, the construction of second advanced airport will begin after the inauguration on 28th March during the Gwadar Expo 2019. Last month, the Federal Government has awarded the contract for the construction of this Gwadar International Airport to Chinese Company and it has been projected to be constructed with an amount of Rs 30 billion.
Major Activities at Gwadar Expo 2019
Day 1: Inaugurations Ceremony
Welcoming Remarks
Visionary Concept of Annual Gwadar Expo
Patronage Ceremony & Ribbon Cutting
Inaugurations of Different Projects of Gwadar
Important Announcements
Day 2: Seminars
Press Conference
Moderator Meetings (To make awareness & highlight the importance of Gwadar & CPEC)
Business to Business Meetings & Different Leisure Activities
Evening Activities at Gwadar Expo 2019
China Pak Cultural Show
Food Street & Gala Night
Closing Ceremony with Fireworks & Lots More
For more updates stay in touch with Universal Property Network.