ICHS Town Islamabad Plots Booking Prices, Payment Plan & Development
by UPN
April 25, 2018
0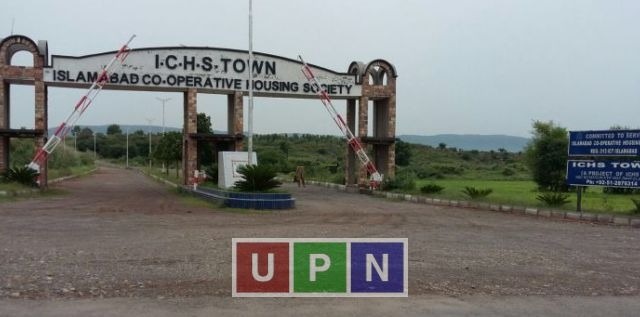 ICHS Town Islamabad otherwise known as Islamabad Cooperative Housing Society is an ideal residential project for buyers who want to invest in real estate located in the vicinity of upcoming New Islamabad Airport. Latest international airport will be located just 4 km away from this housing project. This residential scheme carries NOC Approval from Islamabad Capital Territory (ICT) administration. It is registered with the capital's cooperative societies department.
ICHS Town Islamabad Location
ICHS Town Islamabad is located at a distance of 24 km from Zero Point of Islamabad and only at a drive of 5 minutes from soon to be launched Islamabad International Airport. ICHS Town Islamabad is easily accessible from Rawalpindi and Islamabad through Main Kashmir Highway. Kasana Dam Road and Airport Cargo Road also eases the approach to ICHS Town Islamabad
ICHS Town Islamabad Plots
ICHS Town Islamabad is spread over 9000 Kanal of land and the entire project is divided into 6 residential sectors. Commercial plots are also available in ICHS Town Islamabad in addition to residential plots.
Residential plot sizes include 5 Marla, 7 Marla, 10 Marla and 1 Kanal category. 4 Marla commercial plots are also available for investors who want to buy commercial property near to New Islamabad International Airport.
ICHS Town Islamabad Plots Prices
Plots prices of ICHS Town Islamabad make them a feasible choice of investment as most of these plots are available at reasonably low booking price. Here are the full details of ICHS Town Islamabad plots prices
5 Marla – Rs. 771,000
7 Marla – Rs. 1,057,000
10 Marla – Rs. 1,507,000
1 Kanal – Rs. 2,659,000
ICHS Town Islamabad Payment Plan
ICHS Town Islamabad plots are available along with 3 year payment plan. Quarterly installments are needed to be paid. The plot prices mentioned above for ICHS Town Islamabad includes not only price of land but development charges as well. Most plots are available along with 14 quarterly installments as well.
ICHS Town Islamabad Development Status
ICHS Town Islamabad is rapidly being developed and 70% of its development is complete at the moment. Main gate of the housing scheme is finished and a main road leading into the main square of ICHS Town Islamabad is also going to get completed in next few months. Ground leveling work has been finished and developers are working on providing basic amenities in the housing scheme.
ICHS Town Islamabad Facilities
Developers of the project promise to deliver following amenities to future residents of the housing scheme
Under Ground Electricity
Street Lights
Gas
Sewerage System
Schools and College
Boundary Wall
Greens Belts along Roads
Wide Carpeted Road Network
Jamia Masjid
Parks and Play Areas
Hospital
Shopping Centers
ICHS Town Islamabad is part of series of housing schemes that are located near to New Islamabad International Airport. Al Mairaj Garden, Capital Smart City, Blue World City and Eighteen Islamabad are few of the other projects where you can buy a residential plot near this new aerial hub of Pakistan
For further news and updates regarding real estate sector, please sign up for our free newsletter.