Investment in Commercials for Rental Income
by UPN
December 5, 2020
0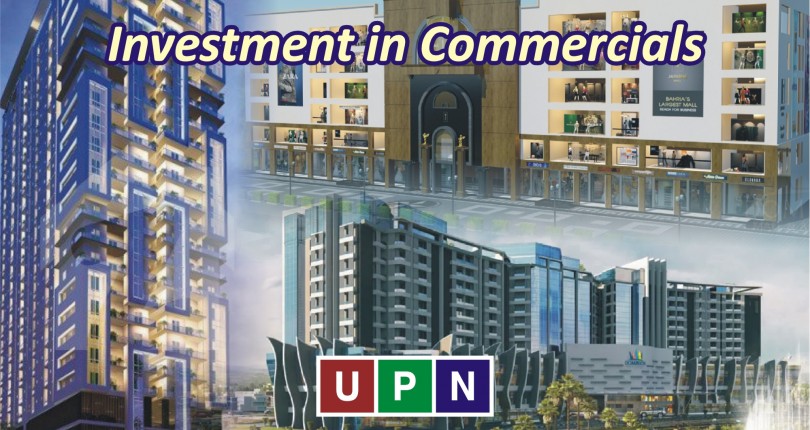 Investment in commercials is always profitable to earn huge rental income. These properties are available in different categories to find it easy to choose the best suitable one for them. However, if you invest in commercials for the first time to earn a reliable yet steady rental income, you must know the complete information about them. Today, in this latest write-up, we will share the details for the commercials ideal for earning regular rent and their investment advantages and disadvantages. So, carry on reading to find out more!
Commercial Properties to Earn Rental Income
Following are the properties which you can choose to earn handsome rental returns:
Buy a shop in a mall.
Can Invest in a hotel apartment
Buy a corporate office.
Buying a Shop in a Mall
It is one of the best options to invest in commercial properties. However, buying a shop is always suggested in bigger malls and high-rise development designed for big brands. These up-scale malls are equipped with all the modern-day facilities and have huge footfall.
Moreover, it is essential to check the amenities offered in the mall before investing in them. So, please check the available parking spaces, entertainment facilities, a large retail area, and the project's surroundings.
Pros
There are many advantages to buying a shop in a mall such as:
These malls are well-managed and have no managerial issues. Shops are available in several sizes and different prices so that one can choose as per his requirements. A retail outlet in a mall can return you with more rental income than an office and plaza.
Cons
You are bound to follow the management policies even though you are renting out your property.
You have to pay the fixed managerial and maintenance charges to the mall, no matters it is on rent or not.
Buy a Corporate Office
It is another good option for commercial investment, especially when looking for a reliable source of rental income. These are purpose build units that meet the business needs of different firms. But investment in these corporate offices comes with both the advantages and disadvantages such as:
Pros
You can buy a corporate office in an under-construction building on installment. These offices can return you healthy capital gains over the years. You can also use these offices for your own business.
Cons
You are bound to pay the managerial and maintenance charges, no matters, your spaces are rented or not. The sale and resale process of corporate is slow.
Can Invest in a Serviced/ Hotel Apartment
The demand for serviced and hotel apartments is increasing in Pakistan. People are showing their keen interest in the apartments located in the central areas. These apartments are used for rental purposes or for booking as a guest house as well as hotel apartments. Short, mid, and quick rental income makes it a rewarding investment option.
Pros
These are usually available in installments, and prices are lower than the shops and corporate offices. Rental income is higher than other commercial properties.
Cons
This property needs more time and good management to earn regular rental income.
Investing in any of these commercial properties depends on lots of factors. Choosing a shop, corporate office, or hotel apartment depends on the locality, attractions, and investors' demands. Even many investors believe that investment in independent buildings is more profitable.
So, while concluding, we can say that investment in the commercials for rental income also demands the right call for the right property.
For booking, or selling, please contact Universal Property Network today!
For More Information click here or visit our youtube channel