Investment in DHA Valley Islamabad – Where to Buy Property?
by UPN
November 16, 2021
0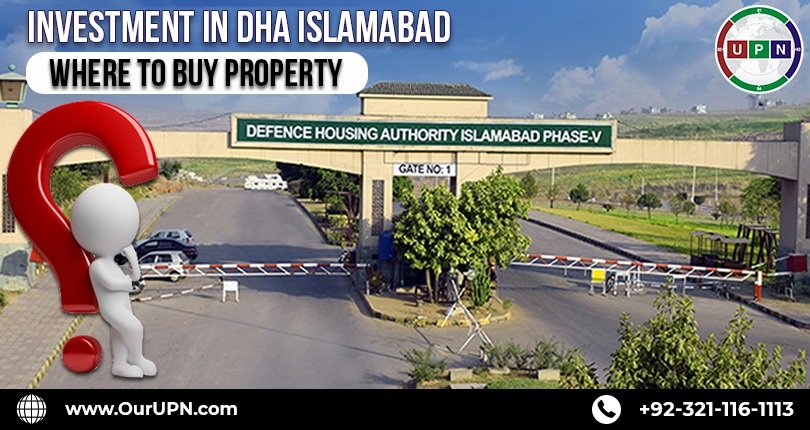 DHA Islamabad is one of the top real estate investment places where buyers and investors find many opportunities. Launched many years ago, it's a mega residential project with a number of phases and several extensions, including DHA Valley Islamabad. Covering more than 97,000 Kanal of land, this project is full of residential and commercial properties. Also, many of its phases have investment options available in multi-purpose projects.
The availability of several options for investments is nothing less than a blessing. But at the same time, many options make a person confused. So if you are also confused and finding the best option to invest in, please keep on reading. This blog post is especially for you.
Phases of DHA Islamabad
DHA Islamabad has six phases, several extensions and DHA Valley. To provide you with the best options for investment, let's discuss these phases one by one:
DHA Phase 1 Islamabad
It's the very first phase of DHA Islamabad. Located near Kachery Chowk Rawalpindi, it's a well-developed society. It has maximum construction and features a good ratio of inhabitation. Moreover, it has several blocks starting from A to F. DHA Phase 1 Sector F is now a part of Bahria Town Phase 7, also known as Defense Villas. This phase usually offers bigger houses, i.e., 10 Marla, 11 Marla, 1 Kanal and 2 Kanal.
Investment in this phase is amazing for residence purposes.
DHA Phase 2 Islamabad
Covering an area of 15,075 Kanal, DHA Phase 2 Islamabad is another attention-catching society like DHA Valley Islamabad. It is located between Islamabad Highway and GT Road. Previously it had block from A to H, but later J to Q Blocks is added. DHA Phase 2 blocks from A to L are completely developed and offer the best living spaces. On the other hand, N, P and Q Blocks are under-development.
Prices of properties at DHA Phase 2 are high as all the living facilities are available and many families are residing there.
DHA Phase 2 Extension (DHA Phase 6)
DHA Phase 6 is basically the extension of DHA Phase 2. It is spreading over 55 Kanal of Land and is located next to DHA Valley on DHA Expressway. This society was initially launched with A, B, and C Blocks, but now it has blocks from A to T. All of its blocks offer good investment opportunities because the prices are low. Therefore, this society is a suitable option for long-term investment gains.
DHA Phase 3 Islamabad
This area was previously known New-Pindi, but later DHA developers have purchased it. This beautiful society is located on GT Road and easily accessible after crossing Rawat. DHA Phase 3 is also an impressive development where plots are available with possession. Plots prices in Phase 3 start from 60 lacs and go high up to 3 crores.
DHA Phase 4 Islamabad
Designed over an area of 4000 Kanal, this phase is located adjacent to Orchard Area. It is easily accessible from multiple routes and features good development as well. The ratio of construction and population is also impressive at DHA Phase 4. But still, it has several properties where buying is equally beneficial for residence and investments.
DHA Phase 5 Islamabad
Located alongside Islamabad Main Highway, DHA Phase 5 Islamabad, is covering an area of 7000 Kanal. DHA Phase 5 features sectors from A, B, C, D, E, F, G, and H. This phase offers the residential plots of 5 Marla, 10 Marla, and 1 Kanal. Moreover, the commercial plots of 4 Marla and 8 Marla are also a part of it. It's a developing phase of DHA; that's why the prices of plots are low.
DHA Valley Islamabad
It's a significant development, a major phase of DHA Islamabad. DHA Valley is a joint venture of DHA, Bahria Town and Habib Rafique Group. Offering affordable investment chances, DHA Valley Islamabad comprises 18 residential blocks. Located beautifully adjacent to DHA Phase 2, this society links with Islamabad Highway through a wide DHA Expressway. The second entrance to this society is from Kallar Syedan Road.
DHA Valley Islamabad offers 5 Marla and 8 Marla residential plots. It also has a good number of commercial investment opportunities. This society features DHA Homes and a particular Overseas Block as well.
Prices of properties in DHA Valley are low compared to several other phases, making it the right option for capital growth.
Short Term Investment Opportunities (DHA Valley Islamabad)
DHA Valley is a good option for those looking for short term investment opportunities in Islamabad. This society has the ideal location, a good pace of development, and a number of attractive opportunities. Additionally, the amenities planned, current prices, and expected gains make it a wonderful option to consider.
Medium-Term Investment in DHA Islamabad
Investors who desire to invest in properly developed phases can choose between DHA Phase 2, Phase 3, and DHA Phase 4. A wide range of properties is available there at the best prices.
Long-Term Investment in DHA Islamabad
We suggest buying in DHA Phase 2 Extension and some areas of DHA Valley for long-term investment gains. Moreover, some blocks of DHA Phase 3 will also take time to develop, so you can also consider them for long-term property investments.
So, that's all about the best investment opportunities in DHA Islamabad. Now choosing between these phases completely depends on your choices and requirements. Contact us for further assistance.
Please contact Universal Property Network For More Information click here or visit our youtube channel further assistance