Investment in Residential Apartments or Hotel Apartments?
by UPN
December 23, 2020
0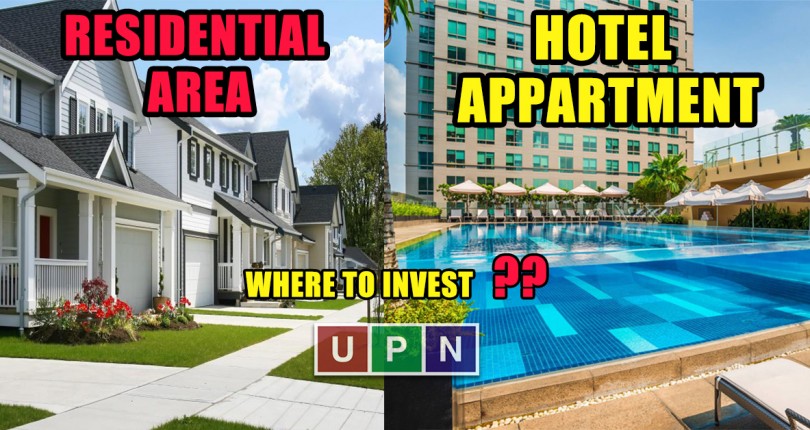 Over the last many years, people have shifted their investments from plots to high-rise projects, especially in apartments. The demand for apartments is increased in Pakistan due to the rapid urbanization, and different facilities are also a reason behind it. Apartments for sale in Pakistan are available in several sizes and various categories. So, even within this category, a buyer has a lot of choices to invest in.  He can choose as per his budget and lifestyle requirements.
Additionally, he can buy a deluxe penthouse with a mesmerizing view or invest in hotel apartments to earn handsome rental income.
But hotel apartments are considered a relatively new investment option where other types of apartments are popular for ages. Therefore, most of the buyers get confused before investing their hard-earned money in hotel apartments.
Also, there is a question of whether investing in residential apartments is good or choosing a hotel apartment is more beneficial? Here is a useful comparison; let's find out more!
Hotel Apartments
Hotel Apartments are the luxuriously developed, fully-furnished apartments. These apartments are available for both short-term and long-term stays.
These apartments are also known as serviced apartments equipped with all the modern-day facilities available in modern hotels, such as spacious parking, room service, housekeeping, etc.
It offers a well-maintained living space, the same as the residential apartments. In other words, hotel apartments are the perfect balance between residential apartments and traditional hotels. These are the best commercial units offering residents the best property type to choose from.
Even hotel apartments have become a popular accommodation mode among the tourists looking for living space and business executives traveling for work. Most importantly, such projects have also drawn the attention of domestic and overseas investors.
The Orchard Mall Lahore is the perfect example of mix-used development where the best shops, offices, and hotel apartments are available for sale.
Investment in Hotel Apartments or Residential Apartments
Here are some major factors which you can consider when deciding whether to invest in a hotel apartment or residential apartment:
Reason Behind Investment
Demand in the Market
Return on Investment and Rental Income
Latest Facilities and Amenities
Reason to Invest
Your decision to choose between a residential apartment or a hotel apartment totally depends on the reason behind the investment. If you are looking to buy an apartment for self-accommodation, then you can invest in residential apartments. But if you are planning to use your apartment for income generation by putting it up for rent, then a hotel apartment is a beneficial option.
Mostly, buyers invest in apartments for living there or turn it into a rental property so that they can earn good rental income while sitting at home. Furthermore, many investors do consider investing in hotel apartments as it is the best type of commercial property, affordable, and easy to manage.
Which Apartments are High in Demand?
Living in apartments has become popular in Pakistan; that's why the demand for residential apartments is increasing with time. On the other hand, projects with hotel apartments are also gaining the attention and investment of investors due to the exceptional facilities and services offered with them.
Rental Income and Return on Investment
One of the most significant features of hotel apartments is that they are easy to rent out. You can rent it out to both short and long-term renters. This means that hotel apartments attract more tenants as compared to residential apartments. Residential apartments generate revenue on a monthly basis, while hotel apartments offer high returns even on a daily basis.
But when it comes to investing in the real estate market, it is also important to look into the factor of capital appreciation. In this regard, buying a residential apartment as well as a hotel apartment appears to be a profitable option for those seeking high returns in the coming years.
Modern-Day Facilities and Amenities
The latest high-rise projects are offering the best living facilities in their apartments. A wide variety of facilities are available, including power backup, spacious parking, CCTV cameras monitoring, and high-speed elevators. Moreover, these apartment projects are also located ideally to ensure a quality lifestyle for its residents.
Interestingly, all these facilities are also available for the buyers and renters of hotel apartments in Pakistan.
That's all was the comprehensive comparison between the residential and hotel apartments. Both of these options are good; however, hotel apartments generate higher capital gains. But buying an apartment totally depends on a customer's choice.
For further assistance and investment analysis, Contact Universal Property Network  For More Information click here or visit our youtube channel further assistance