Investment Opportunities in Gwadar – Latest 2020
by UPN
May 31, 2020
0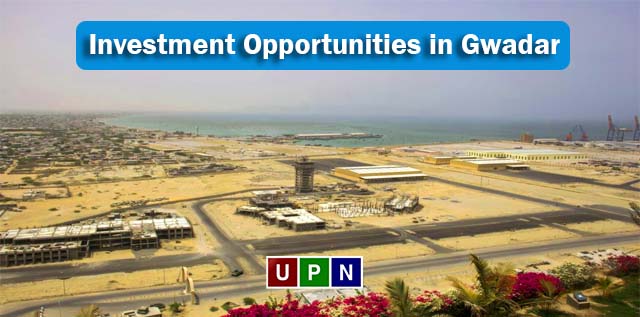 CPEC and the deep seaport in Gwadar are the two main attractions that attract to make the investment in Gwadar. Gwadar city connects several Asian Countries through CPEC, and once it completes, it will be one of the most important centres of trade internationally. Gwadar real estate is full of investment opportunities. Anyone interested can confidently buy residential and commercial properties to earn a huge profit. But at the same time, it is also a place with a number of other investment options.
Overall, Gwadar is developing rapidly to become the next Dubai in Asia. This city promises a bright future and will feature mega-developments to bring both local and international investors. So, if you are also interested in investing in Gwadar, here check the latest investment opportunities details in Gwadar!
Investment Opportunities in Gwadar Real Estate
Gwadar real estate is offering highly attractive and profitable investment opportunities. Different residential, commercial, and multi-purpose projects are developing in Gwadar. Located in different areas, most of these projects are GDA approved and owned by the well-known real estate companies.
Some of the top residential and commercial real estate projects in Gwadar are:
New Town
Naval Anchorage
Sangar Housing Scheme
Coastway Residency Gwadar
Gwadar Golf City
Kings Park Gwadar
Gwadar Central
Anyone interested can also invest in
Commercial buildings
Hotels and food chains
School property
Clinics and hospitals property
Supermarkets and retail stores
Also, some other multi-purpose and completely commercial projects are also offering properties on installments. But before investing in any real estate project in Gwadar, do check the projects' approval status at GDA official website.
Investment Opportunities in Transport
Investing in the transportation business in Gwadar will be a good investment option. Gwadar seaport will soon be utilized for international and domestic trade. So, it will be a profitable opportunity to invest in this business and make good money. How could you make an investment in the transportation business in Gwadar?
Here are the options:
Do register your shipping agency at Gwadar Seaport
Start your truck and trawler service for couriers and heavy loads
Also, you can set up ferry service for Karachi, Gwadar, and Gulf states
Other Business/Investment Opportunities
Moreover, there are also many other investment opportunities in Gwadar, which you can confidently choose for a bright future.
You can start a fishing business. You can be a:
Fish supplier
Can also own a fish meal factory
Start fish farming, and more.
Invest in Energy projects and Power plants
Launch Uber and Careem Service.
Set Up a Law Company
Interior as well as Decoration Company
Invest in the Tourism Sector.
For further assistance, contact Universal Property Network!
Check out our site for more detail. Latest News