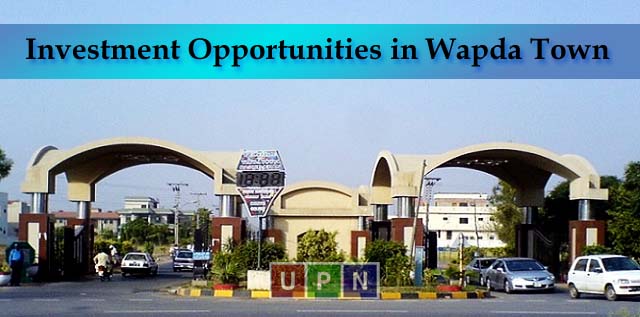 Investment Opportunities in Wapda Town Lahore Whenever an investor plans to invest in the best properties for sale, Lahore real estate market always appears the best choice. The property market of Lahore is full of opportunities and there are numerous options to choose from. So, if you are also looking to buy a plot in the best housing society in the City of Gardens, you can choose Wapda Town. It is located ideally on Khayaban-e- Jinnah Road and was established in 1978.
Here check the complete details below!
Project Overview
This housing scheme was first initiated for the employees of the Water and Power Development Authority but later open its gates for the general public. Wapda Town Lahore is comprised of Phase 1 and Phase 1 Extension. Moreover, the development work of Phase 2 is also completed. This society is overall offering a total of 12,000 residential units in it.
Spanning over a land of 17,000 Kanal, this is a well-planned and developed housing society in Lahore. It lies in the proximity of the Nespak Housing Society, Valencia Town, and Punjab Government Cooperative Employees Housing Scheme.
Each Phase of Wapda Town further comprises separate blocks in it. All these blocks are named alphabetically.
Plots for Sale in Wapda Town Lahore
This top-rated housing society is offering a residential plot of 5 Marla, 10 Marla, and 1 Kanal in it. Moreover, the beautifully constructed houses of all sizes are also available in it.
Indeed, you can also buy different sizes of commercial plots for sale in it.
Average Prices of Property in Wapda Town Lahore
| | |
| --- | --- |
| Type of Property | Average Prices |
| 5 Marla Houses | 1 crore |
| 5 Marla Plots | 76 lacs |
| 10 Marla Houses | 2.1 crore |
| 10 Marla Plots | 1  crore |
| 1 Kanal Houses | 3.2crore |
| 1 Kanal Plots | 1.7 crore |
| | |
Best Areas to Buy 5 Marla Plots in Wapda Town Lahore
Phase 1 – Block G2, Block G3, and Block G4
5 Marla plots for sale are easily available in the different blocks of Wapda Town Lahore. However, its Block G2, G3, and G4 are the most popular among investors. Here are some further details:
The average price of 5 Marla plots in Block G2 of Wapda Town Phase 1 is 76 lacs
Phase 1 Block G2 is ideally located on the 80-feet-wide Abbaseen Avenue and easily accessible from multiple routes. It is a completely developed block with the number of shops and beautiful parks.
Wapda Town Phase 1 Block G3 is also the best option to buy 5 Marla plots for sale. It is offering these plots at the average price of 75 lacs. This block is located between Blocks G2 and G4 on the Abbaseen Avenue
Another block of Wapda Town Phase 1 catches the attention of investors with the well-developed and reasonable plots for sale. It is offering plots at the average price of 86 lacs. The prices of plots in G4 Block are high because it is located ideally close to the boundary wall of Phase 1. A number of shops, hostels, and hotels are also located within this block.
Best Areas to Buy 10 Marla Plots in Wapda Town Lahore
10 Marla plots are also available in various blocks of Wapda Town. However, there is some attention-catching blocks in term of 10 Marla plots for sale. The best blocks to buy 10 Marla plots in Wapda Town Lahore are:
Phase 2 N3 Block, Phase 1 Block F2, Phase 1 Block A2
The average prices of 10 Marla plots for sale in Wapda Town is 1.3 crore
Check out our site for more detail. Latest News
Stay Updated with Universal Property Network!