IT Hub Bahria Town Lahore is Extended to 5th Floor of Jasmine Grand Mall
by UPN
March 4, 2021
0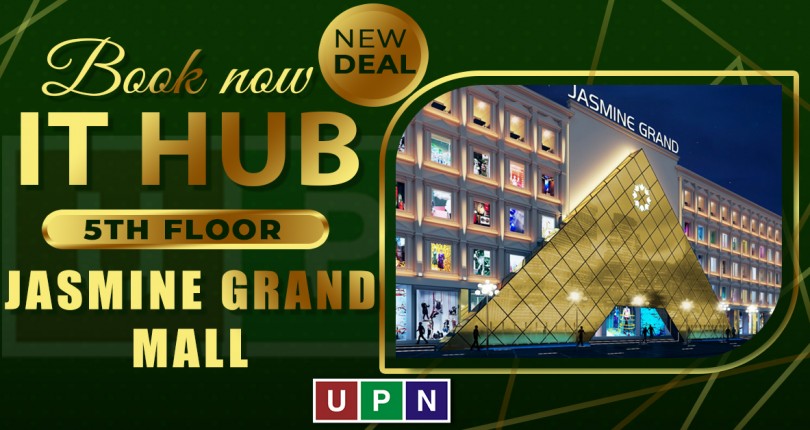 IT Hub in Bahria Town Lahore launched a month ago. This exclusive project is launched on the fourth floor of Jasmine Grand Mall that is completely reserved for IT-related shops and businesses. Launched by Q-Links, it is a first of its kind project in that locality where all the information technology-related items and services will be available under one roof. It's a place where you will find all the laptops, computers, mobiles, hard drives to USB, memory cards, and gaming devices.
All the shops of IT Hub were almost sold out even in its pre-booking phase. In other words, the availability of the shops was less while the demands were high.
By keeping such demands and success of IT Hub Bahria Town Lahore and IT Market Bahria Orchard in mind, Q-Links has extended IT Hub to the 5Th floor of Jasmine Grand Mall. It is the biggest mall in Bahria Town Lahore, developing at a satisfactory pace.
Let's know more!
IT Hub on 5th Floor of Jasmine Grand Mall
After getting huge success in the IT Hub fourth floor of Jasmine Grand Mall and IT Market in Orchard Mall, Q-Links Developers provide you with another golden opportunity. They are once again ready to catch investors' attention and investment by presenting IT Hub on the 5th floor of Jasmine Grand Mall.
This IT Hub is offering several sizes of shops completely reserved for IT businesses. The prices for these shops are affordable, bookings start with a 20% down payment, and the ease of 3 years installments is provided.
Covering the area of 40,000 sq ft, this IT Hub features a beautiful and well-designed layout plan. It has shops in size range of 120 sq ft to 136 sq ft and even bigger than it.
You can easily book your shop in IT Hub by paying 20%. Moreover, the 20% amount will be payable after 1 to 2 months. The bookings of the shops are starting on 4th March 2021. But the total amount will be payable in 36 monthly installments.
Reasons to Invest in IT Hub Jasmine Grand Mall
This IT Hub in Jasmine Grand Mall is the largest technology market in the area. It is a place designed on unique concepts. One of the significant reasons to invest in IT Hub Jasmine Grand Mall is that there is no project in the surroundings. Previously, the people of Lahore require to travel to Hafeez Center or Hall Road to get facilitated with all the IT-related facilities.
The establishment of IT Hub will benefit not only the residents of Bahria Town but also its nearby societies. Millions of people living in Bahria Town's surroundings can easily access it through:
LDA Avenue 1, Thokar Niaz Baig Interchange, and an entrance close to Shareef Complex.
Some of the main reasons to choose IT Hub 5th Floor for investment are:
A project by well-known and trusted developers, so your investment will be safe, secure, and profitable.
The shops' prices are reasonable; bookings start at 20% while there are 36 monthly installments.
It is the largest IT Hub in that locality, where you will find almost everything related to information technology.
Due to golden investment and business opportunities, the shops' demands are high, and the availability is less.
So, be quick and invest before all the shops sold out! Contact  Universal Property Network  .For More Information click here or visit our youtube channel