IT Hub Bahria Town or IT Market Bahria Orchard?
by UPN
February 27, 2021
0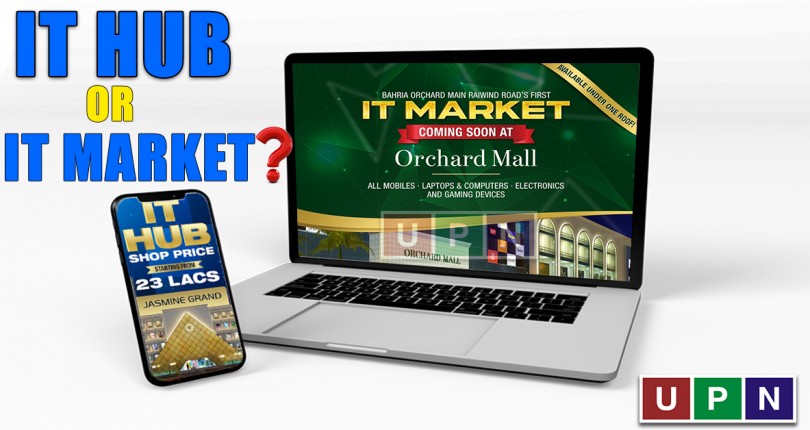 In the last few years, Q- Links has emerged as one of the best real estate developers in Lahore. They have launched several projects both in the residential and commercial categories. Among that, most of their projects are delivered while many are near completion. After earning so much name and appreciation, Q- Links Developers has recently launched two iconic informational technology markets in Lahore. One of its is IT Hub Bahria Town Lahore while the second one is located in Bahria Orchard Lahore.
Both these are the same kind of commercial projects launched at the different locations of Lahore. Thoughtfully designed and developing as per international standards of developments, these projects are full of business and investment opportunities. But still, the question is, which one is better to invest in IT Hub Bahria Town Lahore or IT Market Bahria Orchard? Let's find out the answer below:
IT Hub Bahria Town Lahore
Launched a couple of weeks ago, this project is launched in Jasmine Grand Mall Bahria Town Lahore. The exact location of the IT Hub is the fourth floor of this beautiful mall. Located perfectly on the main boulevard of Sector E, this mall is already holding significant importance for so many reasons. However, after the launch of this information technology hub, its value is increasing more.
The entire fourth floor of the Jasmine Grand Mall is featuring shops and showrooms reserved for information technology.
This IT Hub Bahria Town Lahore features the shops of 100 sq ft to the showroom of 1497 sq ft. Booking of the shops is starting from 7 lacs, the remaining amount of the shops will be payable in 36 equal installments. The prices of the shops are different depending on the sizes and categories.
IT Hub Jasmine Grand Mall was launched at the start of Feb 2021. Both investors and people who want to do their businesses in Bahria Town have found it attractive and that's why 80% of the shops are sold out. Only a few options are left even, many of these shops are available on own prices.
IT Market Bahria Orchard Lahore
Located at the top-class location of Raiwind Road, this project is developing on the third floor of Orchard Mall. This beautifully developing mall is among the best projects of Q-Links Developers, has so many attractions and reasons to choose. However, with the recent launch of IT Market Lahore, the worth of this project is increasing further.
Several sizes of shops and showrooms are available for sale in the IT Market in Orchard Mall Lahore. The prices of the shops are different depending on the sizes and location. However, the total prices of the shops are affordable and bookings start at 5.5 lacs only.
An easy payment plan of 3 years is provided.
Why One is Best?
The IT Hub and IT Market by Q-Links Developers are the projects where you cannot make any comparison. Both of these projects have their own worth and importance.
IT Hub is developing in the iconic Jasmine Grand Mall that will perfectly meet the technology needs of the people living in Bahria Town Lahore. On the other hand, the IT Market in Orchard Mall is the first of its kind development on Raiwind Road. This IT Market will not only facilitate the residents of Bahria Orchard but all the other nearby societies. The location of this project is very prime and easily accessible.
However, choosing one between these two projects completely depends on your choice. It depends whether you like to invest in Bahria Town to earn handsome returns on investment or planning to run a successful business at the ideal location of Bahria Orchard Lahore.
This IT Market on Raiwind Road is also an opportunity for those who had missed the chance to buy shops in IT Hub.
So, be quick, and do. Contact Universal Property Network  .For More Information click here or visit our youtube channel