Jasmine Mall vs Jasmine Grand Mall Bahria Town Lahore
by UPN
April 5, 2023
0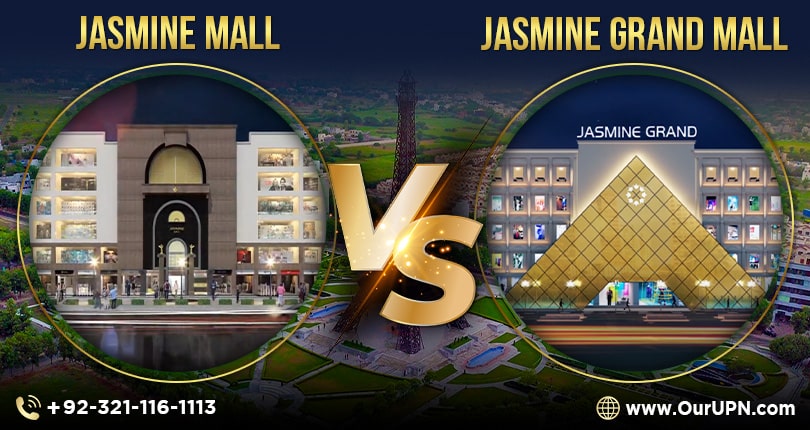 Jasmine Mall and Jasmine Grand Mall are high-rise development of Q-Links Pvt Limited. They began work on the Jasmine Mall in Bahria Town in 2011, and it was completed in 2015. After the success of Jasmine Mall, the developer launched the Jasmine Grand Mall in Bahria Town Lahore. The most noticeable feature is the location of both projects. For families, these project provides great shopping brands, superstores, event spaces, entertainment, and peaceful dining.
It is a well-developed area, with everything organized in accordance with modern concepts and techniques. These malls were designed by highly qualified designers and architects. These malls contain huge areas for parking in the basement. It is the best place where you can make investments for future growth, retail, and business opportunities.
In this blog, we will discuss the difference between Jasmine Grand Mall vs Jasmine Mall Bahria Town Lahore.
About developer
In 2002, Q-Links Developers began working with Bahria Town. Jasmine Mall and Jasmine Grand Mall are grand projects of Q-Links Developers. They have a well-known name in the real estate market's history. They have already launched several projects and delivered them on time to their Clients. For as long as they can, these developers will manage, develop, sell, and rent the property. Furthermore, they are always looking for new opportunities and are proud to be industry leaders. In Pakistan, the developer has already completed a number of grand commercial and residential projects. Here are a few examples:
Q – Central Grand Mall & Residencia
Gold Souq in Bahria Town Lahore
Gold Suits in Bahria Town Lahore
Touheed Heights in Bahria Town Lahore
Pearl Mall in Lahore
Q- Bazaar in Bahria Orchard Lahore
Orchard Mall in Bahria Orchard Lahore
Broadway Heights in Bahria Orchard Lahore
Eastern Executive Villas in Bahria Orchard Lahore
Safari Home in Bahria Orchard
Jasmine Home in Bahria Orchard Lahore
Jasmine Villas in Bahria Orchard Lahore
Overseas Villas in Bahria Orchard Lahore
Overseas Executive Villas in Bahria Orchard Lahore
Q- Hotel Studio Apartments in Bahria Town Karachi
Jasmine Mall in Bahria Town
Safari Villas Bahria Town Karachi
Jasmine Mall vs Jasmine Grand Mall Location
Both projects of Q-Links developers are ideally located in Bahria Town Lahore. Jasmine Mall is conveniently located in Sector C of Jasmine Block Bahria Town in Lahore. It is located 3 minutes from Bahria Golf and Country Club. This project is also near to Grand Taj Hotel. It is also close to some educational institutes which are:
10 minutes from Imperial University
12 minutes from Comsats Institutes of Technology and The University of Lahore
5 minutes from Akhtar Saeed Medical and Dental College
Jasmine Grand Mall is conveniently located in Sector E of Bahria Town. It has double-height floors and a luxurious view. The Eiffel Tower is direct across from Jasmine Grand Mall, and the Tauheed Block is directly behind it.
It has easy access from M-2 Motorway
Walking distance from the Bahria Zoo
4 minutes from Cine Gold Cinema
7 minutes from Lake City
10 minutes from DHA EME Sector
Structure and Design
Both malls are ideal because of their beautiful structures. JGM is larger and more expensive than Jasmine mall.
Jasmine Mall Structure
Jasmine Mall is the first project of Q-Links which was launched in 2011 It was completed and running successfully. This project contains:
Basement
Ground Floor.
First Floor
Second Floor
These floors contain the biggest shopping brands where people will find everything they need. There will be:
Clothing Brands
Shoe Brands
Makeup Items
Kids-related item
This mall is one of the best attractions that the people of Bahria Town enjoy. This mall provides them with all of their needs. It is ideal for everyone from children to adults to go shopping.
Jasmine Grand Mall – Structure
The Q-Links-developed Jasmine Grand Mall is a large project in the heart of Lahore. This project covers approximately 20 Kanal of land. It's a project that faces the Eiffel Tower and is perfectly situated on Main Boulevard in Bahria Town. This Mall has six floors and 200 commercial shops. This mall has three-sided parking. These commercial shops will provide you with the greatest future return. The layout of this project shows:
Basement:
The basement contains commercial shops, but they are not for sale. Q-Links developers reserved the basement for their own business. They will run their superstore there.
Ground Floor and 1st Floor:
The ground floor and first floor both have commercial shops for various brands. Mega shopping brands like Bonanza Satrangi, Junaid Jamshaid, Limelight, Khaadi, Gul Ahmed, Charcoal, Alkaram, and many more can be found here. People can do all of their shopping under one roof.
2nd Floor:
The second floor contains wedding-related retail shops. Wedding accessories of every kind will be available here. Decoration materials, wedding gifts, lights, and a variety of other accessories can be found here.
3rd Floor:
The third floor contains commercial shops for kids-related items. The third floor is specifically designed for children, with clothing brands, gift shops, and toy stores. There will also be stationery stores for necessary items.
4th Floor and 5th Floor:
The fourth and fifth floors contain commercial shops selling IT accessories. IT Hub is located here, and it will have mobile shops, laptops, gaming gadgets, and other technology shops.
6th Floor:
The food court is located on the sixth floor of this beautiful mall. It will be a breathtaking view from the 6th floor. On the top floor of Jasmine Grand Mall, children can enjoy games and rides. Visitors to the food court will be able to enjoy their meal while looking out. This floor will add to the attraction of Jasmine Grand Mall.
Payment Plan
Jasmine Mall is a completed project with no options for sale. This project is equipped with luxurious amenities. People are pleased with their earnings from this investment.
Jasmine Grand Mall also has a limited choice of shops for sale. These are the best places to invest. The developer has launched the payment plan for three years. The client must pay for the booking:
40% down payment
The paid installments
20% amount on Possession
Remaining installments
The client will be charged an additional fee for corner shops and MB-facing shops.
Features and Amenities
Jasmine Mall and Jasmine Grand Mall will provide a number of modern amenities. Both projects are good investments. There are numerous business opportunities. Some of the amenities are:
24-hour CCTV cameras and monitoring system
safe and secure environment
Commercial shops and shopping brands
Air conditioning lobbies and halls
Elevators and escalators
Fire extinguishing system
Golf area on the rooftop
Backup generators
Insulation and safety
Restaurants and cafés
Food Court
Kid's Play Area
Video games, squash court, and tennis court
4D Screen Cinema
Swimming pool
Parking area in the basement
Fitness Center and Gym
Prayer area
Why Invest in Jasmine Grand Mall?
Jasmine Grand Mall is the best investment opportunity in Bahria Town Lahore. This project has cutting-edge facilities, an ideal location, the best developers, and a simple payment plan. Investors and clients like the simple payment plan. Depending on your budget, you can easily book a shop for resale. The primary advantages of investing in Jasmine Grand Mall are:
Ideally located in Sector E of Bahria Town Lahore
Enjoys a marvelous view of the Eiffel Tower
All types of shopping, dining, and entertainment are available.
This stunning structure contains 200 commercial shops.
Power and backup systems are available.
Backup doors are available for entry and exit.
Fire extinguisher system and smoke sensors
High-speed elevators are available.
The biggest shopping brands are available.
A food court area is available.
Only limited shops are available for resale.
High investment returns are expected in the future.
Both local and overseas Pakistanis can book their shops.
Furthermore, it is the best investment project with a high return. There are only a few options for sale. It will be beneficial if you want to buy a commercial shop.
Conclusion
The best places to buy shops in Bahria Town Lahore are Jasmine Mall and Jasmine Grand Mall. People looking for high returns on investment, starting their own business, and earning regular rental income can invest with confidence in these projects. Both projects will undoubtedly grow your investment. Your money will be safe, and you will profit far beyond your expectations. We strongly recommend that you invest in the Jasmine Mall and Jasmine Grand Mall in Bahria Town Lahore.
Please contact us through WhatsApp, Contact Us form, or visit our UPN Youtube Channel for further assistance.