Jasmine Grand Mall Prices Increased – Latest Details
by UPN
August 27, 2021
0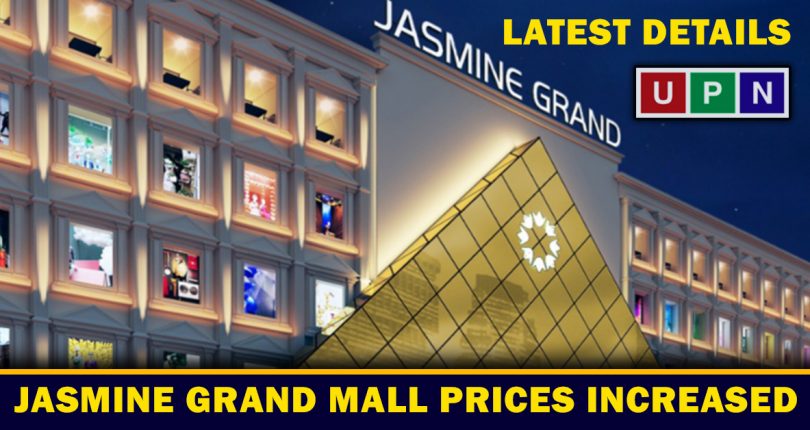 A grand project, Jasmine Grand Mall is developing to become the largest mall in Bahria Town Lahore. It's a smartly planned, a mega-development where one can find everything, starting from grocery to wedding shopping. Launched almost 1.5 years ago, Jasmine Grand Mall prices are increased. The increase in the prices is 10% made on 2nd August 2021. But still, the properties for sale in Jasmine Grand are reasonable and comes with the facility of payment plans. Let's have an overview of the projects and properties in Jasmine Grand Mall Bahria Town Lahore.
Projects in Jasmine Grand Mall
This grand and the largest mall of Bahria Town Lahore features basement + ground + 6 floors. Following are the floor – wise projects details:
Jasmine Grand – Basement
Its basement is featuring the well-known Aslam Supermarket, where the best rental opportunities are available. The shops in the basement are not for sale, but one can earn guaranteed rental income on investment.
Jasmine Grand – Ground + First Floor
Both these floors of Jasmine Grand Mall have shops for brands. Different brands have already booked these shops. Soon, you will see many of the local and international brands operational there.
Jasmine Grand – Second Floor
The second floor of this grand mall holds significant importance. It is more attractive than others because it features the first of its kind development, Wedding Galleria. It's a project offering a one-stop shopping opportunity for all the wedding-related stuff and services. Moreover, limited shops are available for sale in Wedding Galleria Jasmine Grand Mall.
Jasmine Grand – Third Floor
The Jasmine Grand Mall prices are always affordable, which is one of the major reasons for its popularity. Its third floor is planned with another appealing project Kidz Galleria. This project is designed with several shops, available for Kids clothing, shoes, accessories, gaming and toys like stuff. Also, few options are available on booking.
Jasmine Grand – Fourth and Fifth Floors
Both these floors are attractive and, no doubt, featuring the most popular project of Jasmine Grand Mall. These floors are planned with the first its kind IT Hub in Bahria Town Lahore. It's a project where you will access a complete range of computers, laptops, electronics, and gaming gadgets. Furthermore, you will also find all the IT-related services under one roof of IT Hub Jasmine Grand Mall.
Jasmine Grand – Sixth Floor
Jasmine Grand Mall prices are good, and that's why everyone wants to invest in it. But the properties on the sixth floor are not for sale. Instead, this floor is design with a food court and kids play area, manage by the developers.
Jasmine Grand Mall Prices and Investment
Investment in this project is very profitable since its launch. Many of the investors have earned huge by booking their properties in the pre-launching phase. Now people who had booked their properties in just after launching are in profits. Jasmine Grand Mall prices are increased to 10%, providing its investors with good returns. However, it's also an alarm for those still waiting to invest.
The increased prices are still affordable, providing you with the last chance of making profitable investments. The rates of shops in Jasmine Grand Mall will continue increasing with the progressing development. So, you must have to avail this opportunity at the right time!
Contact us for further assistance.
Please contact Universal Property Network  For More Information click here or visit our youtube channel further assistance