Lahore Greenz Luxury Farmhouses – Booking and Prices
by UPN
January 24, 2021
0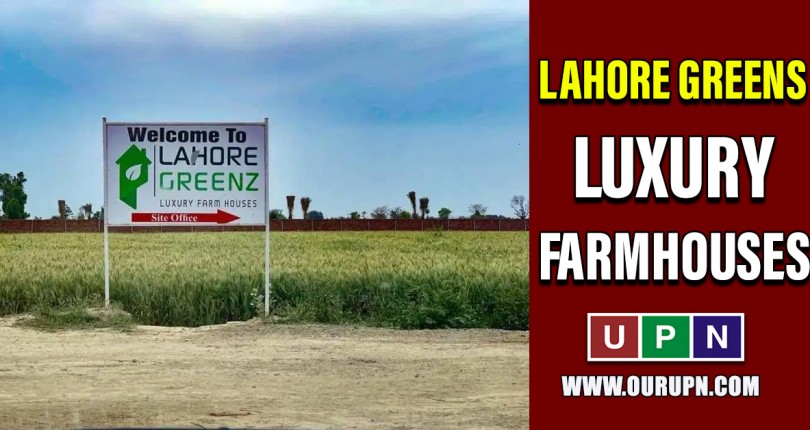 Lahore Greenz Luxury Farmhouses is a perfect destination for residence and investment. It's an eco-friendly luxury farmhouse project where the farmhouse's land comes with numerous facilities. Equipped with striking features, all the basic to modern lifestyle amenities are available. The eye-catching beauty of this place and the eco-friendly, fresh atmosphere further boosts the worth of properties available for sale. Lahore Greenz Farmhouses are located ideally in the heart of Lahore in the proximity of some best housing societies. Let's know more:
Lahore Greenz Luxury Farmhouses Lahore – An Overview
Lahore Greenz is a high-standard development where the farmhouses land of 2 Kanal, 4 Kanal, and 8 Kanal are available for sale. Sprawling over hundreds of Kanal land, this place is comprising the completely developed A Block, B Block, and C Block. The development work for all these blocks is complete. Many farmhouses are ready there, while many are fully inhabited as many families live in them.
Lahore Greenz Luxury Farmhouses are full of all the top-class facilities such as 24/7 security and boundary walls. It's a secure gated community where the uninterrupted supply of electricity and clean water is ensured. Different well-known markets, schools, and hospital facilities are available in the surroundings. It has beautiful mosques, spacious parks, and wide carpeted roads. In simple words, Lahore Greenz is a place where you will find all the amenities that you can imagine at your place.
Lahore Greenz Farmhouses Land and Prices
The on-ground farmhouses plot of 2 Kanal, 4 Kanal, and 6 Kanal are available in Lahore Greenz. The demanding prices for the farmhouses land are 35 lacs per Kanal. So, the total prices of the farmhouse's land depend on the size. However, if you are looking to buy a farmhouse land in installments, you can choose it in the society's A Executive Block.
Lahore Greenz Luxury Farmhouses – Location and Access
Lahore Greenz Luxury Farmhouses are located on Bedian Road Lahore. This appealing place is easily accessible on the drive of 10 minutes from Nawaz Shareef Interchange. The distance of these farmhouses from the Nawaz Shareef Interchange is around 14 KM. However, one of the most important attractions of this place is the proximity to DHA Phase 10.
Reasons to Choose Lahore Greenz Farmhouses
Lahore Greenz Farmhouses are among the best properties of Lahore, offering good investment potential. The farmhouse land available for sale in Lahore Greenz is reasonable in terms of prices, and the location is easily accessible. But most importantly, the proximity to Phase 10 land makes it perfect for enjoying all the luxury facilities and huge investment returns. Also, this place is gracefully developing where people are living. So, by investing in the Lahore Greenz Farmhouses land, you can confidently start constructing your farmhouse.
Contact Universal Property Network  now for further information!