Lahore Smart City New Projects – Coming Soon
by UPN
March 30, 2023
0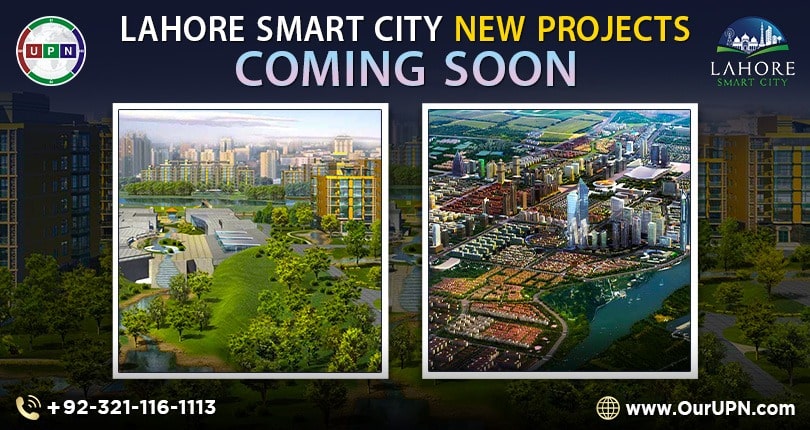 Lahore Smart City is a high-end project that is going to launch new projects soon. Lahore Smart City has an ideal location on Kala Shah Kaku and contains both residential and commercial opportunities. This project is going to be the second smart city in Pakistan and the first in Lahore. Many new projects have been announced for Lahore Smart City this year. These are both residential and commercial projects. Additionally, these projects are also ideal because of their prime location, features, and luxuries. This LDA-approved project offers world-class and modern luxury. The demand for this project will rise as a result of the new projects. These developments will include villas, commercial shops, and other attractions. In this blog, we will go over the detail of Lahore Smart City New Projects – Coming Soon.
Lahore Smart City New Projects
The Lahore Smart City new projects are as follows:
1) Villas in Lahore Smart City
Villas of various sizes will be available in Lahore Smart City soon. These villas are ideal for residents and investment purposes. These villas feature the most beautiful interior and exterior designs. Highly qualified architects and designers create these villas. The sizes of the villas are as follows:
10 Marla villa
1 Kanal villa
There are two types of villas in Lahore Smart City, which are:
Mediterranean Villas
Georgian Villas
Mediterranean Villas 
The Lahore Smart City new project is Mediterranean villas. These villas are a type of traditional architecture that originated in Italy, Greece, and Spain. The style is distinguished by the use of colors, exteriors and interiors, and structure. It contains outdoor living spaces, such as courtyards, to take advantage of the warm Mediterranean climate. The interiors of Mediterranean villas have high ceilings and an open floor plan. Designs such as tilework and woodwork are common features of these villas. Traditional Mediterranean villas were built with natural materials such as stone, and clay, modern versions, modern materials, and technologies such as energy-efficient windows and doors. These are the best villas for residents in Lahore Smart City. These villas are available in one size, that is
The Lahore Smart City new project Mediterranean villas contain well structure and design, including:
Four master bedrooms with an attached bathroom
Living room
Dining room
Drawing room
Powder room
Two TV lounge
Two stylish kitchens
Courtyard as an out space
Balcony
Garden
Swimming pool
Ventilation area
Washing area
Terrace
2-3 Car parking area
Georgian Villas
The Lahore Smart City new project is Georgian villas. These are the renowned architectural-style villas that were designed by the developer of this project. The Lahore Smart City Georgian villas are luxurious, with modern amenities and high quality. In this housing society, residents will live a comfortable and convenient lifestyle in these villas. Parks, playgrounds, shopping centers, and schools are all within walking distance. Furthermore, the smart city concept is centered on cutting-edge technology and high-level infrastructure. This project offers residents advanced security systems and energy-efficient homes. A Georgian Villa in Lahore Smart City is the ideal combination of traditional elegance and modern convenience. This architectural beauty is a combination of cutting-edge technology and luxury. Because of this infrastructure, this development appeals to those looking for a luxurious and comfortable lifestyle. Georgian villas are the best villas for residents in Lahore Smart City. The size of these villas is:
The Lahore Smart City new project Georgian villas contain well structure and design, including:
Five master bedrooms
Drawing room
Living room
Dining room
Powder room
Library area
Two TV lounges
Two stylish kitchens
Garden area
Swimming pool
Ventilation area
Washing area Balcony
Terrace
Mumty area
3-4 car parking area
2) Lahore Downtown 
The Lahore Smart City new project is the Downtown. Mr. Daniyal Friel designed a beautiful project in Lahore Smart City. These apartments in the Downtown were designed by Mr. Daniyal Friel, one of the top designers in Spain. The Downtown is located on the backside of Mediterranean and Georgian villas. This project will have a front view of the Lahore Ring Road. The Downtown contains:
Two Main Entrances to Downtown
Commercial Towers
South Block
Residential Apartments
Medical Tower
Parking Facility
Two Main Entrances of Downtown
There will be two main entrances to Downtown. Security guards and a gated community will protect these entrances. Every activity will be monitored by CCTV cameras. Only authorized individuals will have access to the Downtown entrance.
Business / Commercial Towers
There will be many commercial buildings in the Lahore Smart City new project. This commercial tower is ideal for both business and investment. Residents can work in these business towers as well. These business towers are available for purchase by investors. The business towers contain:
165,000 square feet of offices
Co-working space
Parking in the basement
South Block / Residential Apartments
The south block is a Lahore Smart City new project. The south block contains many residential apartments and penthouses. These apartments are full of luxuries and amenities. South block apartments include:
One-bed apartments
Two-bed apartments
Three-bed apartments
Four-bed apartments
Penthouses
These apartments are ideal for people living in Downtown Lahore. All apartments have the best interior, exterior, and floor plans available. The apartment building has several floors for various purposes.
Ground and First Floor
Commercial shops are located on the ground and first floors. These shops are ideal for a variety of businesses. These shops can be purchased by investors. These are also great for generating rental income.
Second Floor
The food court is located on the second floor. There will be a variety of restaurants, cafés, and other food places. There are also shops available for the food court.
Remaining floors
The remaining floors are residents of apartments and penthouses. These apartments will be developed using cutting-edge techniques and ideas. The penthouses will have excellent amenities as well. These penthouses include:
Bedrooms with an attached bathroom
Dining area
One master kitchen
A swimming pool
Medical Tower
In Downtown Lahore, a medical tower will be available. It will provide medical and healthcare services of international quality level. There will be highly qualified doctors as well as professional and experienced staff. This medical tower will include:
Hospitals
Clinics
Pharmacies
Laboratories
Parking Facility
There will be plenty of parking in Downtown Lahore. The parking area contains 1000 car parking capacity at a time.
Investment Benefits in Lahore Smart City New Projects
There are numerous advantages to investing in new projects. Investing in villas and commercial shops has several advantages, including:
The rates for properties will rise.
The value of the property will rise.
The medical tower will provide medical services to residents of Lahore Smart City.
These villas and apartments will provide residents with an international standard of living.
Villas, apartments, penthouses, commercial shops, plazas, and many other investment options are available.
The own will increase on properties
A high return is expected from these villas and Downtown properties.
Conclusion
These are the Lahore Smart City new projects that will start soon. When these projects begin, the value of the land and properties will rise. It will also improve the aesthetics of Lahore Smart City. Because of their location, luxury, facilities, and residents, the projects are the best. The location of Lahore Smart City makes it an appealing investment opportunity for buyers. The Lahore Smart City new project is being built with one goal in mind:
To offer residents a world-class luxurious lifestyle in apartments
To offer residents a comfortable environment in the heart of Lahore
To offer residents an international standard of living in penthouses.
To provide residents with various job and business opportunities.
To provide investors with the opportunity to invest in a shop, plaza, apartment, or penthouse.
The main features of these projects are their luxurious facilities, affordability, and location. Clients will find commercial and residential properties at affordable prices. This project will provide a high return to investors. Furthermore, investors should consider investing in the Lahore Smart City new projects. These projects will provide investors with a high return. From both investment and residence perspectives, the future of Lahore Smart City is bright and promising.
Please contact us through WhatsApp, Contact Us form, or visit our UPN Youtube Channel for further assistance.