Lahore Smart City Overseas One Block – Best Investment
by UPN
June 1, 2023
0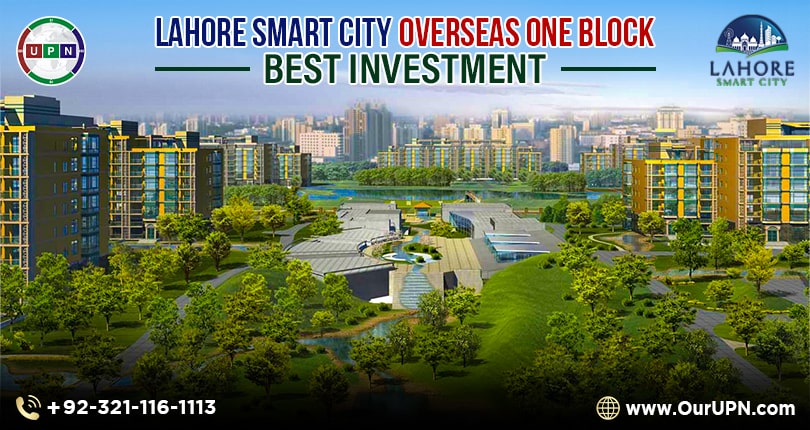 Lahore Smart City Overseas One Block is one of the best blocks for residents and investors. It is an attractive housing development that includes a mix of residential and commercial properties. These properties are equipped with modern amenities for an appealing lifestyle. This project will provide people with a world-class lifestyle. It includes smart housing strategies such as smart development, smart infrastructure, smart economy, and smart environment through the use of smart technologies. Additionally, this block is perfect for residents due to its convenient location and reasonable prices. It will give people access to numerous amenities, such as educational institutes, hospitals, commercial markets, shopping malls, parks, sports clubs, and many more. Moreover, these properties will provide a significant return on investment.
In this blog, we will discuss the details of Lahore Smart City Overseas One Block. We will go through its location, plots, prices, development, features, and investment benefits.
Overseas One Block Location
Lahore Smart City has an excellent location on the Kala Shah Kaku interchange. This project is divided into blocks, each of which has an ideal location. Lahore Smart City Overseas One Block is located directly across from Overseas Prime Block. Additionally, it also has easy access to the main GT Road and the Lahore Ring Road. This block is close to important developments in Lahore Smart City, including:
Water Tank Sector B
Lahore Smart City Park
Overseas Prime Block
Grand Mosque
Lahore Smart City Booking Office
Lahore Smart City Overseas One Block Plots
It is a high-end housing development that is constantly expanding its properties. This housing society is divided into many blocks. Some blocks have been balloted and also have possession. The Overseas One Block is a beautiful block with a combination of residential and commercial plots. These plots are great for investors, as they will increase in value after the balloting. Residential plots will provide the best residents with magnificent amenities and modern conveniences. The residential plots in Lahore Smart City Overseas One Block are as follows:
5 Marla residential
7 Marla residential
10 Marla residential
12 Marla residential
1 Kanal residential
Commercial plots are the best investment because they generate significant income from the business. Moreover, these plots are available in a variety of sizes for sale. Commercial plots in Lahore Smart City Overseas One Block are as follows:
4 Marla Commercial
8 Marla Commercial
Overseas One Block Payment Plan
Lahore Smart City offers a three-year payment plan. This payment plan is accessible to all clients and investors. You can get a booking in Lahore Smart City Overseas One Block by following a simple procedure. The payment plan includes the following:
You will have to pay a down payment for the booking of the plot.
After booking, the confirmation amount is required within one month.
The balloting fee will be payable before the balloting.
The possession amount will be charged at the time of possession.
Own/Profit will be charged according to market rates and conditions.
Note: There will be additional charges for corner plots, MB-facing plots, and park-facing plots.
Overseas One Block Development
Lahore Smart City construction is progressing rapidly and will meet international standards. It was designed by international designers and architects. All blocks are beautifully designed with contemporary patterns. Lahore Smart City Overseas One Block has begun construction. The carpeted roads are currently being built. The water tank development starts in this block and is nearly finished. Furthermore, this block is expected to experience significant growth, including schools, colleges, universities, parks, commercial markets, mosques, and other amenities. The balloting for the Overseas One block will take place after a short period of time. After the balloting, the Overseas One block will increase in value. After the development is completed, the prices of the properties will rise as well.
Features and Amenities
Lahore Smart City provides world-class amenities and services to its residents. All features and amenities are designed to provide an international-level lifestyle with elegance and comfort. Some of the best features of this housing society include:
Security system
CCTV cameras
Wide carpeted roads
Eco-friendly environment
Residential and commercial properties
Sports Complexes
International-level schools, colleges, and universities
International-level hospitals, clinics, and pharmacies
IT Hub and commercial buildings
Software houses and warehouses
Commercial projects
Houses, villas, and apartments
Shopping malls and grocery stores
Water tanks
Basic facilities such as Electricity, Sui gas, and sewerage system
Theme parks and playgrounds
Hotels and restaurants
BRT station
Grand mosques in every block
Graveyard
Why Invest in Lahore Smart City Overseas One Block
It is the best block of Lahore Smart City, which is now under construction and has excellent infrastructure. There are numerous properties in which you can make long-term investments. These properties will be more beneficial after they are balloted. There are several reasons to invest in Lahore Smart City Overseas One Block, including the following:
Ideally located opposite the Overseas Prime Block in Lahore Smart City
Easy access to the main GT road
Easy access to Lahore Ring Road
This block has high development, design, and the best infrastructure.
Both residential and commercial properties are available in Overseas One Block.
It is best for long-term investment.
Prices are affordable for these properties
Easy installment plan for three years
Balloting will take place within a short period of time.
After balloting, possession will be announced soon.
These properties will increase in value and generate a high return.
Conclusion
It is the best block of Lahore Smart City that offers properties according to the needs of clients. You will get residential and commercial plots at reasonable prices. The residential plots will provide ideal residents with luxuries and peace. If you want to build a house in Lahore Smart City, this block is best for residents. You can buy the plot in easy monthly installments. Furthermore, if you want to invest for the long term, it will also be beneficial. These properties in Lahore Smart City Overseas One Block will generate high returns in the future.
Please contact Universal Property Network For More Information click here or visit our Youtube channel for further assistance.