Lake City Lahore Possession, Development, Investment and Prices Update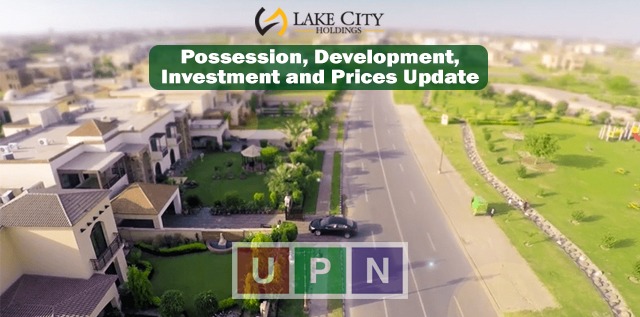 Lake City Lahore has been a prominent project for some years now but had seen a slump in investment due to being too far from the main city. People were vary of the long distance they would have to cover to reach their offices which are obviously in the heart of Lahore. Most of the businesses are located in Gulberg, which is considered the best place for it being in the middle of Lahore and every corner of the city connects to it. Not all businesses are located in Gulberg but a majority of them are and it is witnessed people from all around Lahore come here for business or recreational reasons also.
Lake City Lahore Latest Developments
Consisting of eight blocks namely sectors M1 – M8, the total area of the housing project spans over 18,000 Kanals. With plots starting from 5 Marla, the housing project has the biggest plot size of 2 Kanal to offer. Possession is now readily available from sectors M1 – M3 completely. Possession is also being handed out to some owners of plots in M4 – M7.
Owing to high demand of property in Lake City Lahore, developers have announced extensions in the sectors but they are not yet ready to hand out possessions in the extended areas. Being the largest sector, M7 is now further divided into M7-A, M7-B and M7-C. M7-C is further extended to M7-C-1, M7-C-2 and M7-C-3.
According to sources, although people have paid full amount for M7-C-1 and M7-C-3 but they still have been given possession and no fixed date has been announced yet, so the owners of plots in these areas will have to wait now until an official announcement is made by the developers.
Sectors M1 – M6 are situated around the golf course and all development work here is now complete. Possession in the said sectors are available so if you are an owner of a property in the mentioned sectors and you still have to get possession, you can contact us for help and guidance. Prices in the possession ready sectors have significantly increased.
Prices Difference in 6 Months
Owing to the accessibility of Ring Road and other major developments in and around Lake City Lahore, the prices have a difference to where they stand now as compared to only 6 months ago. Below is an approximate difference for your consideration:
| | | |
| --- | --- | --- |
| Plot size | Price 6 months ago (in Rupees) | Present prices (in Rupees) |
| 5 Marla | 3,700,000 – 3,800,000 | 4,400,000 |
| 7 Marla | Under 5,000,000 | 6,500,000 |
| 10 Marla | 6,500,000-8,500,000 | 7,000,000-9,000,000 |
| 12 Marla | 7,500,000-8,500,000 | 8,000,000-9,500,000 |
| 14 Marla | 9,000,000-9,500,000 | 10,500,000 |
| 1 Kanal | 11,000,000 | 11,500,000 |
| 2 Kanal | 29,000,000-32,500,000 | 35,000,000-42,500,000 |
Due to the construction of Ring Road, prices have seen a major incline. With a vital road provided to the society linking it with the rest of city, it is now within reach of everyone having property in Lake City Lahore or for the people now thinking to buy a plot here. It is recommended to buy in sectors where possessions are already available if you wish to construct a house immediately, or you can also buy in other sectors and wait for announcement as rates are relatively lower in such areas.