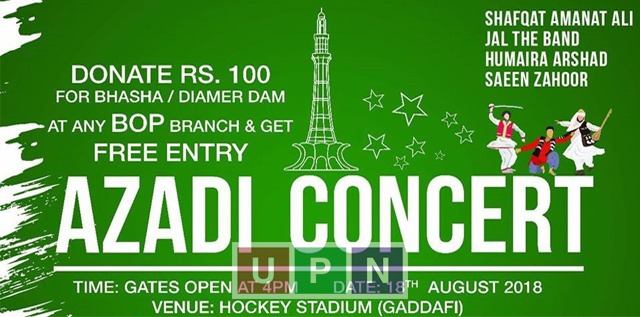 As we are going through Azadi week so celebrations are not over yet. Lahore Development Authority (LDA) already came up with the idea of celebrating Independence Day with full spirit and activities were arranged in Private Housing Schemes. Now it is getting bigger as LDA is hosting a mega Azadi Concert in the city in order to promote message of unity and patriotism. Not only this, there is another motive behind this event is fundraising for a national drive. The entertainment and fundraising for the national cause is a perfect package for the residents.
Mega Azadi Concert – Details
Lahore Development Authority in collaboration with local traders is organizing a Jashn-e-Azadi Concert on this Saturday, 18th August 2018. Famous performers will rock the stage in this event by showing their talent and will keep the audience moving. The event is expected to attract thousands as people will love to show solidarity with the country and the great cause of building dams.
Venue, Performers and Time
This concert has been arranged in National Hokey Stadium Lahore near Qaddafi Stadium. The National Hockey Stadium will resonate with national spirit and unity during the event especially when national anthem will be played. This live concert will be graced by renowned singers of the country including Shafqat Amanat Ali, Pappu Sayeen, Humaira Arshad, Sayeen Zahoor and Jal Band. The starting time of this event is 8:00 PM so be there on time to avoid any rush and hassle.
Special Fireworks
At the end of this event, special fireworks are also in the plan which will fill the sky with its colors and light. At an open air event of this massive scale, it would be a treat to watch.
Entry Ticket and Fundraising for Diamer Bhasha and Mohmand Dams Fun
Entry Ticket for this event is Rs. 100 for each individual which is available from all branches of Bank of Punjab. You can also buy tickets on spot by giving away Rs. 100 at ticket counters. The entry will be allowed only with ticket and your original CNIC.
The entire revenue generated by this event will be deposited to the account entitled by Supreme Court of Pakistan for fundraising of Diamer Bhasha and Mohmand Dams. Traffic Plan has been set for arranging this program and public has been informed of alternative routes via press advertisement. So be there, catch up all the fun and contribute to the national cause which will help us in future.
For more updates and information, keep visiting Universal Property Network (UPN).