Liberty Commercial 2 – New Deal in Bahria Town Karachi
by UPN
May 2, 2021
0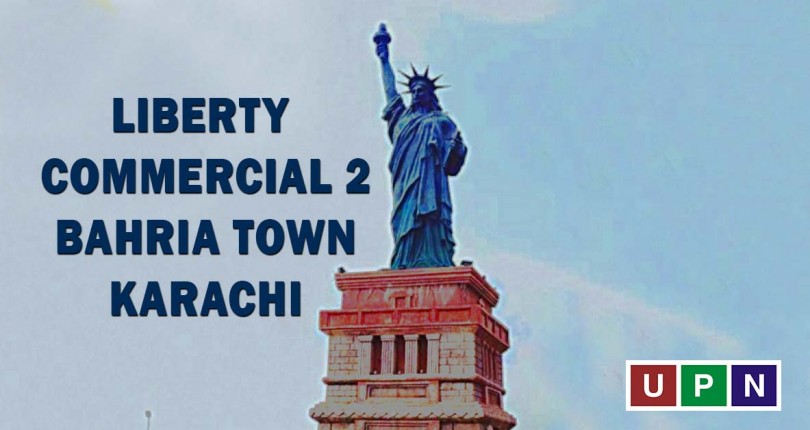 Bahria Town Karachi is once again offering you a chance to buy the best commercials. After getting huge success and on the demands of investors, Bahria Town has launched a new deal of commercials "Liberty Commercial 2" in it. It's a new project with commercial plots of 266 square yards available at very reasonable prices. Here are the complete details for Liberty Commercial 2 plots for sale in Bahria Town Karachi.
Liberty Commercial 2 – Complete Details
Offering you the commercial plots of 266 sq yards, Liberty Commercial 2 is a new project with new opportunities in Bahria Town. Located in Precinct 10, there are around 100 to 120 plots available on full cash payment. The launching prices of plots in these commercials is 5 crores.
Booking can be easily made with token money, and you can pay the remaining in the next 1 to 1.5 months.
The plot dimension is 40 x 60, and Bahria Town allows the construction of basement + ground + 8 floors on it. However, you can construct basement + ground + 10 floors by joining the two plots of 266 sq yards.
All these plots are on-ground and available with possession. Moreover, the location of these plots is heart-winning as these are lying in the surroundings of an already populated area. Liberty Commercial 2 is close to Precinct 10 A Villas, 11A Villas, Precinct 12 and Bahria Heights. Additionally, these are ready to build plots available with plot numbers.
Comparison with Other Commercial Projects
Liberty Commercial 2 plots for sale may appear costly to you, but genuinely these are affordable. The same size of plots in Liberty Commercials are available at the total cost of 6.50 crores. Now the prices are even higher. On the other hand, Midway Commercial is a commercial hub of Bahria Town, offering you 125 sq yards of plots at the price of 3.50 crore to 6 crores.
Additionally, the prices of plots in this new project is good, as well as the location.
Booking in Liberty Commercial 2
The process of plots booking in these commercials is very convenient. Additionally, there is no need to visit the site physically. You can easily book your plot with plot number by forwarding us the following documents:
Two Passport Size Pictures
Copy of CNIC
CNIC Copy of Nominee
Booking/Token Amount
We 100% recommend buying in Liberty Commercial 2 plots as a profitable opportunity for smart investors. So, do make a timely decision and also invest in these plots by contacting us today!
Please contact Universal Property Network  For More Information click here or visit our youtube channel further assistance