Low-Budget Villas in Bahria Town Karachi
by UPN
August 9, 2021
0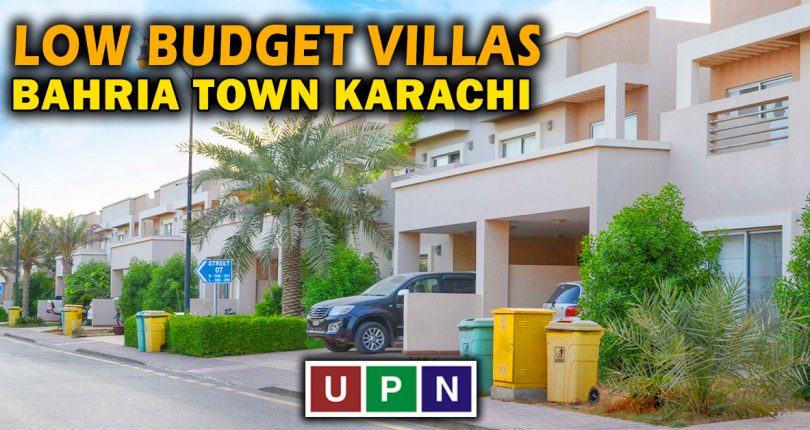 Are you looking to buy affordable ready to move property in Bahria Town Karachi? Do you desire to enjoy all the living luxuries and attractions within your minimum investment? Then, choose low-budget villas in Bahria Town Karachi. These affordable in price and 100% ready-to-live villas are available for sale in Precinct 31. Designed and developed by Bahria Town, these villas were launched after the launch of this mega venture in 2014. Currently, these are beautiful living spaces, one can confidently buy on lump-sum payment or rent.
Further details are:
Low-Budget Villas in Bahria Town Karachi
Precinct 31 offers the heart-winning 235 sq yards residential villas for sale. These are 3-bedroom accommodation, double-storey villas in Bahria Town Karachi. Develop as per the requirements of modern investors, Precinct 31 villas are ideal in all terms. All the living facilities including the high-standard security are provided to the residents of Precinct 31 villas.
Old and Latest Prices of Low-Budget Villas in Bahria Town Karachi
In the past, people usually prefer buying in Precinct 10A and Precinct 11A villas. Most of the investors find Precinct 31 villas' location at the distance, that's why the prices were also low. The prices of Precinct 31, low-budget villas in Bahria Town Karachi, only one year ago was around 1.30 crores to 1.40 crores.
But as families have started to move to Precinct 31 villas, their prices gradually increase. The latest prices of these villas are around 1.70 crores to 1.90 crores. Not only the prices of villas are increasing but the plots of 125 sq yards prices also increase. There is a limited number of plots in Precinct 31 available in the price range of 32 lacs to 38 lacs.
The inhabitation in the Precinct 31, 235 sq yards villas has affected the prices a lot. But this movement of families is now attracting more and more buyers and investors to Precinct 31 villas.
Low-Budget Villas in Bahria Town Karachi – Prices on Rent
Anyone looking to live a peaceful and comfortable life in Bahria Town Karachi can confidently buy these villas on rent also. A large number of Precinct 31 villas are available at the best rental prices. The latest rental prices of these 235 sq yards villas are 35,000 – 40,000/per month. On the other hand, Precinct 19 apartments with 2-bedrooms accommodation's rental amount are also same.
So, what can be more attractive than buying a beautiful, spacious villa at reasonable prices in Bahria Town Karachi? Buying in these villas is 100% beneficial as it comes with bundles of residential and investment benefits. Don't wait and do invest in these appealing villas by contacting us anytime!
Please contact Universal Property Network  For More Information click here or visit our youtube channel further assistance