Madina Heights Bahria Town Lahore – Location, Payment Plan and Booking
by UPN
August 15, 2022
0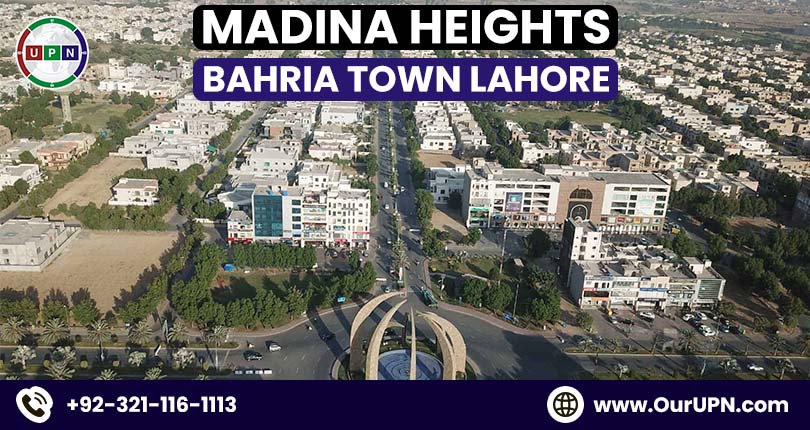 Are you looking to get an ideal location apartment in Lahore? Then, what else can be better than choosing Madina Heights Bahria Town Lahore? It's a masterpiece, a modern development located in the heart of this mega society. Madina Heights is a high-rise building project offering on-ground living spaces with top-notch amenities. Most importantly, it provides an easy opportunity for investment on installments. This beautiful project is planned by one of the top real estate developers. You will enjoy great solitude, security and peace of mind in this project. It is not only a suitable option for residence but a great place to invest and enjoy good benefits.
Madina Heights Bahria Town Lahore Project Plan
The project planning of this project beautifully describes the smartness and attention of its developers. It's an elegant modern geometrical design high-rise architecture featuring a heart-winning exterior and eye-catching interiors. Have a spacious lobby, impressive apartments and graceful views from balconies. At the same time, the design of this project is good as it has appropriate lighting and cross-ventilation, making this space comfortable. This apartment building also has a spacious parking area, proper elevators and safe staircases. Undoubtedly, each of these apartments reflects ethnicity and sophistication, confirming its brand look and luxuries available for you.
This project has shops of several sizes on the lower ground and ground floors. Moreover, the remaining 1-6 floors feature the ideal living spaces in the form of modern apartments.
Apartments for Sale in Madina Heights Bahria Town Lahore
This brilliantly designed project offers the best apartments for sale in Bahria Town Lahore. It offers a variety of sizes so that modern investors and buyers can get the property of their desires. Here you will find the options such as:
Studio Apartments (Sizes: 281 sq ft, 313 sq ft, and 345 sq ft)
One Bed Apartments (Sizes: 450 sq ft + balcony)
Two Beds Apartments (Sizes: 620 sq ft + balcony)
The studio apartments in Madina Heights are exceptional in design and space. A couple can easily choose to live a comfortable and facilitated lifestyle in Bahria Town Lahore.
Location of Madina Heights Bahria Town Lahore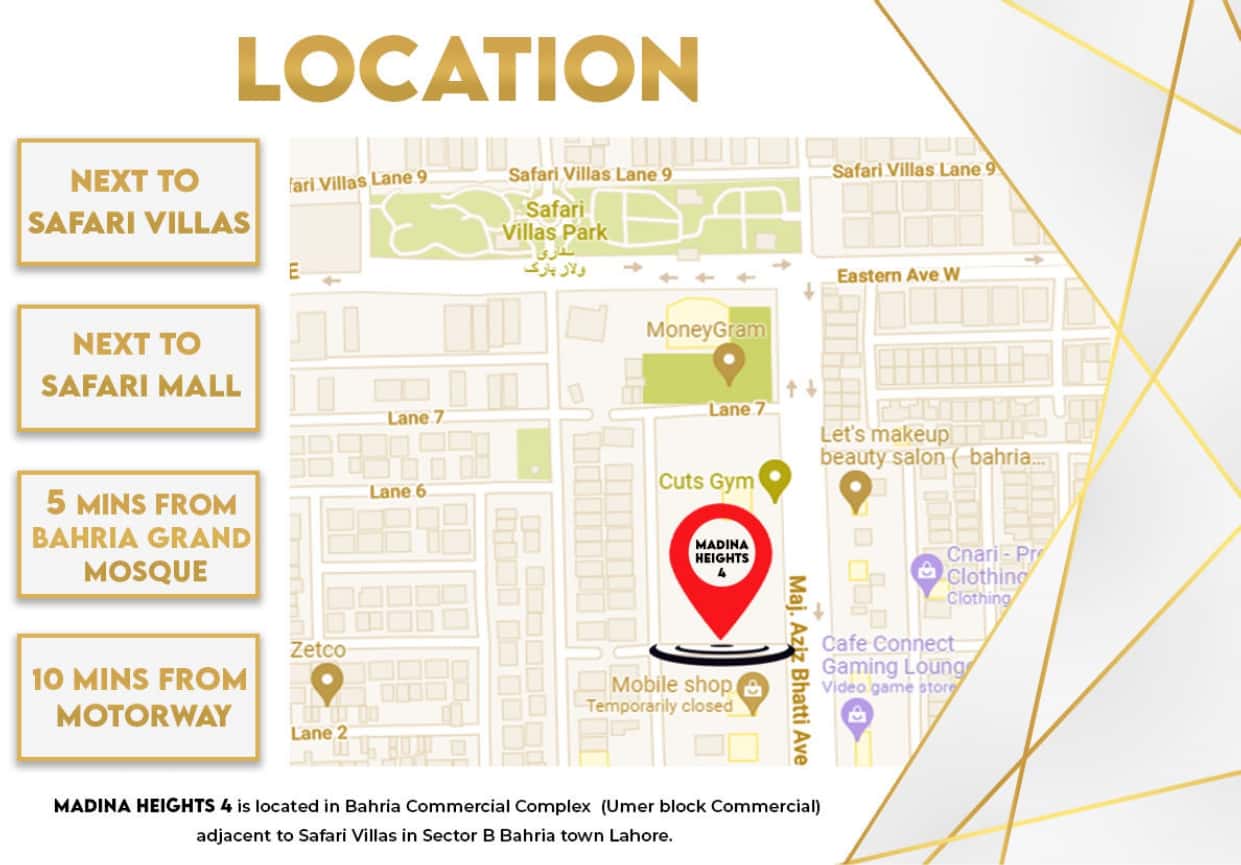 The prime location of a project matters a lot. It gives value and grace to a project, whether it is residential or commercial. Madina Heights undoubtedly enjoys a good location in Bahria Town Lahore. The actual location of this project is Bahria Commercial Complex, located in Umar Block Commercial. Madina Heights Bahria Town Lahore location is Sector D main Canal Bank Road. This sector already has a separate entrance.
Most importantly, it lies close to Safari Villas and Safari Mall. Many of the best educational institutes are located closely. Kips School, Unique Science Academy and Punjab College are at a short distance. Additionally, Bahria Grand Mosque is at a distance of 5 minutes. The overall location of this apartment building is outstanding, making it a suitable option for residence and investment purposes.
Madina Heights NOC
Having a valid NOC is also an important thing which every person, whether buyer or investor, desires because of any real estate investment. But don't you worry about the case of Madina Heights Bahria Town Lahore. This project is completely approved by TMA and has clearance from Bahria Town management. At the same time, the entire Sector D have LDA approval. All these approvals ensure safe and profitable investment in Madina Heights Lahore.
About Developers
Realtek Properties is the company behind this beautiful development. This group has offered development and construction services and consulting in the real estate industry for the last many years. Previously, they only offered consultation and realty services in several societies. But now moving ahead in construction and developing their projects. Madina Heights is a masterpiece developed under the supervision of highly qualified engineers, project managers, and technical professionals.
Madina Heights Payment Plan
The prices of apartments at Madina Heights Bahria Town Lahore are reasonable. Here are the details: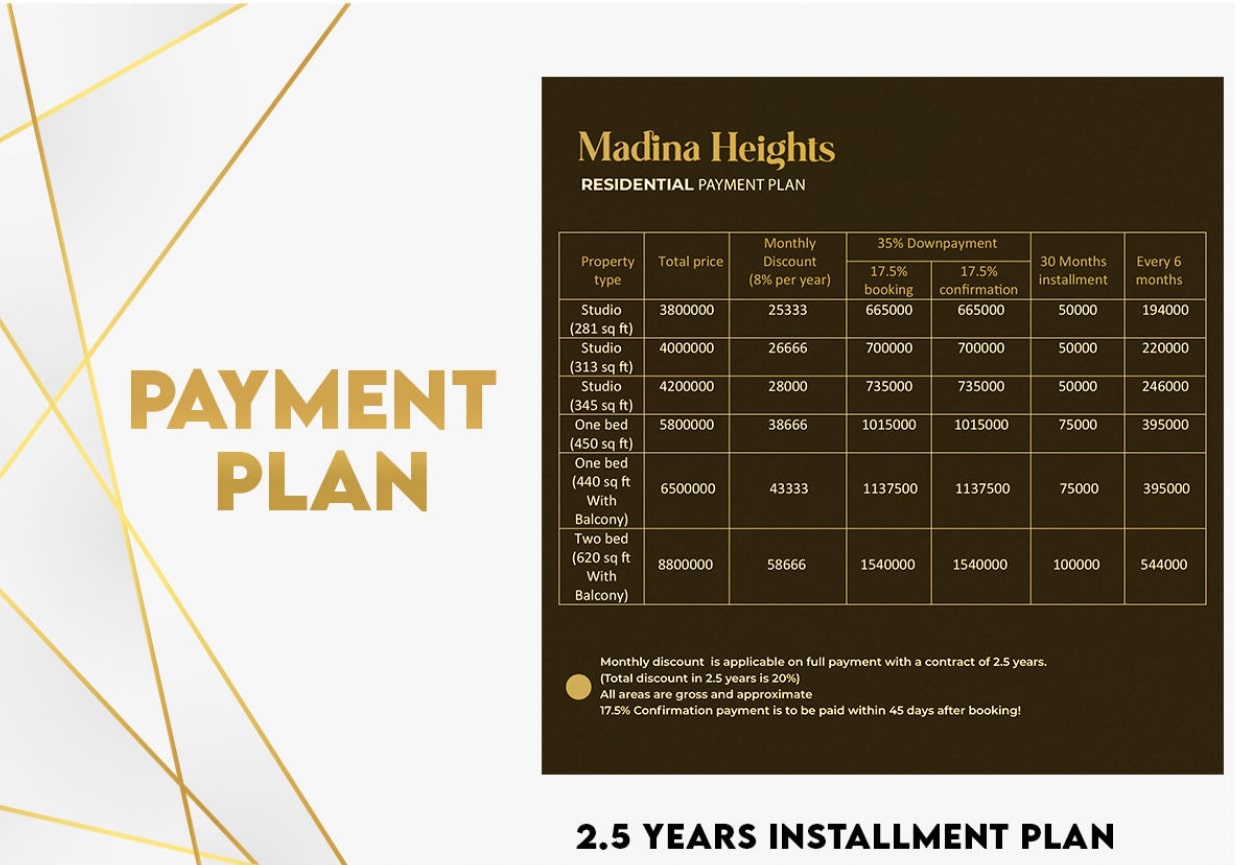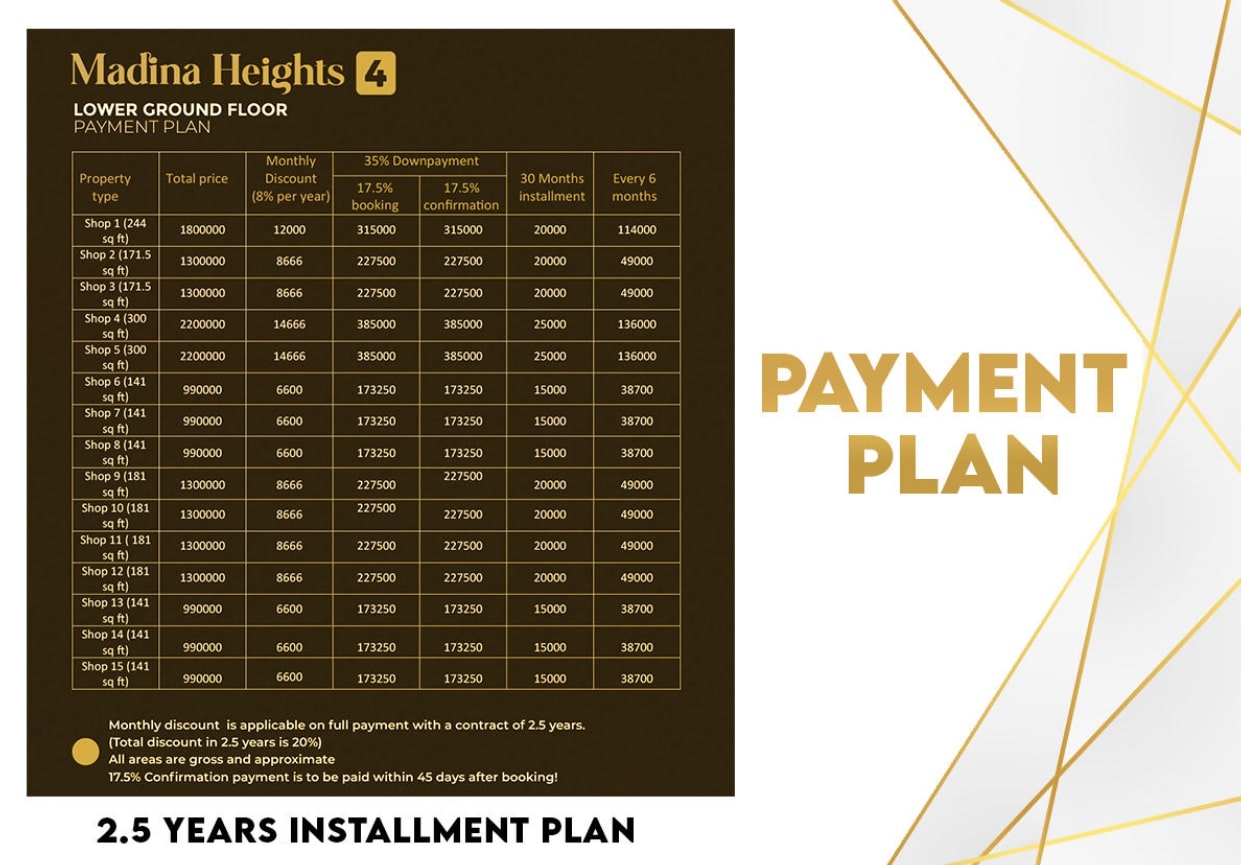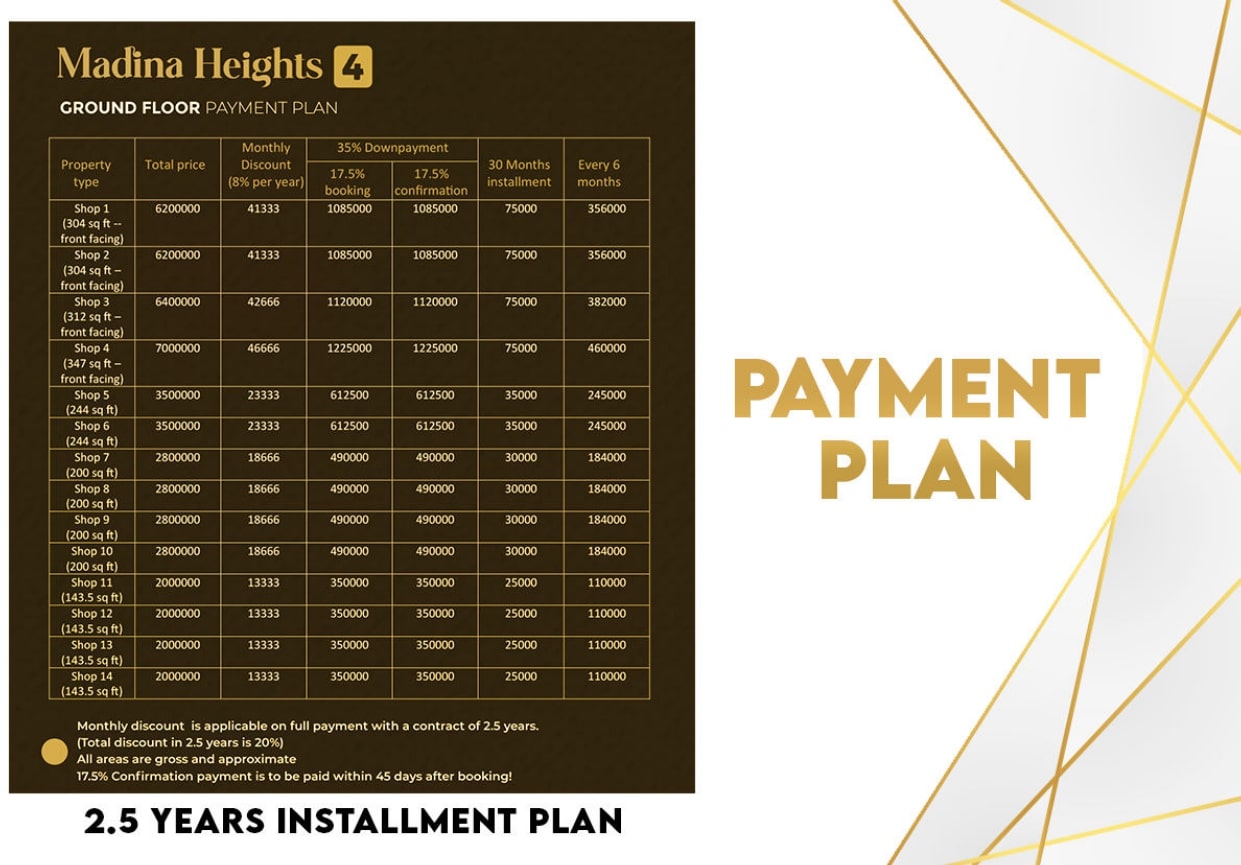 The total prices of the studio apartments range between 38 lacs to 42 lacs. Booking of apartments starts from 13.30 lacs. Furthermore, the prices for one-bed apartments are available from 58 lacs to 65 lacs. You can book these apartments for 20.30 lacs.  The two beds apartments will cost you 88 lacs. Moreover, booking starts from 30.80 lacs only.
The overall payment plan of apartments in Madina Heights shows apartments' booking with a 35% down payment. The remaining amount will be payable in 30 monthly installments. Also, there are 5 half-year installments. The monthly discount (8% per year) is also shared in the installments plan. These apartments are available with the flexible payment option of 2.5 years. The confirmation amount of 17.5% will be payable within 45 days of booking. Following are the details of the complete price:
Reasons to Invest
Madina Heights is one of the latest and most facilitated projects in Bahria Town Lahore. Here you can consider buying because for the following reasons:
Ideal Location in Sector D
Have Complete Approval of Sector D and TMA Approved this Project
Booking with 35% and Payment Plan Spans Over 2.5 Years
These are Ready to Move, On-Ground Apartments on Installments
Comfortable Living Spaces and High-Profit Returns
Madina Heights Bahria Town Lahore is equally attractive for residence and investment returns. You should definitely buy property in it as it's a golden opportunity to grow your capital. Contact UPN for further details!
Please contact Universal Property Network For More Information or visit our Youtube channel for further assistance.