Maryam Town Lahore Plots On Installments – New Deal
by UPN
April 29, 2023
0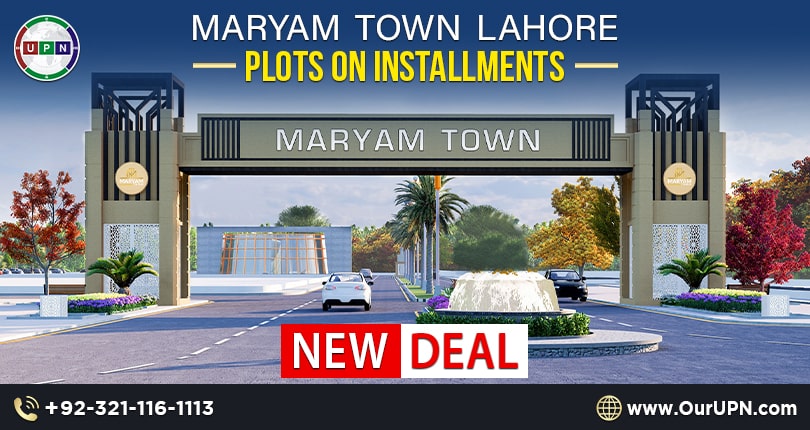 Introduction
Maryam Town is a high-end housing development in Lahore that covers a large area of land. Al Kabir Town Phase 4 is another name for this housing society. Maryam Town Lahore is the most recent project on the Main Raiwind Road in Lahore. Furthermore, developers are ready to make this unique and incredible living space available to all clients and investors. This luxurious housing community offers the best lifestyle features and amenities to its residents. It is one of the best projects that combines luxury, comfort, peace, and affordability in the heart of Lahore. In this blog, we will discuss the details of Maryam Town Lahore. We will go over the Maryam Town Lahore plots on installments for sale.
Developers – Maryam Town Lahore
Maryam Town, a well-organized community in Lahore, is a top project by Al Kabir developers. CEO of this premium project is Chaudhry Aurangzeb. Al Kabir developers have launched five phases, phases 1 to 5. Maryam Town is the fourth phase of Al Kabir Town. Maryam Town is a beautiful development that offers new deals and the best housing options. The most amazing deal from these developers is the Maryam Town Lahore plots on installments. According to the time frame, the developer has already built a number of successful projects in Lahore. The more projects these developers work on:
Al Kabir Town Phase 1
Al Kabir Town Phase 2
Al Kabir Town Phase 3 is named as Kingstown
Al Kabir Town Phase 5 is named Al Kabir Orchard.
Phase 1 launched in 2016, followed by Phase 2 in 2017 with a variety of properties. Kingstown launched in 2019, and Al Kabir Orchard launched in 2022. Phases 1 and 2 have been completely delivered to the clients, and numerous families are living there. The remaining phases are currently under construction. The developer will deliver these remaining projects according to their promises. Maryam Town Lahore plots on installments will also be provided to clients on time.
NOC Approved
The most important component in any housing society is the NOC. The NOC for this housing society has been approved. The Lahore Development Authority has given its approval to Maryam Town Lahore. This society is one of the greatest and most secure investment possibilities for investors due to its legal status with the LDA. The client can easily purchase residential property for their residents as well as investors.
Location
Maryam Town is a premium housing society in an outstanding location in Lahore. This housing society is located on Raiwind Road in Lahore. It's also close to Kingstown. This housing society is easily accessible from both Thokar Niaz Baig and Adda Plot. This lovely project offers a choice of properties in an outstanding location. Maryam Town Lahore plots on installments are available in a prime location with all the amenities. This housing community is surrounded by a wide range of amenities, such as educational institutions, hospitals, parks, playgrounds, shopping malls, and many more. Furthermore, Maryam Town is close to a number of developed major locations, including:
3 minutes distance from Kingstown
10 minutes distance from Adda Plot
15 minutes from Defence Road Lahore
26 minutes from Lahore Ring Road
38 minutes from Allama Iqbal International Airport Lahore
The following are some nearby housing societies in Maryam Town Lahore:
Bahria Orchard
Kingstown
Fazaia Housing Society
Icon Valley 1
Etihad Town
Chinar Bagh
Liberty Lands
Sui Gas Housing Society Phase 2
Lake City
Valencia
Khyaban-e-Amin
Wapda Town
DHA Rehbar
This housing society has certain hospitals and educational institutes close to its residents, which are:
Cancer Care Hospital in Lahore
Beacon House National University
Comset University Lahore
NUR International University
Sharif Medical & Dental College
Moreover, the following are some main roads that connect to Maryam Town:
Raiwind Road
Ring Road
Adda Plot
Sharif Medical City Road
Jia Bagga Road
Kasur – Raiwind Road
New Deal – Maryam Town Lahore Plots on Installments
Maryam Town is an outstanding community that is introducing a new deal for clients and investors. The developer announced the plot of:
Maryam Town Lahore plots on installments are perfect for investment and residents in Lahore. These 3 Marla plots are perfect for residents and investors looking for a great location property. Due to its ideal location and available amenities, this investment is going to bring a significant return. These 3 Marla plots are introduced based on the needs of the clients as well as their budget. All people can afford these residential plots. They can simply purchase a property and pay in installments.
Price Update                                                                           
The developer has launched a new deal that includes a three-year payment plan. Maryam Town Lahore plots on installments are perfect for a low-cost investment. The buyer will have to pay a down payment for the booking of the plot. The remaining amount will be payable in 36 monthly installments. To get possession of the plot, the possession amount must be paid at the time of possession. Maryam Town Lahore plots on installments are available with the payment plan shown below:
Total amount of 3 Marla plot: 3,250,000/-
Down Payment: 1,000,00/-
36 monthly installments: 30,000/-
After 6 month installment: 50,000/-
On possession: 870,000/-
Features and Amenities
Maryam Town Lahore plots on installments enjoy a fantastic location with world-class amenities and conveniences. All of these amenities are essential for living a healthy and peaceful life. Maryam Town's features are increasing the demand for their properties. The following are some of the best amenities:
24-hour security guards
Boundary walls
Wide carpeted roads
Educational facilities
Healthcare facilities
Food courts and restaurants
Commercial shops, grocery stores, and bakeries
Underground electricity
Sewerage system
Water filtration plant
Parks and playgrounds
Gym and fitness centers
Community clubs and sports complex
Graveyard
Development
Maryam Town is the best housing society, with a wide range of properties for investors. This housing society is in the process of being built. The map of Maryam Town Lahore was created by a highly qualified team of designers and architects. It is a guarded community with CCTV cameras and security guards. The roads are developed along the main boulevard. Streetlights are also installed at the entrance of this housing society. This project is surrounded by boundary walls. Maryam Town Lahore plots on installments will also encourage people's desire to own a home. Many commercial plazas and buildings are being built. The remaining development will begin shortly. The developer will allow you to build your houses in a short period of time. The remaining construction will be completed soon. The value of Maryam Town will rise with the passage of time, as will the prices.
Why Invest in Maryam Town Lahore Plots on Installments?
This housing society is the most significant because of its available properties and advantages. This housing society provides all necessary and additional amenities for a better way of living. Maryam Town Lahore plots on installments are now available to investors. These 3 Marla plots are perfect for those who want to live in a variety of comforts at a reasonable price. There are several reasons to invest in Maryam Town Lahore plots on installments, including:
It is conveniently located on Raiwind Road in Lahore.
It is an LDA-approved housing society.
Basic facilities are available, such as water, electricity, and Sui gas
Parks and playgrounds are available for families and children to enjoy.
This housing society features advantageous surroundings, such as shopping centers, restaurants, cafes, and may other.
There is a commercial market where people may find grocery stores, general stores, and bakeries.
A new deal is offering 3 Marla residential plots.
Plots are available on installment.
Maryam Town Lahore plots on installments are beneficial for both Pakistani and overseas clients.
Plot prices are reasonable.
An easy payment plan for three years
Booking requires just a little down payment.
After paying the possession fee, possession will be given.
The properties in this project will provide a high return.
Maryam Town includes the best features, such as its luxurious facilities, low prices, and prime location. Maryam Town Lahore plots on installments can provide investors with a better return. Clients are going to find these plots with a simple payment plan. Furthermore, investors should consider investing in Maryam Town Plots on installment to receive a high return.
Conclusion
Maryam Town is highly recommended for both foreign and Pakistani customers due to its features and available plots. Maryam Town Lahore plots on installments are best for investment with an easy payment plan. With all its top qualities and modern characteristics, this project offers an ideal lifestyle for everyone. Most importantly, the location is easily accessible to the surrounding major attractions, increasing the value of this investment. Furthermore, Maryam Town Lahore plots on installments are the best deal for purchasing property in the heart of Lahore. This is also an golden opportunity to invest. Prices are extremely reasonable for both Pakistani and international customers. This investment will produce a significant return in the future. Residents will also enjoy a luxurious lifestyle at a reasonable cost.
Please contact Universal Property Network For More Information click here or visit our Youtube channel for further assistance.