NBP Officers Cooperative Housing Society Merger Proposal by DHA Lahore
by UPN
July 20, 2018
0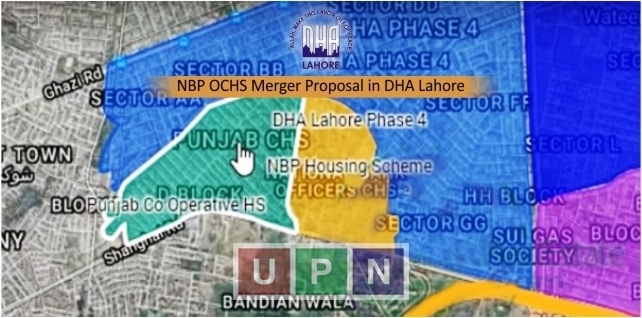 DHA Lahore has proposed NBP OCHS to acquire its land beside DHA Lahore Phase 4. It has proposed to sell its land to DHA and become a part of it. Official confirmation is yet to be received by the concerned authorities but sources claim the merger will take place for sure. NBP Officers Cooperative Housing Society is situated right next to the boundary wall of DHA Phase 4 hence acquiring it will be a great asset.
NBP Officers Cooperative Housing Society Location
Located on the right side of Punjab Cooperative Housing Society and to the back of DHA Lahore Phase 4, it is near the Lahore Ring Road which is less than a kilometer away. The DHA Phase 4 blocks GG and BB are situated right next to the society. The merger will surely benefit the landowners as they will gain access to DHA and also be a lot closer to the Ring Road. It is speculated that another main entrance will be made on the Rohi Nalla (drain) which is nearby once the merger has been made.
Main Points in Proposal NBP Officers Cooperative Housing Society Lahore
As per the letter issued by DHA Lahore, it has proposed to acquire 901 Kanals of land on the following terms of compensation to property owners of NBP Officers Cooperative Housing Society Lahore:
Current 850 members of NBPOCHS will be compensated with a 9 Marla plot each.
New plot numbers will be allotted thru ballot.
DHA will further take over development responsibilities.
Development charges will be paid to DHA Lahore are per schedule.
9 Marla Files Issuance & Trading to Begin Soon
As the rumors are already out that the merger will eventually take place, it is estimated that files for 9 Marla plot will be available soon. It is estimated that the file price will be around PKR 75 lacs excluding development charges which will be set by DHA authorities. Since the merger has not yet been signed officially no trading of files has been initiated yet. We request the public to stay tuned for more updates with us and beware of any scam. Until the merger is finalized and announced officially, DHA will not issue any files nor will it conduct a balloting for it.