New Deal of Commercial Plots in Bahria Town Lahore – Latest Update 2020
by UPN
May 14, 2020
0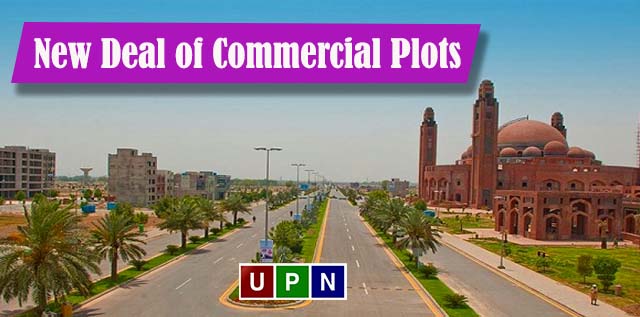 Bahria Town Lahore is once again bringing you a golden investment opportunity with a new deal of commercial plots. These are best-located, limited numbers of newly-launched commercial plots at the attractive prices.  All of these commercial plots are located in Jinnah Block Sector E. This block is already trendy to buy the best residential plots of 5 Marla. The demand for property and the number of constructed houses are rapidly increasing in Jinnah Block.
So, to meet the commercial and business needs of its residents, Bahria Town has now come with a new and exciting deal of commercial plots.

Commercial Plots for Sale in Jinnah Block Sector E
Bahria Town Lahore has recently launched a new deal of commercial plots in its Jinnah Block. These are two-sided open commercial shops located near to the mosque. The size of these commercial plots is 15×20. Bahria Town allows the construction of ground + one-floor construction on them. These are the limited number of total of nine commercial shops for sale in Jinnah Block Sector E. Two of these shops are category while the remaining seven are general shops.
The launching price of these 15 x 20 size commercial shops in Jinnah Block is 36 lacs. However, it goes up to 42 lacs as the prices depend on the shop's location.
All of these shops are also available on Open Forms means no Transfer Fee will be charged to you.
Location of Newly-Launched Commercial Plots in Bahria Town Lahore
These are ideally located commercial plots located in Jinnah Block of Sector E. It is one of the most beautiful and fully-developed blocks of Bahria Town Lahore. This block is holding significant importance for offering the best 5 Marla plots for sale.
The location of these commercial shops is easily accessible from the Clock Tower Bahria Town Lahore. Just after making an entrance in Jinnah Block, these commercials are located on the right side on 100 ft. Road. Numbers of houses are constructed while many are under-construction in the surroundings of these commercial plots.
Investment in Commercial Plots of Jinnah Block
These are only a few numbers of commercial plots but offering a golden investment opportunity to smart investors. The demand for commercial property in Bahria Town Lahore is very high. Also, the prices of commercial property mostly increase just after the few days of launch. A jump in prices has been recorded within a couple of weeks. So, if you are looking to earn a good and quick profit, you can choose these commercials of Jinnah Block for investment.
Buying these commercials will be good to start your own business. Moreover, you can also invest to earn regular rental income after construction. Overall, investment in these Jinnah Commercials will be a profitable option for you.
For more details, contact Universal Property Network!
Check out our site for more detail. Latest News