New Plot Cuttings in Bahria Town Lahore – Sizes, Location, Prices and Attractions
by UPN
October 26, 2020
0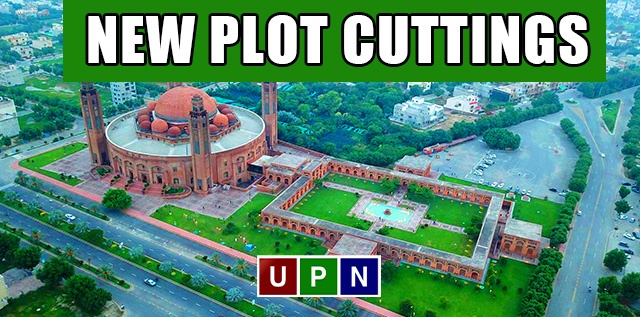 Bahria Town Lahore recently offered some new and exciting properties on Open Forms. All these new plot cuttings are available in several sizes and located in the different blocks of Bahria Town Lahore. The prices of these plots for sale in Bahria Town Lahore are highly attractive from both the residence and investment point of view. Even the demand for properties is increasing in Bahria Town Lahore after the announcement of the construction package. Moreover, overseas are also showing great interest in Bahria Town plots for sale.
Also, the availability of these plots on Open Forms makes them more suitable to buy. So, let's discuss the details of such new plot cuttings, including their sizes, locations, and prices in Bahria Town Lahore.
1 Kanal and 10 Marla Plots in Touheed Block
Touheed Block is one of the best blocks of Sector F, located in the Eiffel Tower's proximity. Most of the area of this block is developed, and possession of plots is available. However, some of its areas are still developing.
That developing area also includes developing a 50 feet wide road where the reasonable plots of 1 Kanal and 10 Marla are available. These plots' development work progresses at a satisfactory pace, and possession is expected in the next couple of months.
These developing 1 Kanal and 10 Marla plots are available at the price range of 85 lacs and 58 lacs, respectively.
Upcoming Plots Deal between Jinnah Block and Touheed Block
Another new plots deal is expected to launch soon in Bahria Town Lahore. Society's management has recently acquired some land between the Jinnah Block and Touheed Block. According to the news circulating in the market, Bahria Town will soon launch the reasonable plots of 5 Marla and 10 Marla on them. These plots will also be available on Open Forms and will be served on first-come, first-served bases.
5 Marla Plots in Shershah Extension
Those searching to buy the best 5 Marla plots for sale in Bahria Town Lahore can confidently choose Shershah Extension. The construction of houses is started there. So, it is confirmed that the possession of developed plots is available.
Now the 5 Marla plots in Shershah Extension are 46 lacs. Moreover, a few corner plots with access land are available at 55 lacs to 60 lacs.
These plots were launched at the price of 41 lacs. But the costs are increased within the three months of its launch.
Moreover, the 5 Marla plots of Shershah Extension are surrounded by two properly developed and inhabited blocks like Talha Block and Nishtar Block.
Eiffel Tower, Bahria Mart, and the Bahria's Commercial Zone are all located in its proximity.
Undoubtedly, these are the ideal 5 Marla plots to buy.
1 Kanal Plot in Nishtar Block
It's a newly announced new deal of 1 Kanal plots in Nishtar Block. Most of these plots are located in proximity to Bilawal House. Plots located on Main Boulevard are available at the price range of 1.40 crores and 1.55 crores. On the other hand, plots located at a distance will cost you around 1.15 crores.
Nishtar Block is one of the best blocks for buying 1 Kanal residential plots. This block holds importance for so many reasons and attractions such as:
Bahria Mart and SQ 99 Mall is located in it.
Bahria Town's first petrol pump is located in Nishtar Block.
Theme Park is also a part of this block.
Dolphin Area is developing in Nishtar Block.
Overall, this is a highly recommended plot cuttings of 1 Kanal because the prices are quite reasonable compared to old plots of 1 Kanal located in Nishtar Block.
All the above-described plot cuttings are located ideally and come in the different price ranges. So, anyone interested can invest in them as per his budget and requirements. For further details and assistance, please contact Universal Property Network!