Overseas Villas Bahria Orchard Phase 2 – 5 Marla Villas on Installments
by UPN
January 5, 2021
0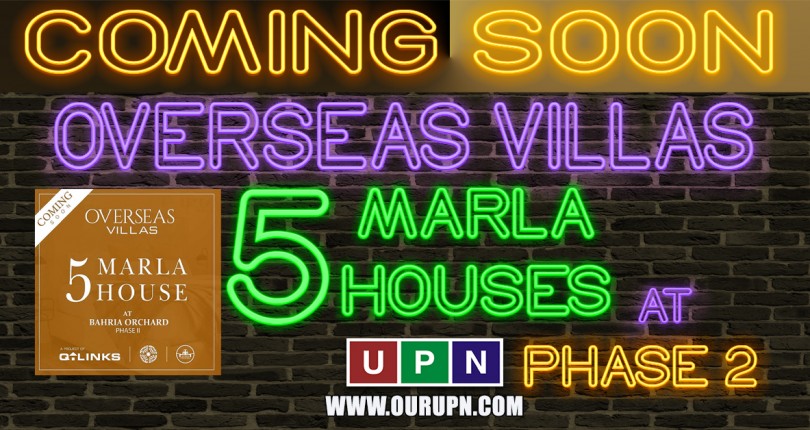 Q-Links Developers, after launching several constructed properties in Bahria Orchard Phase 4 and Phase 1 are now coming to Bahria Orchard Phase 2 with another upscale development. Yes, the town's best developers are all set to launch a new deal of Overseas Villas in Bahria Orchard Phase 2. These are 5 Marla double-storey independent houses available on easy installments. Featuring the best living and investment opportunities, Overseas Villas is the right choice to elevate your living standards in Lahore.
Simply, it is a great addition to Lahore's landscape where you will love to live and enjoy to invest.  An excellent location of Bahria Orchard Phase 2 is chosen to develop this project that is a great appeal to the investors.
Overseas Villas Bahria Orchard Phase 2 – An Overview
Overseas Villas features sustainable development and good quality design that will attract buyers and investors. Anyone can confidently choose these 5 Marla double-storey houses for profitable investment as well as can live their peacefully.
Q-Links Developers consider factors like security, accessibility, and the availability of all the modern-day facilities. Overseas Villas are undoubted, one of the best-constructed homes where you can adopt a lifestyle of your settled vision.
Advanced architecture and thoughtful project planning are the top-most features that make it the most attractive development of 2021.
Becoming a part of this project is a matter of great profit for investors. On the other hand, these are the best 5 Marla houses for sale in Lahore. Your wish to buy the luxurious house of 5 Marla on easy installments is now going to be a reality with Overseas Villas Bahria Orchard Phase 2.
Overseas Villas is a high-standard community. These villas consist of 3 bedrooms. Its bedrooms are spacious and beautiful. Overseas Villas Bahria Orchard Phase 2 have 1 bed + 2 baths, 1 kitchen, lounge, dining, drawing room, and car porch on the ground floor. However, the first floor will have 2 beds + 2 baths, lobby and a terrace.
Overseas Villas Bahria Orchard Phase 2 – Prices and Payment Plan
Overseas Villas Phase 2 are available with a very affordable plan with easy terms and conditions. The total prices of Overseas Villas are not yet available. But like the previous constructed 5 Marla houses of Q-Links Developers, we can expect Overseas Villas' total price between 65 lacs to 75 lacs.
All these villas will be available on 3 years installment plan while the possession will be handover within 2 years.
By investing in Overseas Villas Phase 2, you will get an ideal place to live. You can also enjoy high investment returns and earn good rental income.
Overseas Villas Bahria Orchard Phase 2 is a development where luxury, affordability and high quality are all gathered at one place.
So, don't miss out this golden opportunity and contact Universal Property Network  For More Information click here or visit our youtube channel further assistance