Palm Villas Lahore – Map, Payment Plan and Plots
by UPN
March 5, 2023
0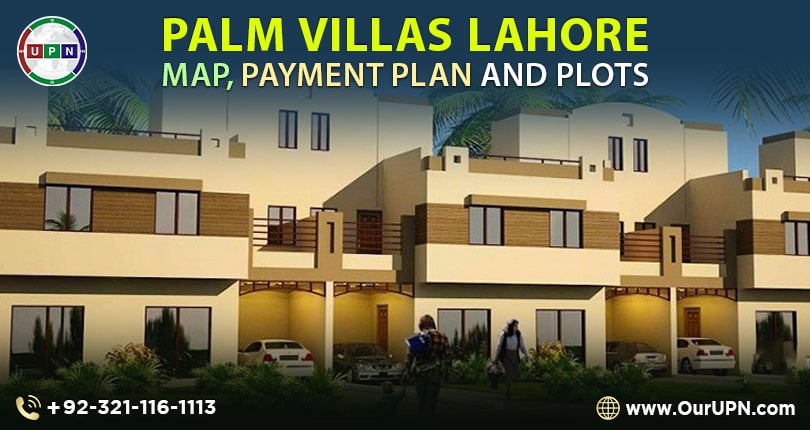 Palm Villas Lahore is a premium housing society located in Lahore. It is a project of Khalil Sons Developers Pvt. Ltd. They are a well-known developer in real estate. This housing society covers a large area of land and is approved by the LDA (Lahore Development Authority). Palm Villas Lahore is an ideal place for families who are looking for a modern and comfortable living environment. It offers a peaceful and secure lifestyle, away from the hustle and bustle of the city. It also provides easy access to all the necessary amenities and facilities.
In this blog, we will discuss the location, plots, payment plan, and map of Palm Villas Lahore.
About Developers
Khalil Sons Developers Pvt. Ltd is the developer of Palm Villas Lahore. They started work in 2004 as a real estate advisor. In 2015, they developed their own project. They previously completed their project in Bahria Town. The name of that project is:
Khalil Sons Developers Pvt. Ltd has a respectable reputation in the real estate market. They have an excellent team of professionals who worked on their projects. The aim of these developers is to provide a complete lifestyle and the best return to their valued clients and investors.
Palm Villas Lahore Location
Palm Villas Lahore is ideally located in Jubilee Town. It is located 3 kilometers from the main Canal Road in Lahore. It is also near Bahria Town Lahore. This project is located opposite the Indus Hospital in Lahore. Additionally, it is situated near Defence Road. The distance from some places is:
5 minutes from Comsat University lahore
6 minutes from Bahria Town Lahore
15 minutes from Thokar Niaz Baig
31 minutes from Allama Iqbal International Airport in Lahore
Some nearby developed societies are:
NESPAK Housing Scheme
Izmir Town
Mohlan Wala Scheme
Iqbal Avenue
Palm Villas Lahore Properties and Prices
Palm Villas Lahore offers a range of residential options, including villas, apartments, and plots. The villas are available in different sizes and designs, and they come with modern amenities and facilities. The apartments are also available in various sizes, and they are designed to provide comfort and convenience to residents. Ready-made homes are also available in different sizes, which are:
3 Marla Home
4 Marla Home
5 Marla Home
6 Marla Home
The 3 Marla Home is available at the price of 60-65 lacs.
The 4 Marla Home is available at the price of 65-70 lacs.
The 5 Marla Home is available at the price of 75-80 lacs.
The 6 Marla Home is available at the price of 82-90 lacs.
Plots
The sizes of residential plots in Palm Villas Lahore are:
3 Marla residential
5 Marla residential
6 Marla residential
8 Marla residential
2 Marla commercial
5 Marla commercial
The plot prices are 5–10 lacs per Marla in this housing society. The prices depend on the location of the plots. It can be changed according to location, market rate, and market conditions.
Residential Villas
Residential villas at Palm Villas Lahore are available in different sizes. These villas are the following sizes:
3 Marla villas
5 Marla villas
3 Marla Villas
The 3 Marla Palm Villas are beautifully designed and cover an area of 1375 sq. ft. These double-story Villas provide a safe and natural community environment. The villas are designed with:
3-bed rooms with attached bathroom
One kitchen
5 Marla Villas
The 5 Marla Villas are located near a beautifully maintained park. The interior and exterior of these villas have been designed with grand materials. These villas cover a 2100 sq. ft. area. These villas are built with:
3-bed rooms with attached bathroom
2 kitchen
Spacious living area
1 TV lounge
Studio Apartments
The studio apartments are designed to meet the residential needs of clients. These apartments have the high-end infrastructure and the best architectural design. The build area ranges from 340 to 504 square feet. All of these amenities provided excellent residences in Palm Villas Lahore. These apartments in Palm Villas are available in different sizes, which are:
340 square feet
360 square feet
391 square feet
405 square feet
411 square feet
503 square feet
Prices of studio apartments start at 4,320,000/- and go up to 4,932,000/-. These studio apartments are available on three-year installments. The client has to pay a down payment for the booking and a confirmation amount after 30 days. The remaining amount will be payable in three-year installments.
Features and Amenities
Palm Villas Lahore is equipped with all the modern facilities that are required for a better lifestyle. Some of them are:
Gated community
CCTV cameras
Security guards
Carpeted roads
Underground electricity
Basic facilities sewerage and water
Educational institutes
Hospitals
Gym
Shopping centers
Parks and playgrounds
Jamia mosque
Palm Villas Lahore Map
Palm Villas Lahore is one of the best housing societies. The master plan is still being developed in order to meet international standards and provide the best designs, elegant architecture, and infrastructure. This society is still in its developmental stages. 60% of road development is complete, and the remaining 40% is under construction. Many houses are built in this housing society. This project includes a variety of properties, such as villas, apartments, and plots.
Highly qualified architects and designers have designed these beautiful homes and villas. Apartments are also under construction. The remaining development will be completed soon. Palm Villas Lahore also has a famous hospital known as "Indus Trust Hospital." All basic amenities, such as schools, hospitals, parks, and shopping centers, are available in the housing society. This society is safe because of the security system and gated community.
Why Invest in Palm Villas Lahore?
Palm Villas Lahore is one of the most affordable and popular housing schemes in the city. Its services are promising and meet with high quality. This project is designed for people who want to live in a better environment at a reasonable price. There are many reasons to invest in Palm Villas Lahore, which are:
Ideally located in Jubilee Town in Lahore
Opposite Indus Trust Hospital
24/7 security system to ensure the safety and security of residents
Palm Villas is approved by LDA.
Beneficial in surroundings such as educational institutes, grocery stores, and shopping centers.
Different options are available for residents, such as villas and apartments.
Prices are affordable for plots, villas, and apartments.
It will generate high rental income
High return is expected on an investment
So, Investors have a wonderful opportunity to invest in a low-cost property. Because of its low prices, it will become extremely popular. Investors can pay a reasonable price for living a luxurious lifestyle in Palm Villas Lahore.
Please contact us through WhatsApp, Contact Us form, or visit our UPN Youtube Channel for further assistance.