Plots for Sale in Islamabad Housing Societies
by UPN
October 21, 2022
0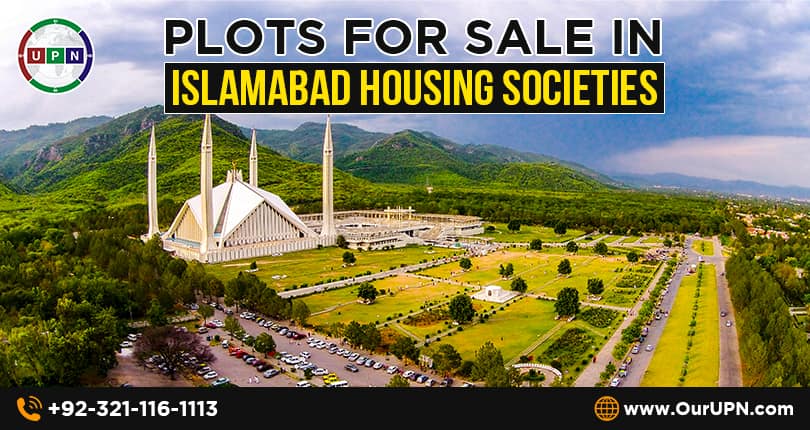 Islamabad's real estate market is growing so fast. It is full of options and opportunities as several latest and advanced projects are launched and speedily developing there. A large number of people want to buy the most profitable plots for sale in Islamabad housing societies. The reason is the peaceful atmosphere, availability of top-class facilities, and, most importantly, affordability.
Yes, despite the several attractions and high-level development, there is several housing ventures offering reasonable price plot in Islamabad. Not only has this, but both investors and buyers got the chance to invest in easy installments.
If you are also looking for the same, please keep on reading!
Top Options to Buy Plots for Sale in Islamabad
In this latest blog post, we will discuss the complete details of the top trending plot options you can choose in the Islamabad real estate sector.
Capital Smart City Islamabad
Capital Smart City is the topmost and the best investment opportunity in Islamabad, attracting both foreign and local investors. This residential society is the first project created in Pakistan using smart facility standards and techniques. This upscale venture comprises unique features and state-of-the-art facilities featuring advanced infrastructure levels.
This project is developing with the smart collaboration of Habib Rafique Group and Future Holding Development, two renowned real estate groups. Moreover, the prime location of this society on Chakri Road near to Lahore-Islamabad Motorway and the Islamabad International Airport further boosts its value. The corner plots for sale in Islamabad Smart City is both residential and commercial. Here you can purchase the following options:
Residential Plots for Sale
5 Marla
7 Marla
10 Marla
12 Marla
1 Kanal
2 Kanal
Commercial Plots for Sale
Buying the plots will be a highly profitable decision, especially for the people looking to get plot for sale in Islamabad on easy installments. Many of the top-class options are available with flexible payment plans. You can confidently choose this secure and facilitated society for residence and investment purposes.
Blue World City Islamabad
Blue World City placed second in getting an affordable plot for sale in Islamabad. It's a prominent residential development in Islamabad located ideally.   Developing speedily like a stunning gem, this housing society is luxurious and is under construction close to the recently proposed Rawalpindi Ring Road and Chakri Interchange.
The well-known urban planning company Blue Group of Companies has developed Blue World City, which also enjoys approval from authorities.  With cutting-edge architecture and first-rate amenities designed to meet international infrastructure requirements, the residential society is recognized as one of the fully-facilitated residential ventures.
Blue World City Islamabad has a premium location and spreads over a large area of land. Everything boosts its worth, from its master plan to the speedy development, design, and amenities. Most importantly, the affordability that comes with a number of plots further makes it a prominent option.
Following are the plots for sale in Blue World City Islamabad:
Residential Plots
3 Marla
4.5 Marla
5 Marla
7 Marla
8 Marla
10 Marla
14 Marla
20 Marla
1 Kanal
2 Kanal
Buy Plot for Sale in Islamabad Kingdom Valley
Launched under the banner of Naya Pakistan Housing Scheme, Kingdom Valley Islamabad is offering the best investment opportunities. It's a low-cost but well-planned, high-standard housing venture. Located ideally at Chakri Road's peaceful and easily accessible location, it's a dream place to invest in. Providing people a profitable opportunity to make their properties on easy installments, this project is winning everyone's hearts.
It's a project by the Kingdom Group of Companies. The company began. Moreover, Mr. Ghulam Hussain is the current CEO of the company.
This society is developing speedily and completely approved by authorities and has valid approval from Naya Pakistan Scheme. The plot for sale in Islamabad, especially in Kingdom Valley, are wide in range. Here you can confidently choose between the best plot options available. Most importantly, these properties come with the facility of easy installments.
So, what else can be more beneficial? The details for the plots available in Kingdom Valley Islamabad are as follows:
5 Marla
7 Marla
8 Marla
10 Marla
1 Kanal
2 Kanal
Commercial Plots
2 Marla
4 Marla
8 Marla Plot for Sale
Also, this society offers a number of attractive villas for sale that you can purchase on installments as well.
Park View City Islamabad
While discussing the best options for residence and investment in Islamabad, How can we forget about Park View City Islamabad? It's a premium development, a jewel in the crown of the Capital City. Located at a graceful location, this society is owned by Vision Group. Completely approved CDA, approved by the Capital Development Authority (CDA) on 07/12/2020.
This NOC clearance increases the value of Park View City Islamabad, making it a trustworthy investment.
This project is actually located in Islamabad zone IV at Malot Road. Moreover, this area is near Bhara Kahu, between the Kuri and Simly Dam routes. One of the heart-winning features of this project is the availability of a diverse range of plots. Also, on easy installments. Following are the details of the plots you can purchase in Park View City Islamabad:
Residential Plots
5 Marla
8 Marla
10 Marla
1 Kanal
2 Kanal
Commercial Plots
Conclusion
So, that's all about the best plot for sale in Islamabad in 2022. You can confidently choose between the top available options in Capital Smart City, Blue World City, Kingdom Valley, or Park View City Islamabad. All these societies are 100% approved by the relevant authorities, making these options perfect for safe investment.
Frequently Asked Questions
Here are the answers to commonly asked questions:
What are the best housing societies to invest in Islamabad?
The real estate market of Islamabad is full of options. Here you can invest in a top-notch Capital Smart City where luxuries are unmatchable. Or can choose Kingdom Valley, which is an affordable investment option.
Are plots available on Installments in Islamabad?
Yes, anyone can confidently buy several heart-winning plot options on easy installments. Furthermore, these attractive options are available in the best top housing societies in Islamabad.
Please contact us through WhatsApp, web form, or visit our Youtube channel for further assistance.