Plots on Installments in DHA Lahore – Golden Investment Opportunity
by UPN
September 19, 2020
0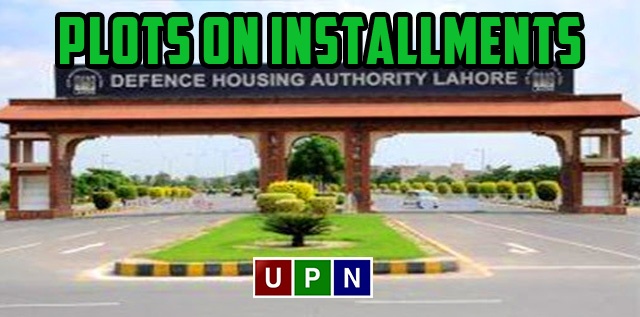 It is the hearties desire of every investor to buy plots on installments in DHA Lahore. It would be nothing wrong to say that DHA Lahore is a fabulous description of style, class, luxury, and excellence. Everyone wants to be a part of it does not matter if you wish to be its resident or an investor. The demand for property in DHA Lahore is never-ending, and the real proof to this statement is the different expanding phases of DHA Lahore.
Unfortunately, due to this high demand for DHA Lahore property, it has become impossible to find plots on installments. But, do not be disappointed as today; we have excellent news for you. The huge gold investment opportunity that can never be missed is that DHA Lahore is now offering the best plots for sale on installments of 3 years.
Is it true?
Yes, it right! DHA Lahore will soon offer all the available residential, commercial, educational, and public spaces on the flexible installment plan of 3 years.
When the Booking will Begin and the Last Date to Apply?
The Booking of the plots for sale in DHA Lahore is starting from 16th September. The last date to book your dream property on installments in DHA Lahore is 5th October 2020.
When the Ballot will take place?
All the applications submitted till 5th October 2020 will be a part of the Open Ballot, held on 26th October 2020. Well, it would be right to say that the date to test your luck is 26th October.
Check the Ballot Result Here
https://ballotapp.dhalahore.org/
Which are the categories and sizes of plots to be included in this Ballot?
DHA Lahore is now bringing you once in a lifetime opportunity to change your fate and earn huge profits by offering all the best plots on installments. The following categories of properties will be provided on installments:
Residential Plots
5 Marla, 7 Marla, 10 Marla, 1 Kanal, and 2 Kanal
Commercial Plots
2 Marla, 4 Marla, 8 Marla, 16 Marla, 48 Marla and 80 Marla
Entertainment Spaces and Educational Institutes
Different Sizes – details will be disclosed soon
What is the Feature which makes this Deal More Attractive?
Defence Housing Authority is not just going to offer you the highly-attractive plots on installments. But there are many other attractions in this deal. Some of the most significant features of this new deal of plots are:
·         High relaxation on bigger sizes of plots; so that you can construct more and can earn more
·         The drawing submission fee is waived off; to provide you with something beneficial.
·         FAR Ratio is improved; to offer you something best you have ever imagined earlier.
·         Additional parking spaces will be provided; to attract more clients and customers to your place.
Where these Properties will be Offered, Location Details?
Before buying any property, it is essential to check its location from various angles. DHA Lahore is comprised of many phases, so where these plots will be located? And which phase is the best for investment? Are you still confused about all of these questions? If yes, then just stop thinking about these anymore because DHA Lahore has brought the best solution for you!
Defence Housing Authority Lahore is proudly going to launch these plots on installments in all DHA phases. Sounds unbelievable? But it's still true! So, this is a huge opportunity to buy the best plots in your desired phase without thinking about anything else!
Earlier, we have described this new deal as the life-changing opportunity; you can avail to change your destiny, so if you want to make your dreams come true? Be quick and submit your application before the deadline!
For further assistance, feel free to contact Universal Property Network!
Check out our site for more detail. Latest News