Plots on Installments in Lahore 2022
by UPN
June 15, 2022
0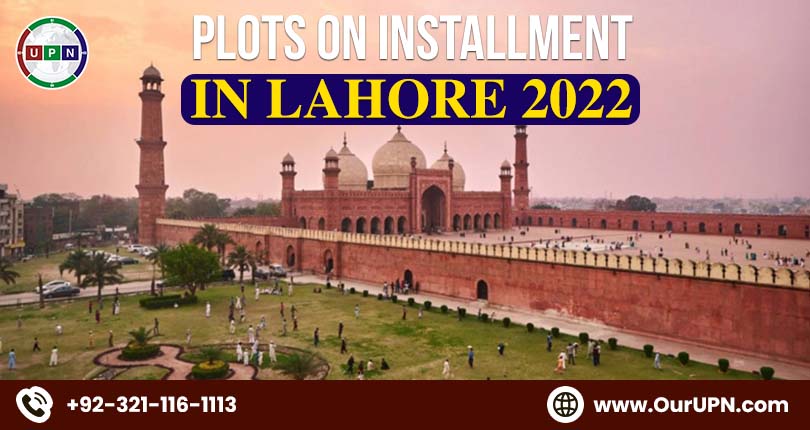 Over the past ten years, Lahore's property market has been growing so fast. It has several positive changes, including the launch of some top-class residential and commercial ventures. Many buyers are investing their capital, and many are looking for plots on installments in Lahore. Buying a plot with a flexible payment plan is the heartiest desire of everyone. Especially salaried persons prefer investment by paying in installments. However, getting the best plot at affordable rates is not an easy task.  But don't you worry, as Universal Property Network have the best solutions for you.
In this latest blog, we bring you the chance of the most profitable investment in Lahore 2022. Further details:
Plots on Installments in Lahore Smart City
Designed with perfection, Lahore Smart City is one of the most popular housing societies these days. Launched almost 1.5 years ago, it's a speedily developing venture with top-class features and amenities. Spreading over 55,000 Kanal of land, this project is 100% approved by LDA. Moreover, this society is holding importance for these significant reasons:
Well-Known Developers
Lahore Smart City is a project by Habib Rafiq Group and FDHL. Moreover, the master plan of this society is planned by a credible Singaporean firm Surbana Jurong. The developers of this mega project are already enjoying a good reputation in the real estate sector of Pakistan. Habib Rafiq Group and FDHL have successfully presented Capital Smart City Islamabad, an iconic development that needs no introduction. Now both these top companies are heading to set an example of another smart city in Lahore. People trust them blindly because of their high-standard work, timely completion and outstanding project planning.
Prime Location
Another major reason to get a plot on installments in Lahore Smart City is the prime location of this project. This high-standard project is developing ideally on Main GT Road. Also, it has several entrances along with a dedicated interchange and entrance from Ring Road Lahore. The surroundings of Lahore Smart City are well-developed and beneficial.
Speedy Development
This mega housing society was launched almost 1.5 years ago. The development work of Lahore Smart City was started just after the official launch. Most importantly, the possession of plots in its first two sectors, i.e., Sector A and Sector B, was already announced last month. So, this example is enough to justify the speedy development statement of Lahore Smart City. The work on the development of iconic villas is also moving smoothly. Hopefully, it will have possession in the other sectors by the next 1 – 1.5 years.
Numerous Options Available
People looking for plots on installments in Lahore can easily buy their desired options at reasonable rates. To date, this society has already launched three different bookings of plots. These bookings offer you the following sizes of the plots:
5 Marla Residential Plots
7 Marla Residential Plots
10 Marla Residential Plots
12 Marla Residential Plots
1 Kanal Residential Plots
4 Marla Commercial Plots
8 Marla Commercial Plots
The plot booking in Lahore Smart City starts from 9 lacs only. However, the amount of down payment varies as per the plot's sizes and categories.
Invest to Earn Huge
Lahore Smart City is a graceful development, an appealing project where you can confidently invest. It's a perfect place to have a dream residence in Lahore. At the same time, the plots for sale in this project are exceptional for investment gains. Buying there is 100% secure and profitable. Prices of the plots (profit amount) are increasing day by day. So, taking the right time decision will surely benefit you a lot.
Plots on Installments in Lahore – Victoria City Lahore
If you find Lahore Smart City a little bit expensive and looking for some profitable but cheaper options for investment in installments, choose Victoria City Lahore. This heart-winning place spreads over a large area and is planned in several blocks. The entire area of this project has LDA approval. Most importantly, it's a project by one of the top developers of Lahore. The plots for sale in Victoria City Lahore are equally attractive for residence and investment purposes. Some of the valid reasons to choose this place are:
Good Developers
Victoria City Lahore is a project by Sheranwala Group. These developers are maintaining a healthy reputation in the real estate sector of Lahore. They had already completed several residential heights and commercial projects. Additionally,  the second most recent project by Sheranwala Group is Times Square Mall and Residencia. This masterpiece is located ideally at the prime location of Bahria Orchard Lahore. So, their previous track record makes these developers making this Victoria City Lahore an ideal option to consider.
Ideal Location
Victoria City Lahore enjoys a prime location on Main Canal Road. This latest venture is launched at a peaceful location near Bahria Town Lahore. The main entrances of this society are planned on Canal Road and Multan Road. Both these are undoubted the important arteries of Lahore. Many of the known residential and commercial developments are lying nearby. Thus, this outstanding location of Victoria City Lahore makes its properties the best.
Best Residential and Commercial Plots
Victoria City plots on installments in Lahore are attractive to buy for significant reasons, including the availability of many options. Here you can buy:
3 Marla Residential Plots
5 Marla Residential Plots
10 Marla Residential Plots
1 Kanal Residential Plots
2 Kanal Residential Plots
5 Marla Commercial Plots
All these plots are enough to meet modern investors' residential and investment requirements in Lahore in 2022.
Lowest Prices Plots
The plot prices in Victoria City Lahore are surprisingly affordable despite some of the best features, location, and amenities. The rates start from 21.50 lacs only. Moreover, the booking starts from 2.50 lacs only. All these options can be purchased with a flexible payment plan of 4 years. Following are the details of the complete price:
Residential Plots Payment Plan
Plot Size
Total Price
Booking

Amount

48 Monthly Installments
8 Bi-Annual Payments
On Balloting
At Possession
3 Marla
2,150,000
250,000
15,000
60,000
400,000
300,000
5 Marla
3,490,000
275,000
20,000
80,000
800,000
815,000
10 Marla
6,500,000
525,000
30,000
120,000
1,787,500
1,787,500
1 Kanal
13,000,000
950,000
50,000
200,000
4,025,000
4,025,000
2 Kanal
25,000,000
1,500,000
90,000
400,000
7,990,000
7,990,000
Commercial Plots Payment Plan
| | | | | | | |
| --- | --- | --- | --- | --- | --- | --- |
| Plot Size | Total Price | Booking Amount | 48 Monthly Installments | After Every 6 Months | On Balloting | At Possession |
| 5 Marla | 20,000,000 | 2,000,000 | 150,000 | 800,000 | 2,200,000 | 2,200,000 |
So, all these plots on installments in Lahore 2022 in Lahore Smart City and Victoria City Lahore are impressive. Providing people with a chance of easy and beneficial investment in the Lahore real estate, these societies have valid NOCs and offer profitable returns.
Please contact Universal Property Network For More Information click here or visit our Youtube channel for further assistance.