Plots for Sale in Kings Town Lahore – New Deal Announced
by UPN
December 6, 2020
0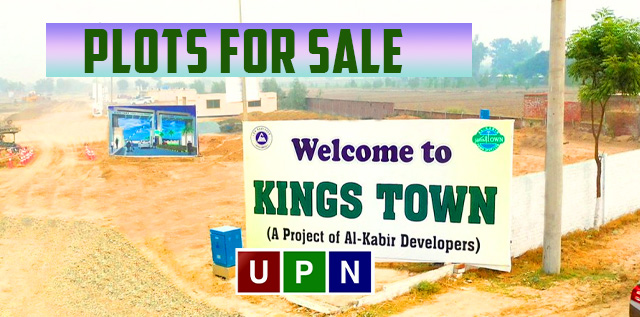 Kings Town Lahore is bringing you a golden investment opportunity by offering a bundle of new deals. Yes, different plots for sale are available in Kings Town Lahore, which is a modern, high-scale project by Al-Kabir Developers. These plots are offered in both the residential and commercial categories. Kings Town Lahore, also known as Al-Kabir Town Phase 3, is among the most popular new developments where you can confidently invest in living and investment.
Launched recently, Kings Town Lahore is an LDA approved housing society where homes and apartments are also available for sale. However, these new residential and commercial plots seem more attractive because of their reasonable rates, installment plans and ideal location. So, what are you waiting for? Let's check the complete details of the plots for sale in Kings Town Lahore one by one!
Residential Plots for Sale in Kings Town Lahore
The very first deal of residential plots is recently announced in Kings Town Lahore. Plots of 3 Marl and 5 Marla, along with the top-class amenities, are offered at affordable rates. The 3 Marla plot's launching price is 21 lacs while the booking starts with 3 lacs only. On the other hand, a 5 Marla ideally located residential plots are offered at the total price of 35 lacs. Booking of 5 Marla plots can be made with 4 lacs down payment. All these residential are offered with a convenient payment plan of four years. The prices details for the plots are:
Residential Plots on Four Years Installment Plan
| | | | |
| --- | --- | --- | --- |
| Plot Size | Launching Price | Booking Price | Monthly Installment |
| 3 Marla | 21 lac | 3 lac | 16,666 |
| 5 Marla | 35 lac | 4 lac | 25,000 |
Commercial Plots for Sale in Kings Town Lahore
Kings Town Lahore, a new but well-planned housing venture, is all set to attract investors by offering the best commercials for sale in it. These are the best-located commercial plots available in the following sizes:
2 Marla
3 Marla
3.5 Marla
Commercials for sale in Kings Town Lahore are offered with a flexible payment plan of three years. The 2 Marla commercial's launching price is 60 lacs, while the down payment for the plot is 20 lacs. 3 Marla commercial plots are launch at the total cost of 90 lacs, where you can book your plot with a down payment of 30 lacs.
Similarly, the 3.5 Marla commercial plot's total price is 87.50 lacs, while the booking price of these plots is 25 lacs.
Commercial Plots on 3 Years Installments Plan
| | | |
| --- | --- | --- |
| Plot Size | Total Price | Down Payment |
| 2 Marla | 60 lac | 20 lac |
| 3 Marla | 90 lac | 30 lac |
| 3.5 Marla | 87.50 lac | 25 lac |
Location of Commercials in Kings Town Lahore
Commercial plot for sale in Kings Town Lahore is located at the ideal location of this society. These commercials are situated at the Main Boulevard of this project. 2 Marla and 3 Marla plots are available on the right and left sides just after entering this society. However, 3.5 Marla commercials are situated at a short distance in the proximity of a planned school and mosque.
Al-Kabir Developers has chosen the futuristic location for the development of Kings Town Lahore. This society is beautifully located on Main Raiwind Road in the proximity of Bahria Orchard Lahore.
New Deals of Plots and Investment Potential
Kings Town Lahore's new deals of residential and commercial plots provide you with an opportunity to earn maximum with on-time investments. Plots in both categories are attractive and reasonable to choose for all purposes. The ideal location of plots and the best location and payment plans make them excellent to consider investing in Lahore. All these plots are available on launching prices as well as on Open Forms. It means you will be the first buyer of your plots, and there will be no extra/hidden charges on them.
For booking, or selling, please contact Universal Property Network today!
For More Information click here or visit our youtube channel