Why the Prices of Property in DHA Lahore Is High?
by UPN
February 1, 2020
0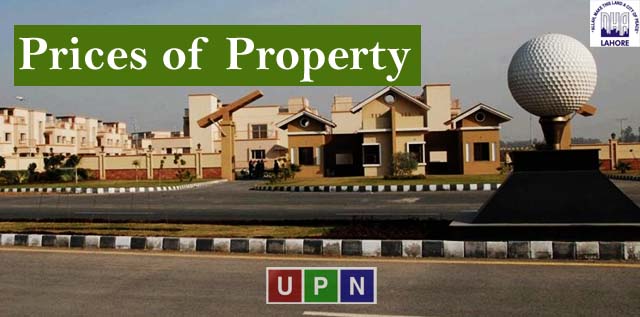 DHA Lahore is known to be the most attractive housing project. It is considered as the best residential community where everyone wants to buy a property. The society was first planned in a single phase, but now it has grown to many phases in Lahore. Due to the high demand for property and people who love to invest in DHA, the developers are continuously working to provide more and more opportunities in it.But at the same time, the property prices in almost all the phases of DHA Lahore are very high. This sharp increase in the prices of property many times, makes investors think about other real estate projects.
No doubt, Lahore is a big city and full of real estate investment opportunities, but why people do prefer DHA Lahore instead of high prices?
Let's find the answer with some valid reasons and logic! Further, we are using the examples of Phase 8 DHA Lahore to prove these logics.
Ideal Location of DHA Lahore
The most important and undeniable fact is the ideal location of DHA Lahore. Despite the fact, that DHA Lahore comprises many phases and these are located at different locations, but still, developers had made them a great real estate project with their best locations.
For example, DHA Lahore Phase 8 is located right in front of Allama Iqbal International Airport Lahore. Further, it's all four sides are surrounded by developed societies such as DHA Phase 8 (Ex Park View and Air Avenue) and Eden city on its Northwest.
DHA Phase 6 is located in the southeast of Phase 8.
DHA Phase 5 lies in the southwest of Phase 8. Moreover, Eden Houses, Divine, KB colony, DHA Phase 1 and Phase 2 are located on its southwest.
Well-Developed & Organized Commercial Areas          
DHA Town Planners has really worked brilliantly by developing the well planned commercial areas in it. All the phases of DHA Lahore are featuring the impressively developed commercial areas.
For example, DHA Phase 8 is developed with Broadway Commercials which are the biggest commercial market in the history of DHA Lahore. Besides that other commercial areas such as CCA 1, CCA 2, and different are also a part of this mega-development.
Moreover, Phase 3 is among the most expensive area to buy property as it is also developed with successful commercial zones.
Superior Town Planning
There is no doubt, that DHA Lahore is a superb housing project with superior town planning. We have already mentioned the importance of well-planned commercial areas, now we are going to 2 other factors that influence the property prices.
Best Security
DHA Lahore is developed to offer you the desired lifestyle in a secure environment. Each phase of DHA is offering a unique system and a sense of secure living.
For example, DHA Lahore Phase 8 is only accessible through a couple of routes. Further, it has only 2 or 3 entry and exit points.
Attractive Parks and Amnesties
Every phase of DHA is rich with all the top-notch amenities and featuring lush green parks and grounds. This is one of the major reasons for higher property prices in DHA Lahore.
There are almost 30 Parks in just 7 Blocks of DHA Phase 8 and that's why it is the first choice of home seekers.
Conclusion
DHA Lahore is a luxurious housing project comprises of many phases but every phase is attractive and offering ideal properties. It is a dreamed residential society where you will have access to all world-class facilities that you can only dream of in others.
The provision of all these amenities, high security, best location, and luxury lifestyle makes it's the best choice. In addition to all, the high demand for property is the basic reason for the high prices of property in DHA Lahore.
Stay updated with Universal Property Network!