Mega Property Sales Event in Etihad Garden Rahim Yar Khan – An Event Full of Opportunities
by UPN
January 29, 2020
0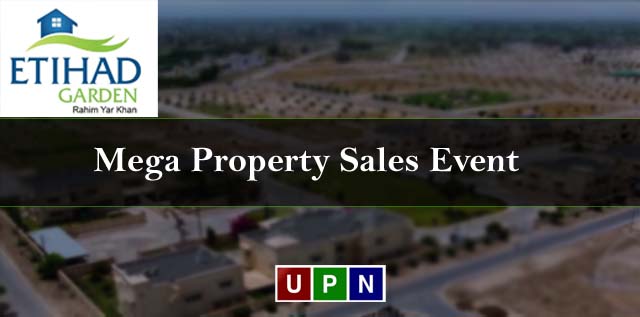 Zameen.com has organized a Mega Sales Event in Rahim Yar Khan. This was one of the best real estate even held in Etihad Garden Rahim Yar Khan. Thousands of visitors were part of this event. Further, a musical concert was also organized in which the renowned singer Falak Shabir had also performed.
This mega property sales event has provided a great chance for all visitors to discover the most attractive and profitable projects in the city. It was not only a sales event but a family-friendly event with full of fun and happiness.
The event was held at the site of Etihad Garden on Airport Road, Rahim Yar Khan. It is a new and modern housing society that is developing at the ideal location of the city.
Let's discuss some further details of this project right below!
Etihad Garden Rahim Yar Khan – A Project with Numerous Opportunities
It is a well-designed mixed-use project located ideally at the best location. Etihad Garden is a project of renowned Technical Associates Pakistan Pvt Limited. The society is the very first gated housing project at that location. It is developing with both the residential and commercial plots.
Residential Plots for Sale
The residential plots available for sale in Etihad Garden Rahim Yar Khan are 5 Marla, 8 Marla, 10 Marla, 20 Marla and 30 Marla.
Commercial Plots for Sale
Etihad Garden Rahim Yar Khan is also featuring the commercial plots of 4 Marla and 8 Marla.
Further, this society is also equipped with all the modern facilities that ensure a comfortable and joyful lifestyle in it.
Due to the availability of numerous investment options, Etihad Garden is attracting both the investors and genuine buyers to it.
Attractive Features of the Society
Etihad Garden is designed to provide a complete lifestyle experience, regardless of whether you desire to construct your own house or looking to start your business at the best location. This society is featuring numerous facilities that ensure that all the investors will be facilitated in the best way.
Here you will find all the basic facilities such as underground electrification and uninterrupted water supply. Further, it also comprises of a water treatment plant and different lush green parks.
Etihad Garden is offering all the state of the art amenities such as mosques, schools, and hospitals. It will be also developed with a community clubhouse, gymnasium, a banquet hall & restaurant, and a swimming pool. Meanwhile, different famous Pakistani and International food chains will also open there outlets in Etihad Garden.
Etihad Garden Rahim Yar Khan Location Details
This appealing housing project is located at the ideal location in Rahim Yar Khan. It is located on Airport Road adjacent to Darri Sangi Bridge. Further, society lies on a short distance from the international airport.
It is also located close to Superior College and Beacon House School. Indeed, it is located close to Sheikh Zayed Medical Hospital and College and to HH Sheikh Khalifa Public School. T
What Do People get from this Mega Event in Etihad Garden?
Actually, this was really a big and successful event organized by Zameen.com. It offers different investment opportunities for investors as well as end-users. The organizers made it sure that it was a good experience for everyone. Moreover, this event was not only to explore different property options but to also a great place to have a good time with your friends and family.
Stay Updated with Universal Property Network!