Q-Links Projects in Bahria Town Lahore and Bahria Orchard Lahore – A Review
by UPN
December 6, 2020
0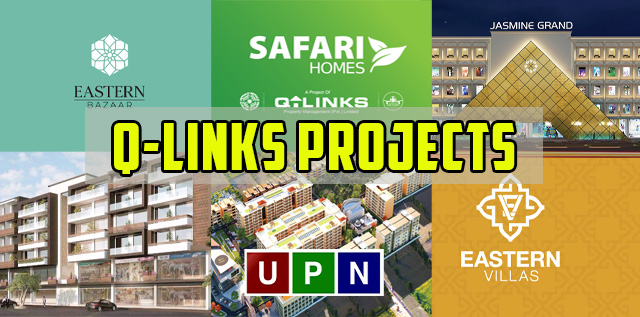 Q-Links Developers and Real Estate is an excellent name in the real estate market of Lahore. They maintain an outstanding reputation by offering some of the best residential and commercial projects in Lahore. Some of their up-scale projects are located in Bahria Town Lahore and Bahria Orchard Lahore. All these projects are thoughtfully presented to provide the best investment and living opportunities for buyers.
Q-Links projects in Bahria Town Lahore and Bahria Orchard Lahore are the impressive description of smart planning, innovative ideas and affordable prices. Moreover, the company is well-known among investors for its high standards, professionalism, and on-time delivery.
Projects by Q-Links Developers
This latest write-up will give you an overview of the Q-Links projects developed or developing in Bahria Town Lahore and Bahria Orchard Lahore.
Jasmine Mall Bahria Town Lahore
Jasmine Mall is a properly developed, iconic project in Bahria Town Lahore. It's an operational commercial project which is located in the heart of Bahria Town. Places beautifully in Sector C, Jasmine Mall, features several local and international brands, a food court, kids play area and a bundle of entertainment facilities. Undoubtedly, this project has played a vital role in building Q-Links Developers' good reputation in Lahore.
Jasmine Grand Bahria Town Lahore
After getting huge success in Jasmine Mall, Q-Links Developers has recently announced another well-planned, high-standard project in Bahria Town Lahore. Located in the proximity of the Eiffel Tower in Sector E, Jasmine Grand is a considerable development soon going to be a reality. Featuring all the best facilities, features, and so many attractions, Jasmine Grand offers you an opportunity to buy the best property in installments.
Jasmine Villas Bahria Orchard Lahore
This is the very first residential project offered by Q-Links Developers. Launched on the flexible payment plan, Jasmine Villas are 5 Marla double-storey homes located ideally in Bahria Orchard Phase 4. Equipped with all the modern-day facilities, these homes' prices kept reasonable to facilities more and more people. Also, it happened for the first time that a double-storey luxurious villa was offered on installment where the possession will be handover before the completion of the payment plan.
Orchard Homes Bahria Orchard Lahore
Orchard Homes is the second residential homes deal announced by Q-Links Developers in Bahria Orchard Lahore. These are 5 Marla triple-storey homes offered on a convenient payment plan. This is also the project where you can buy the entire Orchard Home or invest in a single storey as per your requirements. The prices for each floor are different; however, purchasing the ground floor will cost you more than investing in the second floor. Development work of these homes is started so far.
Safari Homes Bahria Orchard Lahore
After getting the immense response of investors and buyers in the residential project by Q-Links Developers, the company has proudly presented Safari Homes. These are 5 Marla independent homes offered on three years installment plan. Also, located in Bahria Orchard Phase 4, these homes are located in the G6 Block of Bahria Orchard Lahore Phase 4.
Eastern Villas and Eastern Executive Villas
Q-Links Developers has launched all their previously discussed residential projects in Phase 4 of Bahria Orchard Lahore. But this time, the company has moved forward with the exclusive launch of Eastern Villas and Eastern Executive Villas in Bahria Orchard Lahore Phase 1. These 5 Marla double-storey homes are located in the first phase of Bahria Orchard, completely developed and inhabited.
Eastern Villas was launched earlier around a couple of months ago, but Eastern Executive Villas is the most-recent villas deal offered in Eastern Extension Phase 1. Both of these villas are available on three years installments.
Investment in Q-Links Projects
Buying any property in Q-Links projects can be highly beneficial for both residential and commercial needs. It is one of the most trusted names with high standard projects in Lahore. You can confidently invest in their projects to gain immense profits.
Conclusion
Q-Links Developers are working with the mission to give better, sustainable, and advanced opportunities to people. Their vision is to stand prominent by introducing large-scaled and massive projects in the real estate sector of Lahore. They are already known for their commitments to high-quality and excellent work. No doubt, their commercial and residential projects are accomplished with ultimate luxury, quality and comfort.
So, what are you waiting for? Do invest in some of the best projects by Q-Links Developers by contacting  Universal Property Network today!
For More Information click here or visit our youtube channel