Ravi River Urban Development Project – An Overview
by UPN
August 20, 2020
0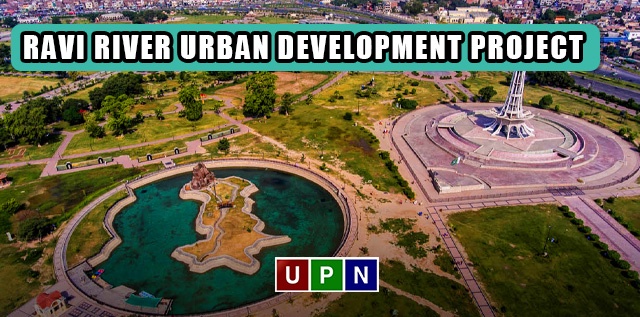 Ravi River, Urban Development project, was officially launched on Friday, August 07, 2020, by the Prime Minister Imran Khan. It is a new urban development project that will offer dream living opportunities and promote commercial activities. This grand urban development project of 5 trillion will turn the Ravi River into a freshwater body. Planned years ago, but has since been pending due to the requirement of a huge budget and disinterest of the previous government. Launched officially, however, this project will take three decades to materialize.
Ravi River Urban Development – Project Details
Covering a land of 44,000 hectares, it will be a modern city built on Ravi banks. The development of this project will accommodate around 35 million residents.  However, 70% of its area will be reserved for the plantation of 6 million trees. The plantation of such a huge number of plants will turn it into an urban forest. The idea of this urban project is based on the developments lining River Thames in London, England.
Lahore Development Authority (LDA) has assigned the task of Urban Planning and Design of the River Ravi Project to Meinhardt Group, Singapore.
This mega River Ravi Project will have 12 sectors such as:
Medical City
Mix-Use
Residential
Urban Farms
Downtown
Commercial City
Innovation City
Financial City
Tourism
Central City
Knowledge City
Sports City
The completion of this project will take time. Each development project will be appropriately designed and get approval before the development.
Location of Ravi River Urban Development Project
This project will spread across Lahore from GT Road to M2 Motorway and beyond it runs along the Ravi River.
Projects Planned to be Developed
Following are the details of the projects developed under the Ravi River Urban Development Project:
A 33 KM concrete channel will be developed on the Ravi River.
New roads, piers, and bridges covering 100 km will also be constructed.
Advanced health, education, commercial, and sports facilities will be provided with the development of Knowledge City, Medical City, Sports City, Innovation City, and Financial City.
This project will establish a new, modern, and green city along the Ravi River.
A long lake spreading over 46 KM is planned in Lahore to help control floods and maintain the underground water table.
The construction of three barrages is also planned on River Ravi to store more than 271 billion liters of water.
To make Ravi water potable, filtration plants will be installed, and to treat the wastewater sewerage treatment plants will be installed.
Investors and business people will buy more than 25,000 acres of land for different businesses.
Also, an urban forest is planned that will comprise six million trees. The development of this forest will reduce pollution and add natural habitat.
Benefits of Ravi River Urban Development Project
This project will help to resolve many critical issues, and that's why it is the need of today's Lahore. The beneficial aspects of this project are:
It will spur economic activities by creating thousands of new jobs.
It will attract local and overseas investment.
This project will help to resolve water scarcity issues.
With the development of this project, the city will have more agricultural land.
Urban Forest will add natural habitat and offer a fresh and green environment. It will control rising temperatures, as well as add to the beauty of Lahore.
Also, Ravi River Urban Development will promote and attract foreign tourists.
Prime Minister Reviews on Ravi River Urban Development Project
While launching this Ravi River project, PM Imran Khan has said that the government can't invest in such a mega-development project. This project will be developed with the investment of Overseas Pakistanis and private investors. Therefore, he openly invited them to invest in the different projects planned under this scheme. Also, the government expects a large sum of investment before December 31, 2020, because many of the investors will benefit from the PM's construction relief package.
Moreover, PM Imran Khan has also announced the establishment of the Ravi River Urban Development Authority that will solely focus on the development tasks. This authority will work under the supervision of Prime Minister Imran Khan to ensure the standard and on-time delivery of each project.
Ravi River Urban Development Project is essential for Lahore as well as for the economy of Pakistan. Also, the mega project of 44,000 acres is expected to be a breakthrough in the real estate sector of Lahore.  Also, it will offer more living spaces and investment opportunities, along with thousands of new job opportunities.
Stay connected with Universal Property Network for more details and updates!
Check out our site for more detail. Latest News