Reasons to Invest in Orchard Mall Bahria Orchard Lahore
by UPN
July 19, 2021
0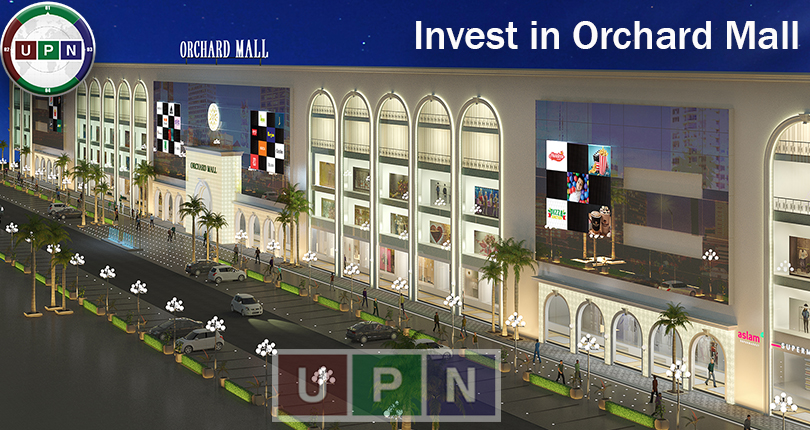 Reasons to Invest in Orchard Mall Bahria Orchard Lahore
Orchard Mall Bahria Orchard Lahore is one of the most popular and attractive developments these days. This project catches everyone's attention for the last few months by offering several new and exciting deals. It's a mega-development by Q-Links Developers, developing at a satisfactory pace. Offering shops and hotel apartments, Orchard Mall is full of options and, most importantly, on installments. Because of all these options, everyone wants to invest in Orchard Mall.
There are many reasons to choose this project for investment, business, and rental gains. However, still, some people get confused and usually ask why we should invest in Orchard Mall. So, here are sharing the top reasons to invest in Orchard Mall Lahore.
Invest in Orchard Mall – Ideal Location
Location mattered a lot when we made any commercial investment. The location of Orchard Mall Lahore is very much impressive. This project is located ideally in the G2 Block of Bahria Orchard Phase 4. Its location is easily accessible and directly connected to main Raiwind Road. Moreover, the residents of Bahria Orchard Lahore and nearby societies will get benefit from Orchard Mall. Its ideal location plays a vital role in its success and, undoubtedly, is one of the major reasons to invest in Orchard Mall.
 Renowned Developers
Orchard Mall is a project by renowned and well-reputed developers, and that's another major attraction. It is essential to get and check the details of the project's developers before any investment. Orchard Mall is developing under the name of Q-Links Developers, owned by Mr. Anjum Watto. These developers are already known for their grand projects like Jasmine Mall and Jasmine Grand Mall Bahria Town Lahore. They are also developing Palace Mall in Etihad Town Lahore. Moreover, Q-Links are working on several villas' projects in Bahria Orchard Lahore and Maryam Town Lahore. Undoubtedly, people confidently invest in projects of Q-Links Developers, and it's another significant reason to invest in Orchard Mall.
Current Development Status
Everyone wants to invest in a project that is ready or developing. If you also desire the same, then do invest in Orchard Mall. Another significant reason to choose Orchard Mall is its current development status. This project is developing at the fastest pace of development. Hardworking teams are working day and night at the projects' sites. The development work of the basement, ground and first floor is almost complete. Soon the possession of properties on these floors will be available. Moreover, Aslam Supermarket will get operational in September. So, the speedy development but still the availability of options on installments makes it best for investment.
Huge Footfall
Orchard Mall is smartly planned with so many attractions. A huge footfall is expected in this project. Its location is promising, surrounded by 1 Kanal and 10 Marla houses. Moreover, there is no such kind of mall in any of the housing societies lying close. Orchard Mall has the potential to attract a large number of people as it features:
Aslam Super Market and Docé Bakers
Different Brand Outlets Including Ideas by Gul Ahmed, Raja Rani, Al-Karam Studio
Kidz Arena
IT Market
Hotel Apartments
Food Court and Kids Play Area
Undoubtedly, once developed, Orchard Mall will become a one-stop shopping and entertainment spot at Raiwind Road Lahore.
So, ideal location, reputed developers, current development status, and huge footfall, all these reasons together, make everyone ready to invest in Orchard Mall Lahore.
UPN
Average rating:
0 reviews