Right Time to Invest in Jasmine Grand Mall
by UPN
July 31, 2021
0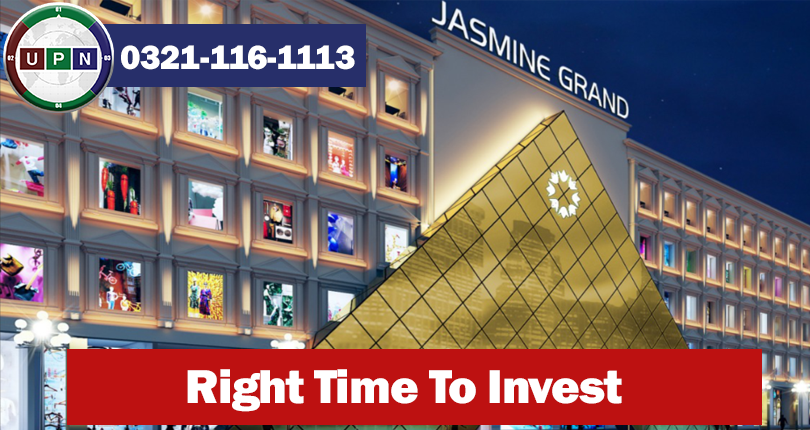 Right Time to Invest in Jasmine Grand Mall
Jasmine Grand Mall is a grand development in the heart of Bahria Town Lahore. It's a mega-mall project developing under the name of the well-known Q-Links Developers. Launched a year ago, this project is offering several attractive investment and business options. Most of these opportunities are available with convenient payment plans. Despite that, Jasmine Grand Mall holds significant importance for many reasons, like its location and launch of unique and first-of-its-kind projects. However, this is the right time to invest in Jasmine Grand Mall. Buying in these 2, 3 days will be very beneficial for you! How and why?
You must be wondering that why we call these 2 – 3 days very important for investment? Actually, the prices of properties for sale in Jasmine Grand Mall will be increased from 2nd August 2021. Learn more:
Increase in Prices in Jasmine Grand Mall
This appealing development, Jasmine Grand Mall, offers shops of different sizes and several types at the best prices. These shops are available for sale in Wedding Galleria, Kidz Galleria, IT Hub, and other brands. Most of these shops are still available at launching prices with flexible payment plans of 3 years. However, Q – Links Developers will increase the prices up to 10% after 2nd August 2021.
So, these are the last 2 – 3 days to invest in Jasmine Grand Mall at budget-friendly rates. After the 2nd of August 2021, all the prices of shops and payment plans will be revised.
Don't miss out on this chance of beneficial investment in Jasmine Grand Mall, and contact us to book your desired property! Let us discuss the available options in Jasmine Grand Mall!
Options Available to Invest in Jasmine Grand Mall
Aslam Supermarket in the Basement
Have Brand Outlets on Ground Floor and First Floor
Its Second Floor is Design with Wedding Galleria
Third Floor is offering Shops in Kidz Galleria
IT Hub on Fourth and Fifth Floor – A Dedicated Market for Information Technology
Sixth Floor features Food Court and Kids Play Area
You can invest in Jasmine Grand Mall in:
Aslam Super Market to gain a 6% annual rental yield.
Shops on the ground and first floors are almost sold; however, some options are available on profits.
Moreover, Wedding Galleria shops are ideal for running your business related to weddings. Also, Kidz Galleria shops are available with a flexible payment plan of 3 years.
Furthermore, the IT Hub is one of the most attractive developments in Jasmine Grand Mall, making it perfect for investing in Bahria Town Lahore.
The food court area and play area on the sixth floor are not available for sale. It will be managed by the developers themselves.
So, what are you waiting for? Do invest in Jasmine Grand Mall of Bahria Town Lahore for 100% capital gains, business, and rental returns.
UPN
Average rating:
0 reviews