Safari Homes Balloting Results, Current Development and Prices
by UPN
October 16, 2020
0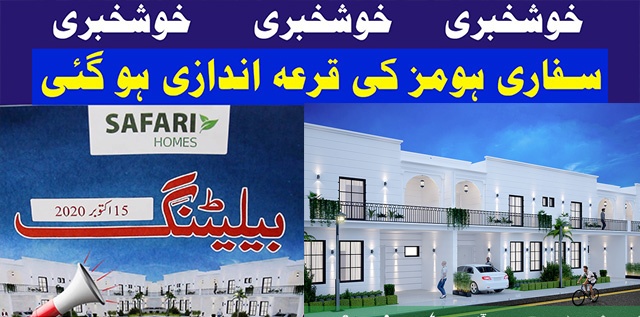 Alhamdullilah! We Universal Property Network are glad to announce that the successful balloting of Safari Homes being held on 15th October 2020 at 3 P.M.  The balloting result for all the successful applicants is announced. We enthusiastically congratulate all the successful applicants of Safari Homes Bahria Orchard who had confidently invested in the best-constructed villas in Lahore.
Safari Homes Balloting
This was fair and free balloting where everything was transparent. All the options like a corner, park facing, main road, Main Boulevard were includes in the balloting. All these numbers are announced through a normal balloting process which clears that there was no favouritism.
Buyers of Safari Homes can easily contact us for Safari Homes Numbers while the official letters by Q-Links will be reached to them within one week.
Development Status
The developmental work of Safari Home is progressing at a satisfactory pace. Around 80% of the road infrastructural work is complete while the construction of 5 Marla homes will begin in the next month.
Construction by Q-Links Developers
Whenever we discuss the projects of Q-Links Developers, we always mention the high standards of construction in them. They had already delivered numbers of successful projects while many up-scale projects are developing.  Q-Links Broadway Heights is almost ready; the grey structure of Orchard Mall is developing speedily, while the development of Jasmine Grand 2 will begin soon.
Even, the development work of Eastern Villas and Eastern Executive Villas in Bahria Orchard Lahore Phase 1 is progressing at a good pace. Hopefully, soon you will get the latest development updates about these projects.
The management of Q-Links Developers is confident about the on-time delivery of their projects.
Safari Homes – Launching Prices and Prices after Balloting
Safari Homes Bahria Orchard Lahore was offered at the pre-launch prices of 59.90 lacs with a flexible payment plan of 3 years. Almost 95% of these homes sold out before the end of bookings. However, many are available on re-sale. So, there was already some own amount on them before the balloting.
Now, after the successful balloting of Safari Homes, an increase in the prices is expected. The prices of the homes totally depend on the demands of its sellers so we cannot mention the exact figure here. However, we expect an increase of 4 lacs to 8 lacs in the prices depending on the location of the homes.
Following is the complete payment plan for Safari Homes:
| | | | | | |
| --- | --- | --- | --- | --- | --- |
| Homes | Booking Price | Balloting | Monthly Installments (36) | On Possession | Total Amount |
| 5 Marla Double-Storey | 9,75,000/- | 9,75,000/- | 95,000/- | 620,000/- | 59,90,000/- |
So, don't wait and contact Universal Property Network to get more details!