Sector D Bahria Town Lahore Got LDA Approval – Good News!
by UPN
October 22, 2021
0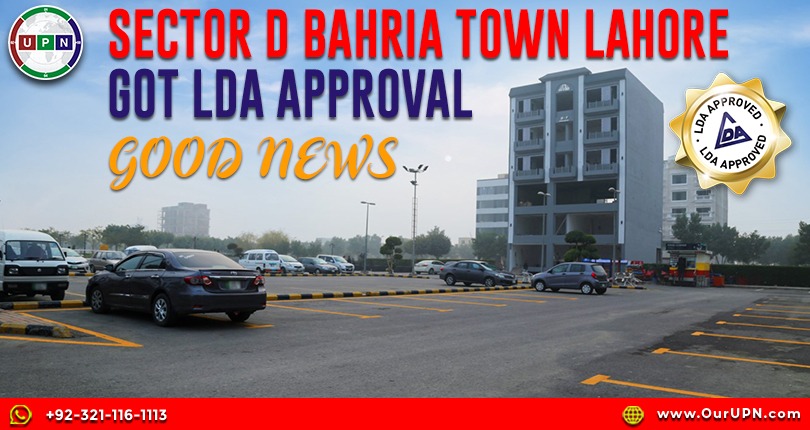 Once again bringing you good and very important news that Sector D Bahria Town Lahore has got LDA approval. Yes, Lahore Development Authority has provided complete NOC approval to the first four blocks of Sector D. Congratulations to all the property holders of Sector D who had already invested in it. Also, it's big news for the investors who were waiting to invest in Sector D but hesitated due to non-approved status.
This approval by LDA is definitely, something big and much needed as all the credibility issues are clear after it.

Sector D Bahria Town Lahore and LDA Approval
Having approval by the authorities means a lot. It not only confirms that the place is legally secure but also crucial for the mental satisfaction of the buyers. NOC approval defines that you will invest in the right place, and your investment will be secure.
Sector D Bahria Town Lahore is the fourth sector of this luxurious housing society. It has finally got approval from Lahore Development Authority. Previously, only Sector A, Sector B, and Sector C had NOC approvals.
Sector D is one of the beautiful sectors of Bahria Town, featuring several blocks named alphabetically. According to the recent notice by Bahria Town, Sector D's AA Block, BB Block, CC Block and DD Block have been approved by LDA. Therefore, all Govt. Taxes will be applicable at the time of transfer.
Properties in Sector D Bahria Town Lahore
The properties for sale in Sector D Bahria Town are both residential and commercial. However, this sector holds significant importance for offering high in demand 5 Marla residential plots.
Ultimately develop and have a good ratio of inhabitation; Sector D features all the top-class living amenities.
Moreover, it is the only sector with a separate entrance on Canal Road Lahore and is also accessible from Multan Road Lahore. In simple words, Sector D is easily approachable from multiple routes.
Current Prices of Plots and Expected Increase in Prices in Sector D
The latest prices of 5 Marla plots in Sector D start from 70 lacs and go up to 1 crore. The difference in the plot's prices is because of the location. Good location plots will cost you more as compared to general or odd location plots. However, the prices of the properties are expected to increase after its NOC approval by LDA.
Stay connected for more updates and details!
Contact us for further assistance.
Please contact Universal Property Network  For More Information click here or visit our youtube channel further assistance