Tariq Gardens Housing Scheme Lahore – Complete Details
by UPN
February 7, 2023
0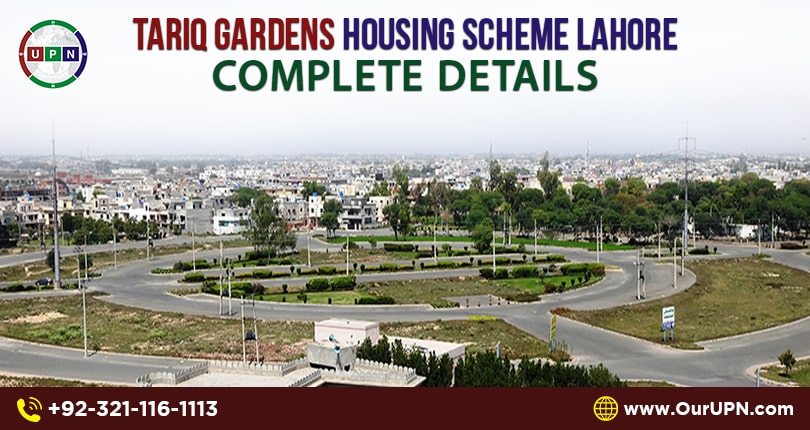 Tariq Gardens Lahore is an appealing, a state of the art, and modern housing society in Lahore. Covering a major area of land, Tariq Gardens Lahore is completely approved by LDA. Managed smartly, this society offers incredibly attractive residential and investment opportunities. Shines like a bright star in the heart of Lahore, it's a gated community packed with exclusive amenities and features. The availability of the latest community attractions and advanced developments increases its charm and uniqueness.
Growing perfectly on Defense Road Lahore, it enjoys the proximity of several well-developed societies. The whole community is planned as per the latest ideas and trends, even you will get DHA's vibe from its wide and beautiful roads. This state-of-the-art real estate project has great investment potential and amazing residential options. This society appears to be an excellent choice for both buyers and investors. Further details are:
Tariq Gardens Lahore Location
Tariq Garden is bringing you the best residential opportunities at the prime location of Lahore. This society is ideally located adjacent to Valencia Town Lahore. The main gate of this housing project is located on the main boulevard of Valencia Town Lahore. Moreover, this society enjoys an impressive location in Lahore from where all the facilities are closely available. Also, this project is adjacent to Wapda Town as one of its entrances is right next to it. The housing societies in its proximity are:
OPF Housing Society
Valencia Town Lahore
Wapda Town Lahore
T & T Housing Society
Engineers Town Lahore
You will also see the development of several top universities nearby such as
At the same time, Allama Iqbal International Airport is only 20 to 25 minutes away. Tariq Gardens is also accessible from Ring Road Lahore and Multan Road Lahore. This adds more to the worth of this project. All the phases of DHA Lahore are also close. In short, you will enjoy the best residential environment in Tariq Gardens while having all the essentials close by.
Tariq Gardens Lahore Master Plan
Tariq Gardens is one of the best-planned housing societies in Lahore. It spreads over hundreds of Kanal of land. The entire planning of this society is done by experienced architects and designers. Attention is given to every detail of this housing project. Tariq Garden Lahore master plan is a fine description of elegance, class, luxury, and style. This housing venture has a total of six gates. It is easily accessible from multiple routes.
However, the sixth gate of this project is the main entrance. The main boulevard of this society is 60 feet wide while all the other roads are carpeted. One of the biggest attractions of Tariq Garden is the greenery on both sides of the roads. You will see good maintenance.
There are total of 8 blocks in this society and all these are named alphabetically. The names of the blocks are:
A Block
B Block
C Block
D Block
E Block
F Block
G Block
H Block
The development work of these blocks is completed so far. Moreover, there is a total of 11 parks in Tariq Gardens and several mosques. Even, each block of this society has its own mosque and commercial market. The living facilities in this project are up to mark. There is a water filtration plant, tube well, telephone exchange, and foolproof security. This society also features a beautiful and maintained badminton court. All of its parks have a walking track on the side. Moreover, you will see the development of an impressive, central roundabout.
It is developed in the center of this society where a state-of-the-art mosque is operational. On the other hand, a joy land and a dispensary are also located nearby. A large area of land is reserved for a hospital. Also, a marriage hall will be developed inside. This society also has a Public School and all the commercial facilities available such as daily needs shopping and grocery stores. Society's Transfer Office is also located inside offering the best buying and selling facilities to property investors. Above all, the minimum size roads / internal roads are 40 feet wide.
Also, the security system of Tariq Gardens Lahore is good. It is not possible to enter and move into this project without proper identification and giving the reason for the visit. You will also see CCTV Cameras Monitoring the inside. This society allows the construction of houses as per the laws. Violating these laws will surely lead to heavy fines and legal proceedings. Overall, the master plan of this society is quite impressive. All these advanced developments make Tariq Gardens stand high among others.
Plots for Sale in Tariq Gardens
Like all the other striking features and attractions of Tariq Gardens Lahore, the plots for sale are also good. The plot sizes are designed and developed as per the requirements of modern investors. This allows people to buy their desired size of plot according to their needs and budget. Tariq Gardens plots for sale are:
5 Marla Residential Plots
10 Marla Residential Plots
12 Marla Residential Plots
1 Kanal Residential Plots
Also, there are commercial plots available in the sizes of 2 Marla up to 8 Marla.
Tariq Gardens Lahore Latest Plots Prices
Tariq Gardens plots prices are very convenient for potential investors and buyers. All sizes of plots are available at competitive prices which can be purchased with possession. Such affordable and attractive prices of properties attract a large number of people and that's the reason for good inhabitation in this society. Not only this but also the investment is safe and easy. In other words, today's investment will return you high in the future. Following are the detailed prices:
5 Marla plots prices in Tariq Gardens are available in the price range of 90 lacs to 1 crore.
10 Marla plots prices are starting from 1.50 crores to 2 crores.
12 Marla residential plots prices are starting from 1.75 crores to 2.05 crores.
1 Kanal plots are available in the price bracket of 2.2 crores to 2.7 crores.
As it's a developed housing society, you can also buy a beautiful house. These houses are available in different sizes. The prices of commercial property i.e., plots and shops vary as per the block and development.
Please contact us through WhatsApp, Contact Us form, or visit our UPN Youtube Channel for further assistance.