Times Square Mall and Residencia – Grand Earth Breaking Ceremony
by UPN
March 2, 2021
0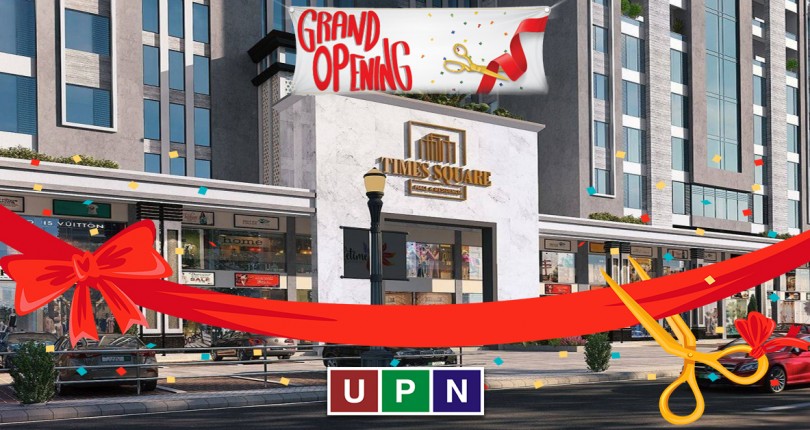 Times Square Mall and Residencia give everyone a sought-after opportunity to enjoy the best investment returns in Lahore. Launched a few months ago, the earth-breaking ceremony of this project is successfully done. Now, the development work of this project is progressing at the fastest pace.
It is an outstanding project by the Sheranwala Group. Times Square Mall is featuring auspicious architecture, eye-catching exteriors, and beautiful interiors. Designed with all the top-notch features making it the perfect place for residence and investment. This project offers shops, offices, apartments, and penthouses where you will find the true meanings of luxuries, comforts, and style.
Earth Breaking Ceremony of Times Square Mall and Residencia
The earth-breaking ceremony of Times Square Mall was taken place on 25th Feb 2021. The chief guest of the event was Mr. Shahid Mehmood Qureshi, the country head of Bahria Town. Many of the well-known personalities, the management of Sheranwala Group, and many realtors were present on the site.
It was a well-planned and well-managed ceremony held at the Bahria Orchard Phase 4 Raiwind Road project site.
Development Update of Times Square Mall and Residencia
Times Square Mall and Residencia is a top-notch project and a great addition to the real estate of Lahore. Its development work is started. All the paperwork, such as project planning, permission, and soil testing, is also complete. Even the developers had also cleared their dues for the smooth development of this project.
The current development status of Times Square Mall is quite satisfactory. Moreover, the Sheranwala Group had also applied for permission for 24/7 construction. It proves that the developers are serious and trying their best for the on-time completion of this project.
Hopefully, it will get and Times Square Mall and Residencia will be soon a ready-to visit place.
Properties for Sale in Times Square Mall and Residencia
Times Square Mall and Residencia is a high-rise development where several sizes of properties are available for sale. Designed as per international standards, all the floors of this project are the perfect amalgamation of high-quality and style. Times Square Malls are offering the best shops and offices to meet your desires for excellent commercial properties. Additionally, it also has the best living spaces in the form of 1 bed and 2 bedroom apartments and penthouses.
Booking of all these properties starts with a 20% down payment. The remaining amount will be payable in equal installments of 4 years.
Times Square Mall and Residencia is a project with maximum investment opportunities. It is an excellent place to invest for profitable returns and to adopt the lifestyle of your dreams. Moreover, you can buy shops and offices to run your business successfully and generate good rental income.
For booking and further details, Contact  Universal Property Network  .For More Information click here or visit our youtube channel