Victoria City 3D Model Complete Details
by UPN
September 27, 2022
0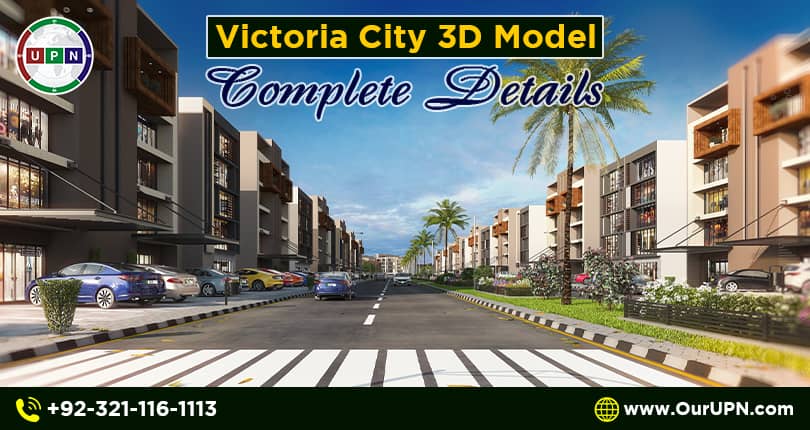 Victoria City Lahore is a modern housing society designed on advanced terms and modes. It's a place with up-to-date amenities and heart-winning features. Victoria City 3D Model design is officially disclosed which further defines these above statements very well. This incredibly beautiful project offers graceful living and profitable investment opportunities. People searching for the best investment on Canal Road Lahore especially those who cannot afford the facilitated properties of Bahria can invest in there.
Victoria City Lahore is proudly presented by Sheranwala Group, a well-known name in the real estate of Pakistan. These developers have undoubtedly shown the perfect project planning for their first housing society. This beautiful venture has everything a man can dream and desire in his dream destination. The plots for sale in this project are also diverse in the range providing investors the facility to invest as per their demands.
Victoria City 3D Model Details
In this latest write-up, we are going to discuss the complete details of the 3D Model of Victoria City Lahore. You will surely get more impressed and find this project more attractive after reading this information. Let's begin!
Beautiful and Wide Entrance
Victoria City is an ideally located housing society lying a short distance from Bahria Town Lahore. It is accessible from multiple routes. However, the main entrance to this society will be provided on Canal Road Lahore and Multan Road Lahore. The overall design of the main entrance is impressive. It features incredible architecture and awesome infrastructure. The use of lots of lights and the advanced styling of the main gate is making it a perfect example of a modern project.
Commercial Market after Entrance
After making an entrance to this beautiful society, you will find the best commercial facilities. Yes, the commercials are designed on both sides of the main boulevard. Once developed and operational, you will get everything there. Undoubtedly, these commercials will be enough to meet your everyday grocery and shopping needs.
3 Marla, 5 Marla, and 10 Marla Houses Beautiful Elevation and Designing
The Victoria City 3D Model also shows the appealing development of 3 Marla houses. It also showcases the design of 5 Marla and 10 Marla houses that are developed near to perfection. Their outstanding exteriors and elevation are taking society's beauty to the next level. Also, the 1 Kanal and 2 Kanal villas are heart-winning and appear attractive at first look.
Beautiful and Spacious Parks
These days developing and making a housing society successful seems impossible. That's why Sheranwala Group has fantastically planned this project with an abundance of parks. There are several parks and kids' play areas where you can confidently take your family for a memorable and refreshing outdoor time.
Victoria School System
Another major revelation that came from Victoria City 3D Model is the development of the Victoria School System. Yes, the developers will develop a state-of-the-art, fully facilitated school inside this housing project. It will offer up-to-date educational facilities as per the latest standards and you won't need to go outside in search of quality education. Your kid's educational career will be secure and satisfying while living in Victoria City Lahore.
Victoria City Mosques
This beautiful housing project will also have an eye-catching central mosque. It will be spacious, centrally air-conditioned, and enough to facilitate Muslims so that they can pray five times a day without any hassle. Moreover, every block of this society will have a mosque which further increases this project's appeal.
State of the Art Infrastructure
Victoria City Lahore is exceptionally planned on modern terms. You will find its infrastructure graceful enough to make you fall in love with it. It is advanced and as per the international standards of development. There will be wide carpeted roads, green belts, lots of lights, and an abundance of greenery and flowers. The first look at this project will surely give you the feel of royalty.
Top-Class Amenities
Victoria City 3D Model official video also confirms the availability of top-notch living amenities. Here you will be facilitated in every step of your life. Living there would be nothing less than enjoying in the womb of amenities.
Wide Range of Properties on Installments
Despite of having a premium location on Canal Road Lahore, Victoria City Lahore offers highly profitable properties. The prices for these plots are low and availability is on easy installments. The residential plot categories available are 3 Marla, 5 Marla, 10 Marla, 1 Kanal, and 2 Kanal. Moreover, the commercial plots of 2 Marla, 5 Marla, and 8 Marla. All these options are enough to facilitate both buyers and investors. Soon, the launch of villas and apartments is expected. Be ready to grab them at launching rates.
Final Words
Investment in Victoria City Lahore plots is a profitable property deal. You should indeed consider this project for both short-term and long-term investment gains. Living there would be beneficial while investment will also be the right decision. You can contact our experts at UPN to get further assistance!
Please contact Universal Property Network or visit our Youtube channel for further assistance.