Why Lahore Smart City is Best?
by UPN
July 27, 2022
0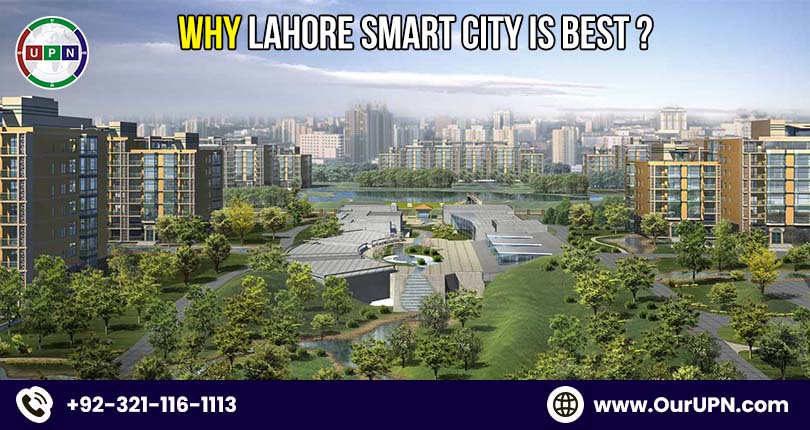 Lahore Smart City is Pakistan's second smart city project speedily developing in the heart of Lahore. Continuing in the path set by its predecessor, Capital Smart City Islamabad, it's a premium project with cutting-edge facilities and a superior location. It's the ideal investment in the real estate sector, specially designed with advanced techniques combined with environmental sustainability. Located in the centre of Lahore, the Lahore Smart City project is a remarkable initiative. It is a Habib Rafique Pvt. Ltd project is developing with the collaboration of Future Development Holdings.
Not only famous for its state-of-the-art planning, but this project is also among the top investments in Pakistani real estate. The reason behind its considerable success in the real estate market is its prime location, easy payment options, and heart-winning amenities. This society is undoubtedly, the best for several reasons.  But here are the top reasons which make it prominent among others. Please keep on reading.
Lahore Smart City Prime Location
Location is the most important factor in real estate investment. Additionally, Lahore Smart City is located on Lahore Bypass near Kala Shah Kaku Interchange on N-5. Also, this society has easy access from multiple routes, especially a dedicated interchange on Lahore Ring Road. 
Additionally, it is the most acceptable real estate investment in Pakistan since it is close to the planned Lahore University of Engineering and Technology.
Approaches to Lahore Smart City
Excellent location near Lahore Ring Road, M11 Motorway, and M2 Motorway.
Urbanization is expanding, and there are more economic opportunities in the surroundings of this society.
It is approachable in 4 minute's drive from the well-developed societies nearby. 
The distance to Lahore International Airport is around 18 minutes.
Completely Clear NOC
Lahore Smart City is a project that has received NOC approval. Its construction is approved by the LDA, providing it with a clear way to grow smartly. This approval means a lot, as it provides great satisfaction and happiness to investors making investments. Buying property in Lahore Smart City is 100% legal, safe and profitable. 
A Project by Renowned Developers
Another significant feature that further boosts its value is the reputation of its developers. Habib Rafique Limited (HRL) and FDH are always behind secure and profitable real estate investments, and they have combined hands in Capital Smart City. After getting huge success, they are now heading to deliver another masterpiece. Both these are the two big names in Pakistan real estate market. Moreover, the master plan by the iconic Surbana Jurong is something adding more charm to it.
Their smart work is clear from Capital Smart City; now no one can question their excellence as this project will be the best in all terms.
Speedy Development of Lahore Smart City
Thankfully, the Lahore Smart City project is developing at its fastest speed. First off, expert engineers, well-trained labours, and heavy machinery is working day and night at the society's site. Even in the short span of this society's launch, almost 1.5 years, the possession of properties in Sector A and Sector B is announced. Now all the residential plots and commercials in these sectors are available to do construction. Also, there is a beautiful park ready, and several other attractions are near completion. This speedy development of Lahore Smart City ensures that you will surely have quick access to your property, no matter whether you desire to live there or invest for good returns.
Reasonable Rates and Easy Installments
Buying a property on easy installments is the heartiest desire of every investor. Especially investors searching for some reasonable but good options always want to pay in installments. That's why Lahore Smart City is providing them, the best chance to meet their wishes at budget-friendly rates. The booking prices of 5 Marla plots in this state-of-the-art project are around 18 – 19 lacs. Also, there are three different bookings available where same size plots are available in 26 lacs. However, all these options come with 3 years flexible payment plan.
Booking starts with a few percentages of down payment, and there are several quarterly installments in the payment plan. Getting an opportunity to buy the ideal plots at affordable rates along with a convenient payment plan is making this society the best choice.
Top-Class Amenities
Lahore Smart City is an exceptional option to live your life in the womb of amenities. This high-standard society is full of facilities. These are not ordinary facilities, but you will get smart technology all around. Undoubtedly, these are the best amenities you will enjoy in any society in Lahore. Everything in this project is planned professionally, making it an unmatchable place to invest in.
So, what are you thinking about? Do investment in Lahore Smart City were secure and profitable options are waiting for you for so long. Hurry up!
Please contact Universal Property Network For More Information or visit our Youtube channel for further assistance.