Zaitoon Lifestyle Lahore – Location Map, Payment Plan, and Booking
by UPN
June 20, 2022
0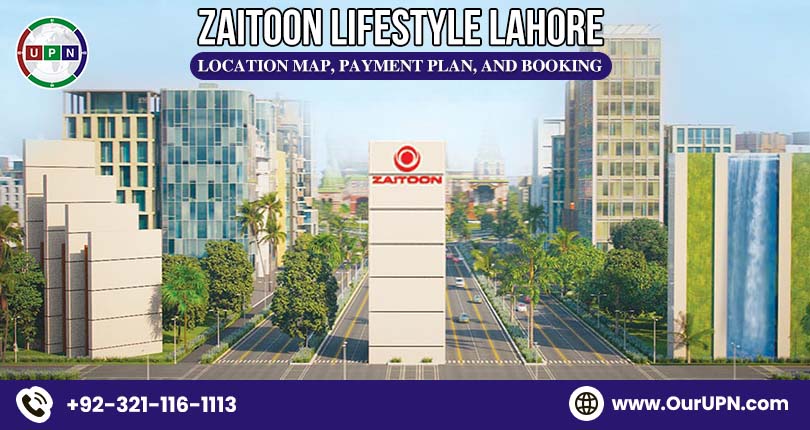 Zaitoon Lifestyle Lahore is a new mega housing society launched at an attractive location. It's a state-of-the-art development, a fully-facilitated and modern project to invest in. Designed and will be developed under the supervision of the Zaitoon Group, this new society comes with many attractions. It's a lush green, peaceful project with a neat, clean, and healthy environment. Located at the developing hub of the latest societies, Zaitoon Lifestyle is a great addition to Jia Bagga Road. Providing investors a chance of low-price investment in the best properties, this society is incredible. This appealing venture offers residential plots of different sizes. You can happily book your plot with affordability as the property rates are flexible here.
Further details are:
Zaitoon Lifestyle Location
This modern housing venture is located at the prime location of Main Jia Bagga Road Lahore. The location of Zaitoon Lifestyle is prime as this area of Lahore is emerging as a leading investment and residential hub. Already a number of good projects are launched and developing in its proximity, such as Liberty Lands Lahore, Park View Lahore, LDA City Lahore, Lake City Lahore, and Khyaban-e-Amin.
Most importantly, this society is located at a prominent location where many of the main roads and highways have direct connections. You can easily approach this place from the significant part of Lahore.
Thokar Niaz Baig Interchange, M2 Motorway, Haloki Road Interchange, and Allama Iqbal International Airport are within a short distance. The surroundings of Zaitoon Lifestyle are also beneficial as many of the health and educational institutions are lying nearby. Similarly, there are many transportation spots, shopping malls, and eateries closely available.
Overall, the location of Zaitoon Lifestyle Lahore is ideal to live in as it's a place to enjoy the comforts and luxuries of the modern lifestyle. Currently, the area is growing, but surely, after 1 – 2 years, the demand for properties will increase. This also ensures high returns on investment. From both living and investment perspectives, this society is ideal to consider.
Zaitoon Lifestyle Masterplan
It's a new masterly planned gated community spreading over a large area. This society will be developed on high-standard similar to the top-class societies of Lahore. Zaitoon Lifestyle's master plan is designed as per the demands of modern buyers and investors. There is a variety of properties and an abundance of amenities. Similary, the entire area is featuring several blocks and sectors where you will find your desired properties. Most importantly, the factor of affordability is at the top.
This project is exceptional as it suits the budget, has an easily accessible location, and fulfills all property needs. Currently, it only offers residential plots. But soon, it will be a destination to invest in the best commercial plots, villas, and apartments.
Indeed, the residents of this top-class venture will be able to enjoy remarkable living amenities and a lifestyle full of comforts.
Zaitoon Lifestyle Development Status
As it's a new society, so the development work is in the initial stages. Heavy machinery has arrived at the site. Soon, the proper construction and development work will start. All the work will be carried out as per the rules and regulations of the Lahore Development Authority. Also, the developers are concerned about the timely completion and delivery of this project. Once the proper development begins, we will surely update you!
Developers
Zaitoon Lifestyle Lahore is a project by the Zaitoon Group. Mian Ayaz Anwar and Mian Ijaz Anwar are the owners of this group. Zaitoon Developers are maintaining a good reputation in the market as they have already completed several projects such as Japan Center, Lucky Center, Landmark Plaza, Center Point Plaza, New Lahore City, and Zaitoonn City Lahore. The development and timely completion of these projects assure that your investment in this new Zaitoon Lifestyle is secure.  The previous record, experience, and planning of these developers, including the use of modern equipment, add overall charm to this project.
Plots for Sale
This new housing society will have all the best residential and commercial properties for sale. But currently, it is only offering the following sizes of plots:
3 Marla Residential Plots
5 Marla Residential Plots
8 Marla Residential Plots
All these plots are available at pre-launch rates, and booking starts.
Zaitoon Lifestyle Lahore Payment Plan
The payment plan of Zaitoon Lifestyle is planned smartly, and it offers potential buyers with affordable investment and living chances. This housing scheme is a way to high-standard of living within your budget. Besides the high returns on investment, this latest venture offers ease of booking with a few percentages of down payment. Zaitoon Developers had excellently designed the payment plan to provide the convenience of investment to everyone.
Not only are the plots affordable, but the payment plan is flexible. This is a housing scheme where rates are super reasonable. Here booking of 3 Marla plots starts from 2.40 lacs. The remaining amount will be payable in 42 monthly installments. Following are the details of the full price:
3 Marla Plots for Sale in Zaitoon Lifestyle
These highly attractive residential plots of 3 Marla are available at the launching prices of 24 lacs. Booking of plots starts from 2.40 lacs only. The payment plan contains 42 monthly installments (12,857/- each). Also, there are 8 bi-annual installments of 172,500/-. The amount payable at the time of possession (after 24 months) is 2.40 lacs.
5 Marla Plots for Sale in Zaitoon Lifestyle
These best plots of 5 Marla are now available at the price of 35 lacs. The booking of plots starts from 3.50 lacs only. These plots also come with a flexible payment plan of 42 months. The monthly installment of the plot is 23,810/-. Similarly, there are 8 bi-annual installments of 225,000 each. The amount payable after 24 months is 3.50 lacs.
8 Marla Plots for Sale in Zaitoon Lifestyle
These residential plots of 8 Marla are available at the launching prices of 64 lacs. Booking of plots starts from 6.40 lacs only. The payment plan contains 42 monthly installments (35,000/- each). Also, there are 8 bi-annual installments of 456,252/-. The amount payable at the time of possession (after 24 months) is 6.40 lacs. Check the payment plan below:
Plot Size
Total Price
Booking

Amount

42 Monthly Installments
8 Bi-Annual Payments
Amount After 24 Months
3 Marla
2,400,000
240,000
12,857
172,500
240,000
5 Marla
3,500,000
350,000
23,810
225,000
350,000
8 Marla
6,400,000
640,000
35,000
456,252
640,000
Documents Required for Booking
The booking of Zaitoon Lifestyle Lahore plots starts from a 10% down payment. Moreover, you will require the following documents for booking such as:
3 Passport Size Photographs
1 CNIC Copy of the Owner
1 CNIC Copy of Nominee
You can easily contact our experts at UPN for a convenient process of booking.
Excellent Features and Facilities
Zaitoon Lifestyle is a project of this modern age. It has all the notable features and top-class facilities such as:
Gated community with 24/7 security
Modern and advanced development
Well-equipped gymnasium and sports facilities
Swimming pool and a children's play area
The community center and proper commercial area
Power backup
Ample parking space
Lush green parks and landscapes
High-standard educational facilities
Healthcare facilities Nearby
Proper sewerage system
Clean water supply
Gas supply
Zaitoon Lifestyle Lahore is an exceptional project with incredible facilities, properties, and an ideal location. On the top, its plot prices are reasonable. So, buying in this society for residence and investment is equally beneficial.
Please contact Universal Property Network For More Information click here or visit our Youtube channel for further assistance.