1 Kanal Brand New Spanish-style House for Sale in DHA Phase 6
by UPN
December 16, 2022
0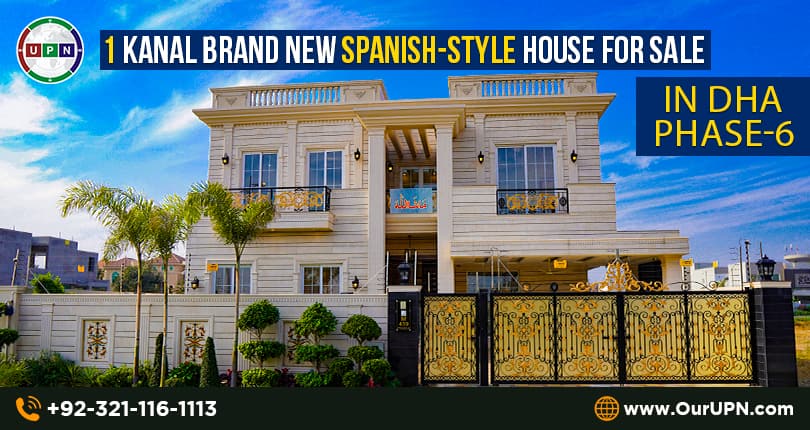 Want a stylish house in DHA (Defence Housing Authority)? As we know, DHA is a top residential housing society in Lahore. It's a project by DHA – a Government of Pakistan-owned real estate development company. The client's first priority is DHA for residence and investment because of its luxurious and safe environment. Here we have a 1 Kanal brand new spanish-style house for your residence and investment at a reasonable price. This house contains all modern features and the best thing about this house is, it is located in DHA.
Brand New Spanish Style Beautiful Bungalow In DHA Phase 6
In this blog, we will discuss the details of a 1-Kanal Spanish-style house in DHA Phase 6.
1 Kanal Brand New Spanish-style House Location
This beautiful house is located on a 50-foot-wide road in DHA Phase 6. It is near Defence Raya Golf and Country Club. Also, it is near the mosque and park, which enhances the attraction of this house. It is also opposite the S block of DHA Phase 7.
About This Spanish-Style House
This is one of the most beautiful houses in DHA Phase 6 of 1-Kanal. Every material used to build this house is high-quality and reliable for a lifetime. This house is perfect for a family residence, as it has a well-designed structure and contains amazing wall decor, smooth floor tiles, attached bathrooms, master bedrooms, a lobby, balcony, terrace, lawn, washing area, and powder room. All these are designed ideally according to the needs of life. This is the best house for your residence, with top-class facilities.
Let's discuss the design of this amazing house.
1 Kanal Brand New Spanish-style House Features
Have a look at this amazing house! This 1-Kanal Spanish-style house is developed with the ground floor, mezzanine, and first floor.
Ground floor
The ground floor features are:
Lobby
2 master bedrooms, each with its own bathroom
1 Spanish-style drawing room
TV lounge
1 modern kitchen
Beautiful lawn
Separate washing area
3 to 4 cars parking area
Mezzanine:
This beautiful house has one study room, with a peaceful atmosphere in the mezzanine. You can do paperwork, do office work, study, and read peacefully in this room.
1st floor:
The 1st-floor features are:
3 master bedrooms, with attached bathrooms
1 children's room
1 kitchen
TV lounge
Terrace
Balcony
Storage area
1 Kanal House Facilities
Here are the top-class facilities in this beautiful house.
Master bedrooms
Five master bedrooms are built in this Spanish house. The dimensions of these bedrooms are 14 x 18. Two master bedrooms are on the ground floor, and three master bedrooms are on the first floor. All rooms have a wardrobe for clothes and attached washrooms, which have glass and wooden work. These rooms are designed using high-class decor materials. Reliable tiles are used on the floor.
Drawing Room
On the ground floor, there is one drawing room for guests or friends to enjoy. The size of the drawing room is 12 x 14. The walls and ceiling are perfectly designed in these rooms.
Children Room
The children's room is made on the first floor of the house. The size of this room is 10 x 12. A wardrobe is available, and the walls are decorated according to the tastes of the children.
Stylish Kitchens
Two kitchens are available in this house, one on the ground floor and the other on the first floor. These kitchens are designed in a modern style. A deep freezer and an automatic electric stove are already in these kitchens.
Fire Extinguishing System
A fire extinguishing system is available on both the ground floor and the first floor. In case of fire, these systems are best for the protection of the house.
The Ceiling And The Walls:
All walls in this house are beautifully designed with the use of wallpaper, wall grace, and lights. The best decoration material is used on these walls, which are reliable for many years. This house has a beautiful and eye-catching ceiling, complete with lights.
Powder Room
A separate powder room is also available in this house.
CCTV Cameras
CCTV cameras are installed at the entrance of the house. It makes the house safer and more secure. You can see the people coming before opening the gate.
Sui Gas And Electricity:
Some common facilities are also available 24 hours a day, such as Sui gas and electricity.
Parking Lawn
There is a huge space for parking in this Spanish-style house. You can park three to four cars at a time.
The Cost of This Spanish-Style Home
This Spanish-style home's asking price is 990 lacs. This is the best opportunity for buying a 1-Kanal house in DHA Phase 6.
The Benefit Of Buying A House In DHA
DHA is one of the top societies in Lahore and the best for residents with families. People live a luxury and international-level lifestyle in DHA. Different types of facilities are available in the DHA, such as:
Food points and restaurants are available for families and friends, e.g., Gloria Jeans, Subway, McDonald, KFC, Second Cup Coffee, Pizza Hut, Hardees, and many more.
Banquet halls and marquees are available for wedding events and casual parties.
A huge park for families and the enjoyment of children, where you can spend more comfortable time.
Healthcare facilities such as hospitals, dentists, and pharmacies are also available.
Educational facilities for students are schools, colleges, and universities.
Sports complexes, gyms, and cinemas.
The biggest shopping brands are in malls in DHA, which makes shopping easier. You will get everything you need in one place.
Grocery stores such as Jalal Sons and Al-Fateh are available. These grocery stores are enough to meet your every need.
The best bakeries in DHA are Layered and Bakely Bakers.
These are all facilities you will enjoy for a lifetime if you buy a house in this top-class society.
Frequently Asked Questions
What is the size of this house?
This beautiful house is built on 1-Kanal of land.
What is the location of this house?
This beautiful Spanish-style house is located on a 50-foot wide road in DHA Phase 6.
What is the price of this house?
This house has a demand price of 990 lacs.
Is this price negotiable?
Yes, the price is negotiable if you are a serious buyer of this house.
If you are looking for a house in DHA, this house is perfect for your residence. Phase 6 is the best Phase of DHA. Contact Universal Property Network for more information or to buy this Spanish-style house in DHA Phase 6 Lahore.
Please contact us through WhatsApp, the Contact Us form, or visit our UPN Youtube Channel for further assistance.