DHA Phase 6 or DHA Phase 9 Lahore – Price Comparison
by UPN
April 13, 2021
0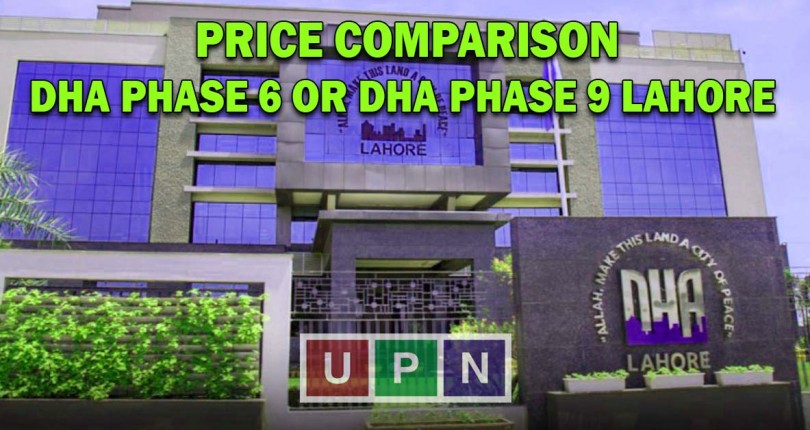 Initiated in 1976, DHA Lahore is a well-known real estate development in Lahore, needs no introduction. Located far from the city's hustle and bustle, DHA Lahore holds significant importance in the property market of Lahore. Comprising of several phases, DHA Lahore is a symbol of class, luxury, and excellence.
Undoubtedly, all the phases of DHA Lahore are ideal to buy plots and houses. However, these days, DHA Phase 6 and DHA Phase 9 Town appear to be very popular among buyers and investors. The basic reason for their popularity is the availability of numerous options at reasonable prices. If you are also planning to buy a house in DHA Lahore but are confused between Phase 6 and Phase 9, check out the latest prices' details and comparison. These details will surely help you in finding your dream property within your budget.
DHA Phase 6 Lahore Location
It is one of the best phases of DHA Lahore, located ideally at the geo strategical location of Lahore. This phase is enjoying tremendous location between Lahore Ring Road, Barki Road, Main Boulevard, and Bedian Road. Phase 6 of DHA Lahore is situated opposite DHA Phase 5 and close to many well-known commercial and residential projects.
DHA Phase 9 Town Lahore Location
Phase 9 Town is one of the largest and latest phases of DHA Lahore. It features state-of-the-art infrastructure, modern developments, and all the trademark amenities of DHA. This society is located on Bedian Road and connected with Prism 9, Askari 11, and Phase 6 from three sides. Even the main entrance of this society is connected to the D Block of Phase 6.
Houses Prices in DHA Phase 9 Town Lahore
Comprises of five blocks, named alphabetically, DHA Phase 9 Town offers a wide range of 5 Marla houses. Also, the beautiful houses of 8 Marla and 10 Marla are available, but the availability is limited. The latest prices of houses in DHA Phase 9 Town Lahore is:
5 Marla Houses Price: 1.20 crores to 1.55 crores
8 Marla Houses Price: 2.25 crores to 2.50 crores
10 Marla Houses Price: 3.25 to 3.50
Also, 5 Marla, 8 Marla, and 10 Marla plots are available for sale in DHA Phase 9 Town Lahore. All of its blocks have possession except E Block.
Houses Prices in DHA Phase 6 Lahore
The property prices in DHA Phase 6 are high compared to the same properties available in DHA Phase 9 Town. Here a beautifully constructed house of 5 Marla will cost you between 2.25 crores to 2.50 crores. Similarly, the price for a 7 or 8 Marla house is between 3 crores to 3.50 crores. The prices for the houses are different as per location and construction style.
No doubt, DHA Phase 6 is one of the best housing societies in Lahore to live in. But when it comes to affordability, the houses for sale in DHA Phase 9 Town appear more attractive.
You can contact us for further details!
Please contact Universal Property Network  For More Information click here or visit our youtube channel further assistance