10 Marla Residential Plots in CC & DD Blocks – Outstanding Options for Luxury Residence in Bahria Town Lahore
by UPN
January 11, 2019
0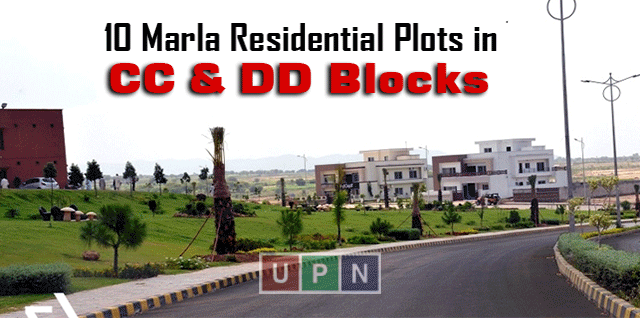 Bahria Town is the luxurious housing project located in different major cities of the country. But Bahria Town Lahore is considered the ideal choice for residence and investment. Located on the Main Raiwind Road, that is known as a hub of modern societies, makes it the top choice in all.
It is comprised of many sectors, but the separate entrance is only given to Sector D. This is a value-added point for Sector D and the property available in it. Basically, it is divided into 5 blocks and all the blocks are considered the right option for 5 Marla residential plots. But the demand for 10 Marla plots in it is also very high. All the top-class amenities, fully developed status, ideal location with separate entrance and so many attractions makes these limited numbers of 10 Marla residential plots the hot favorite ones among the buyers. These 10 Marla plots are available in CC Block and DD Block. So let's check out the other features, latest prices and details of 10 Marla plots in Sector D.
Location Details & Easy Access to Sector D Bahria Town Lahore
The best thing that makes Sector D Bahria Town Lahore the most favorite among buyers is its separate entrance in Bahria Town. It is provided from the Main Canal Road. After moving forward, the first block is AA Block, second is BB Block and the third located on the Main Boulevard is CC Block. Moving forward from it the next one is DD Block.
The second easy approach to CC Block is from the Main attraction of Talwar Chowk. Moving right from Talwar Chowk to Gardenia the next is the CC Block.
Latest Prices of 10 Marla Plots in Sector D Bahria Town Lahore
Sector D holds a significant value in Bahria Town Lahore for the beautifully designed 5 Marla residential plots in it. But it would be nothing wrong to say that limited numbers of 10 Marla plots in it also grabbing the attention of buyers for so many attractions and for the fully developed and inhabited status of this sector.
10 Marla fully developed, possession plots in CC Block are available at the price bracket of 85 lacs to 1.5 crores. The starting price of 10 Marla residential plots in DD Block is 95 lac to 1 crore. About 85% of the area of Bahria Town Sector D is completely populated so the limited number of plots are available that will be served on first come and first serve basis.
Facilities & Attractions that Makes Sector D Outstanding for Residence
Uninterrupted Gas & Electricity Supply
Separate Mosques for Each Block
Community Centre
Mini Golf Course
Children Care Centre
Food Court with Many International & Local Food Points
Commercial Area with Different Brands
Gold Class Cinema
Schools
Landscape Parks and much more
If you are interested in buying any plot in Sector D of Bahria Town Lahore, feel free to contact our team of Professional Realtors. Universal Property Network will definitely guide you with the property rates.