A Comparison of 5 Marla Residential Plots with Sector D Bahria Town Lahore – Latest Updates by UPN
by UPN
January 11, 2019
0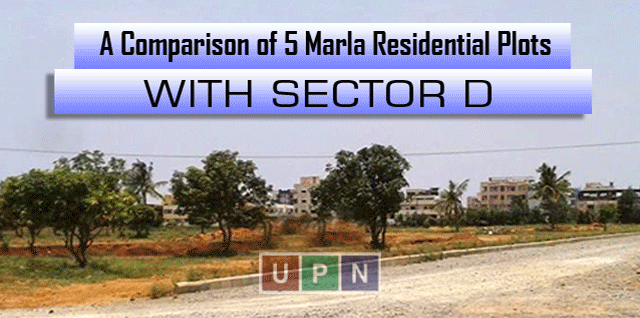 Bahria Town Lahore is a symbol of luxury lifestyle in the city. It's an amazing housing project in which all the top facilities and features are designed in an excellent manner that has no comparison with any other society. The demand for property is very high in Bahria Town. So many reasons are behind the high demand, such as ideal location, international standard of living style, top-notch facilities and features, trusted developers that provide satisfaction while investment and much more.
Well, today, our point is to provide you with complete information and details of 5 Marla residential plots in Jinnah Block Sector E and the residential plots of Sector D Bahria Town Lahore. Both these options are best for residence and investment point of view but the only difference is an available number of plots, population percentage in the sectors and latest prices of plots. So, let's create a unique comparison between these two to make the process of buying properties easier for you.
Location Overview of Jinnah Block & Sector D
Jinnah Block Bahria Town Lahore is located on the ideal and prime location. Moving from Main Boulevard of Bahria Town, and crossing Clock Tower and Grand Mosque, Rafi Block is located close to it. Next to Rafi Block is the ideal development of Jinnah block.
Sector D Bahria Town is ideally located at the amazing location of Bahria Town. The separate entrance is given to Sector D from the Main Canal Road. The easy access to its blocks from separate entrance simply increases the value of residential plots available in it.
5 Marla Residential Plots & Their Comparison
Whenever a buyer looks for the best residential plots in Bahria Town, the first choice is 5 Marla plots. Plots of this category in Jinnah Block are available in the price range of 44 lacs to 55 lacs. However, the updated prices of 5 Marla plots in Sector D are 58 lacs to 65 lacs.
Development Status & Ratio of Population
The development of Sector D Bahria Town Lahore is already complete. The residential plots of 5 Marla are available in its all blocks except DD Block. Numbers of families are living in Sector D and enjoying the peaceful atmosphere of Bahria Town in it. According to an estimate, about 85% of the total area of Sector D is already populated and limited numbers of 5 Marla residential plots are available in it.
The development of Jinnah Block is also completed and all the plots are on the ground with possession. But the ratio of population in Jinnah Block Sector E is less than the number of families, which are living in Sector D. The construction of 30% of the houses can be seen on the site. So, for those who desire to buy the best 5 Marla residential plots on a budget, Jinnah Block is the ideal choice.
These plots are highly recommended for residence and investment. To earn a promising profit with investment, Jinnah Block is the right place to invest.
For more updates and details contact Universal Property Network.