5 Marla Plots on Installments in Bahria Orchard Lahore
by UPN
May 31, 2023
0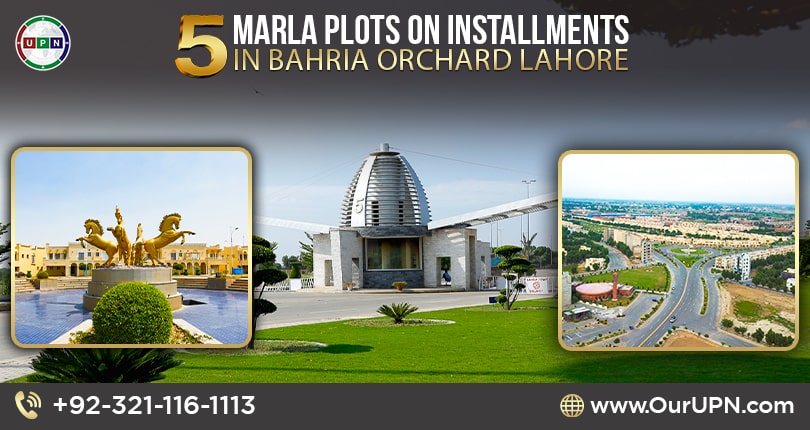 Introduction
Calling all investors with an eye for lucrative opportunities in Lahore, especially those looking to purchase property in Bahria Orchard! Brace yourself for an upcoming deal that will captivate your attention. The highly anticipated launch of 5 Marla plots on installments in Bahria Orchard Lahore is just around the corner. It's a new deal of plots in a new block of this society bringing new residential and investment opportunities. Get ready to embark on a thrilling journey of securing your dream plot in this shining housing venture.
These new deal plots are launched at the prime location. They are situated in an outstanding area surrounded by impressive development. Even better, the prices are affordable and reasonable, making them accessible to a wide range of buyers. Moreover, to add to the convenience, these plots are available on easy installments. With such a perfect combination of location, development, affordability, and convenience, these new deal plots in Bahria Orchard Lahore offer an opportunity you won't want to miss. Keep on reading to know more!
5 Marla Plots on Installments in Bahria Orchard Lahore
These reasonable in prices 5 Marla plots are the part of LCO Phase 2, which is an extension of Bahria Orchard Phase 2. This development brings forth a remarkable addition to society with the introduction of a brand-new block called "A Block". This block offers a range of 5 Marla residential plots, presenting an ideal opportunity for individuals looking to build their dream homes. With the launch of this new block, potential buyers can explore a range of options and choose the plot that suits their preferences and requirements. Above all, these are open form plots available without any transfer fees or hidden charges. So, following are the prices and the booking details:
The total price for the 5 Marla plots on installments in Bahria Orchard Lahore is 45 lacs. To book your plots, a down payment of 16 lacs is required. An additional payment of 15 lacs is due on the 15th of July 2023, while the remaining balance of 14 lacs is payable by August 15th. The payment plan for the plots spans over 3 – 4 months. It's an easy and convenient payment plan that provides the best investment opportunity to investors. Furthermore, the possession of the plots will be handover within 6 months of booking. You can check the complete details below:
Location of LCO Phase 2 A Block
Discover the ideal location of this new block, developing within the prestigious Bahria Orchard Phase 2, on Main Raiwind Road Lahore. Enjoying a convenient position, it is easily accessible at a mere distance of 6-7 kilometers from the Thokar Niaz Baig Interchange. Moreover, you'll find that the actual location of this new block is easily reachable from both Gate No. 1 and Gate No. 2 of Bahria Orchard. As you journey along the wide and well-maintained 200 ft main boulevard of Bahria Orchard, the sought-after A Block signs you with its presence in a well-developed area. The area surrounding this new deal is full of life and activity, with many people living there and ongoing construction.
Surely, this lively atmosphere adds to the overall attractiveness of the location. Also, you'll find convenience and easy access in this captivating new block within Bahria Orchard. The surroundings of 5 Marla plots on installments in Bahria Orchard Lahore offer a promising environment that you can look forward to.
Facilities Nearby
In the surroundings of this new deal, you can enjoy a range of convenient facilities. There is a cinema nearby where you can catch the latest movies. A mosque is also conveniently located, providing a place for prayer and community gatherings. Banks are easily accessible, allowing for smooth financial transactions. Additionally, you'll find various other facilities available in the vicinity, ensuring that your daily needs are met. Schools in the area provide educational opportunities for children, and the roads are in excellent condition, ensuring a smooth and comfortable commute. With such amenities close by, this new deal plots of 5 Marla offers a truly convenient and comfortable living experience.
Latest Prices of 5 Marla Possession Plots in Bahria Orchard Lahore
The on-ground 5 Marla plots lies in the surrounding area of A Block are currently available at prices ranges from 52 lacs to 55 lacs. However, in this exciting new deal, the same category plots are available at the attractive price of 45 lacs with the convenience of easy installment options. Undoubtedly, purchasing these 5 Marla plots on installments in Bahria Orchard Lahore proves to be a profitable choice. So, take advantage of this opportunity to secure your plot in this premium society and reap the benefits of a wise investment decision.
Frequently Asked Questions
Here are the answers to commonly asked questions:
What is the location of these new deal 5 Marla plots in Bahria Orchard Lahore?
These plots are located in the newly introduced block within Bahria Orchard Phase 2, offering an ideal residential opportunity. You can purchase these plots in LCO Phase 2 Block A.
What are the launching prices of 5 Marla plots on installments in Bahria Orchard Lahore?
These plots are available at a reasonable price of 45 lacs. Booking starts from 16 lacs only.
What is the price range for other developed and possession plots of 5 Marla?
The price range for the 5 Marla plots in the surroundings is between 52 lacs to 55 lacs.
Are the new deal plots available on installments?
Yes, these new deal 5 Marla plots can be acquired on easy installment plans, making it convenient for buyers to secure the best plots.
What amenities and facilities are available in the vicinity?
The surrounding area offers various amenities such as a nearby cinema, a mosque, banks, and other facilities to cater to daily needs. Moreover, schools and well-maintained roads are also part of the convenient environment.
Is the location easily accessible?
Yes, the location of these plots is easily accessible, with convenient entry from Gate No. 1 and Gate No. 2 of Bahria Orchard.
Are there any additional charges or hidden costs?
No, all these plots are open form. So, it means that there are no development charges or any hidden charges.
Please contact Universal Property Network For More Information click here or visit our Youtube channel for further assistance.