G7 Block New Deal in Bahria Orchard Phase 4 Lahore
by UPN
June 12, 2023
0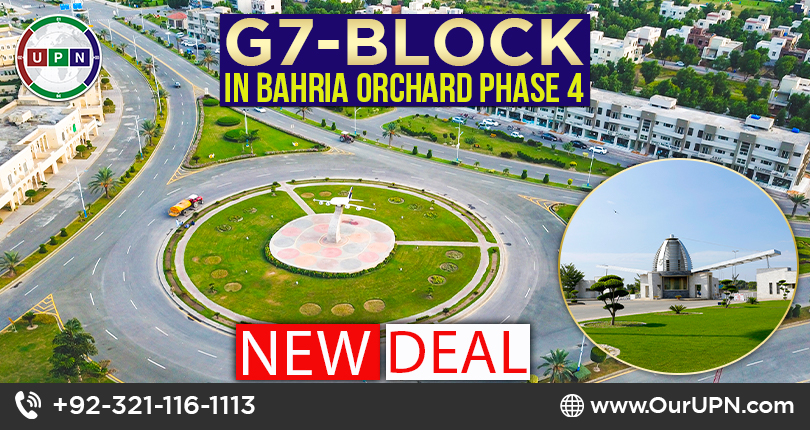 Bahria Orchard Phase 4 is a high-end housing society that has offered a new deal in the G7 block. The G7 Block New Deal includes residential plots for residents and investment. These plots are beneficial because of their convenient location and affordable rates. This block is also being developed, and possession will be delivered within six months. The G7 Block New Deal is a fantastic investment opportunity in the heart of Lahore in 2023. These plots are also perfect for providing a high return on investment.
In this blog, we will discuss the New Deal in G7 block of Bahria Orchard Phase 4. We will go over the location, development, prices, and benefits of investment in the G7 Block new deal.
G7 Block – Location
This magnificent housing society is situated on Raiwind Road. All blocks in Bahria Orchard Phase 4 have excellent locations in Lahore. The latest deal is available in the G7 block of Bahria Orchard. The G7 block is directly across from the G5 block. Residents of the G7 block will also have access to all modern comforts and services. It is the best block because of its excellent location and low prices. Furthermore, the G7 block is close to a number of housing societies, hospitals, educational institutions, and major places, including:
Times Square Mall
Orchard Mall
Bahria Orchard Phases 2 and 3
Bahria Orchard Hospital
Cancer Care Hospital & Research Center
NUR International University
Sharif Medical & Dental College
Comset University, Lahore
Degree College for Boys
Superior University of Lahore
In addition, the following main routes connect to this housing development:
Jatti Umrah Road
Sharif Medical City Road
Raiwind Road
Ring Road
G7 Block New Deal
Bahria Orchard Phase 4 is a premium housing society divided into several blocks. These blocks are known as G1 to G7. Each block has its own park, playground, and mosque. The G7 Block has a new deal of residential plots for sale. These residential plots are offered in two sizes:
5 Marla residential
10 Marla residential
These plots are introduced with modern luxuries necessary for a better lifestyle. Residents of the G7 block will have access to a variety of services and facilities, including a shopping mall, a school, hospitals, and many more. Possession of these plots will be available after six months. The majority of the 10 Marla plot inventory has been sold. The 5 Marla inventory is available for sale at a reasonable price.
G7 Block New Deal – Prices
The new deal was launched in the G7 block of Bahria Orchard Phase 4. The G7 Block New Deal was announced a month ago. The prices of these plots depend on the location. Prices are different for the corner, park-facing, and MB-facing plots. The current prices of these 5 Marla and 10 Marla residential plots are as follows:
The 5 Marla residential plots in G7 Block are priced between 36 and 38 lacs.
The 10 Marla residential plots in G7 Block are priced between 60 lacs to 65 lacs.
Possession will be handed over within 6 months. After possession, the prices of these plots will increase. So this is the best time to invest in the New Deal.
Features and Amenities
Residents of the G7 block will enjoy a modern lifestyle with a variety of amenities. Some of the most outstanding amenities are as follows:
24-hour security
Wide carpeted roads
Scholl and colleges
Hospitals and pharmacies
Parks and playgrounds
Residential and commercial property
Shopping malls, supermarkets, general stores, and bakeries
Restaurants and cafes
Parking areas
Grand mosques
Investment Benefits
Bahria Orchard G7 Block is the best investment opportunity in Lahore. It provides residential plots with possession. There are several reasons and benefits to investing in the G7 Block New Deal. Some of them are as follows:
Ideally located near the G5 Block
Eco-friendly environment
Beneficial surroundings
Parks and playgrounds are available for children.
Easy access to various roads
Easy access to the best educational institutes and hospitals
5 and 10 Marla residential plots are available.
Prices are affordable.
Possession will be given after six months.
These plots are best for residents and investment purposes in Bahria Orchard.
These plots will generate high returns in the future.
Conclusion
The developer has announced a new deal for residential plots in the G7 block of Bahria Orchard Phase 4. These properties are excellent investments at an affordable cost. You will take possession of your plot in six months. So, if you want to invest in residential property, consider this G7 Block new deal. It is an ideal opportunity due to its outstanding location, features, and amenities. Investing in this New Deal will be the best decision you ever make. Furthermore, these residential plots in Bahria Orchard are the best because of their high return potential.
Please contact Universal Property Network For More Information click here or visit our Youtube channel for further assistance.