500 Sq Yards Plots Prices in Bahria Sports City Karachi
by UPN
September 12, 2021
0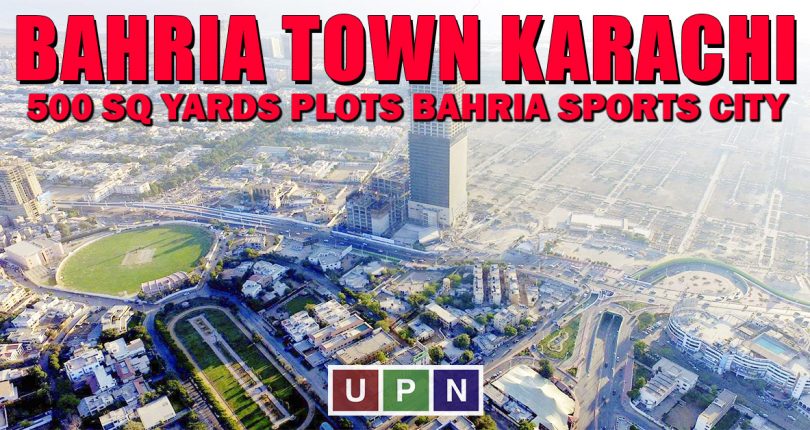 Are you a cricket or sports lover and looking for a 500 sq yards residential plot in Bahria Sports City Karachi? Looking for the best options but unaware of the 500 sq yards plots prices in Bahria Sports City? Then, don't be worried anymore! We UPN is here to provide you with the complete and useful information that will surely help you find your desired property. So, let's explore the details together!

500 Sq Yards Plots Prices in Bahria Sports City – Bahria Town Karachi
Bahria Sports City is one of the major and beautiful sub-precincts of Bahria Town Karachi. It's a gated community inside Bahria Town featuring all the trademark facilities and heart-winning features. Consists of several precincts and offering numerous properties, Bahria Sports City is the right choice to buy 500 sq yards plots.
Undoubtedly, it has many options available, but the best 500 sq yards plots available at the lowest prices are in:
Precinct 36
This precinct is perfectly located in Bahria Sports City, offering the affordable price 500 sq yards plots. Precinct 36 is situated on Main Jinnah Avenue at a distance of around 14 KM from Bahria Town's main entrance. It's a completely developed precinct where the construction of houses is started.
Precinct 36 offers residential plots of 500 sq yards at the prices of 1.10 crores to 1.30 crores. An increase of 10 – 20 lacs has been noticed in the last 2 months. The increase in prices is the ongoing construction, increasing populating in Precinct 35 villas and demands of 500 sq yards plots.
Precinct 37
500 sq yards plots prices in Bahria Sports City, especially in Precinct 37, are surprisingly affordable. It's a heightened precinct offering 500 sq yards plots with possession. Precinct 37 also holds importance for having the mind-blowing development of the Eiffel Tower inside. Moreover, Rafi Cricket Stadium and Bahria Sports City Villas and Precinct 31 Villas are located nearby.
Additionally, this precinct is offering Jinnah Facing and Back Jinnah plots at the best prices. For example, the latest prices of plots in Precinct 37 for 500s q yards are around 75 lacs to 90 lacs.
The development work of Precinct 37 is 90% complete and 10% remaining. However, these plots are perfect to choose from no matters what's your purpose of investment is!
Investment in 500 Sq Yards Plots Prices in Bahria Sports City
The 500 sq yards plots in Bahria Sports City are perfect for:
Investment Returns
Yes, these plots of Precinct 36 and Precinct 37 are ideal to invest in. You can expect good returns in the coming 6 – 8 months.
Construction Purposes
Plots are located ideally as the location of both precincts is good. You can confidently start constructing your dream house because many families live in Precinct 35 and Precinct 31 villas.
For Builders
Builders who desire to earn good through construction can also start constructing beautiful houses in Precinct 36 and Precinct 37. These precincts are simply perfect in all the terms.
Contact us for further assistance.
Please contact Universal Property Network  For More Information click here or visit our youtube channel further assistance