Internet in Bahria Town Karachi – All You Need to Know
by UPN
June 21, 2023
0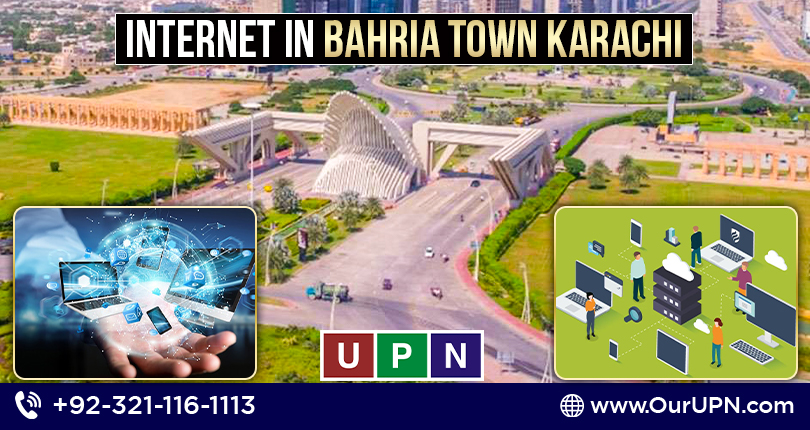 Bahria Town Karachi is a premier housing society that provides residents with an exceptional living experience. This top-class community is equipped with a bundle of heart-winning amenities and essential facilities. In addition to its impressive offerings, one notable feature that sets its stands high, is the internet in Bahria Town Karachi. Yes, the high-speed internet services, ensuring a smooth and efficient online experience for its residents. It is all because, Bahria Town understands the importance of staying connected in today's digital age. So, whether you're a professional working from home, a student engaged in online learning, or simply a person who values uninterrupted internet access, BTK ensures that you have the means to fulfill your digital needs. Below in this blog, we will update you with the complete details of internet availability in this premium housing venture.
There are two internet modes in BTK i.e., Mobile Data and Fiber Optic Network. Below in this blog, we will update you with the complete details of internet availability in this premium housing venture.
Mobile Internet in Bahria Town Karachi
Without a doubt, Bahria Town Karachi benefits from efficient coverage by all popular mobile networks in Pakistan. However, if you reside in the vicinity of Touheed Square in Precinct 1, Precinct 2 Villas, or Precinct 19, you can experience the finest and high-speed internet facility. This exceptional service is available to users of both Jazz and Zong, ensuring an exceptional online experience in these specific areas.
The mobile data speed in Bahria Town Karachi is also commendable in Midway Commercials, Precinct 6, Precinct 7, Ali Block, Precinct 10A, and 11B. There residents and working persons can enjoy good mobile data speed and uninterrupted internet connectivity.
With regards to internet availability, most of the mobile network operators in Bahria Town Karachi offer satisfactory or reliable services. However, Telenor's internet does not work properly in this society.
Fiber Optic Internet in Bahria Town Karachi
When it comes to experiencing the best and fastest internet connectivity, Fiber Optics Internet is widely recognized as the perfect choice. In Bahria Town Karachi, residents can enjoy an exceptional internet experience through Multinet, a reputable and leading fiber optic company. While there may be other internet providers who can operate in BTK, only Multinet emerges as the sole company that fulfills their criteria, making it the preferred and trusted option for residents.
Multinet's fiber optic internet service offers numerous advantages that contribute to an outstanding online experience. With faster download and upload speeds, and a highly stable and reliable connection, it stands out high. It offers residents to engage in seamless browsing, streaming, online gaming, and other internet activities.  Multinet in Bahria Town Karachi is available in the following precincts:
Precinct 1
Precinct 2
Precinct 4
Precinct 6
Precinct 8
Bahria Heights
Precinct 10A
Precinct 11A
Precinct 11B
Precinct 31
Precinct 27
Surroundings of all above precincts
Above all, Multinet is offering all these internet facilities at affordable prices. Also, their packages and attractive and good options are available.
Frequently Asked Questions
Here are the answers to commonly asked questions
What are the available internet service providers in Bahria Town Karachi?
Bahria Town Karachi is full of several internet services such as Mobile Data and Fiber Optic Connections.
Which is the right internet service provider in Bahria Town Karachi?
Internet speed, reliability, customer support, and pricing matter when choosing an internet connection. Internet in BTK is good in both mobile data and Multinet.
Is fiber optic internet available in Bahria Town Karachi?
Yes, fiber optic internet is available in BTK. Providers such as Multinet offers high-speed internet and greater reliability. It is considered the fastest and most advanced mode of internet connectivity in this society.
Please contact Universal Property Network For More Information click here or visit our Youtube channel for further assistance.